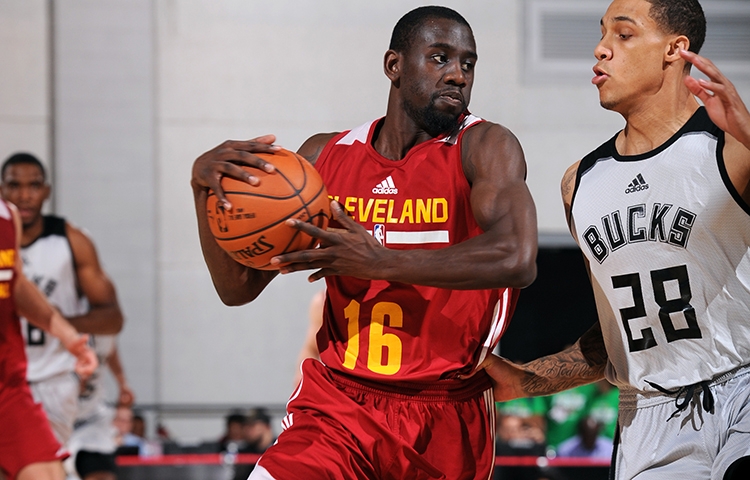 When the Cleveland Cavaliers tip off against the Milwaukee Bucks at 6:30 pm ET from Las Vegas, most of the faces on the court will be unfamiliar.
For a franchise that's done little to change the roster, via trade or free agency since losing the 2017 NBA Finals four games to one, this summer could offer an opportunity for some of the Summer League hopefuls to earn a roster spot.
First and foremost, it's generally assumed that Kay Felder and Edy Taveres will earn roster spots.
In this article, we'll highlight some of the OTHER players on the Cavs Summer squad, who are fighting for a spot on an NBA roster – in Cleveland or elsewhere.
Gerald Beverly, 6'8″, 235 pounds, F
Beverly spent the 2016-17 season with the Canton Charge, averaging 4.8 points and 3.4 rebounds over 11 minutes per game.
It was his first professional season out of college, as the forward put up mammoth numbers in his four years at Daemen College (Division II) averaging 20 points and 12 rebounds his senior year in 2014-15.
Although his professional numbers haven't been earthshaking, the second year after getting your feet wet at the professional level can often turn out to be the time when players take a big leap. Keep an eye on Beverly these next couple weeks, as he plays a position which is somewhat thin on Cleveland's depth chart, especially considering the possibility of the Cavs unloading Channing Frye's salary.
Sir Dominic Pointer, 6'6″, 192 pounds, F
This will be Pointer's third go-round with the Cavs Summer League, as he was selected in the second round of the 2015 NBA Draft by Cleveland.
Pointer played for the Canton Charge in 2015-16 and took his talents overseas to Israel last season, where he continued to develop on both sides of the ball.
The 25-year-old is most known for his defense and that's something the Cavs could use more of from their wings, especially when it comes to matching up with the Golden State Warriors.
His shot-blocking and ability to play the passing lanes and swipe steals should make him one of the more intriguing players to watch in Las Vegas. He'll be a candidate to earn a two-way contract, which could produce some back-and-forth trips between Canton and Cleveland, if he stands out this summer.
He's been working on his shot for the past two years and that's been the biggest obstacle keeping him from an NBA job, so let's see how it's developed these next couple weeks.
Andrew White, 6'7″, 210 pounds, G
White went undrafted out of Syracuse, but his three-point shooting makes him a weapon and a player to watch in Las Vegas.
At 6-foot-7, the oversized shooting guard has the type of build Cleveland could use at their wing positions and considering the Cavs' intentions of moving Iman Shumpert this season, White could be in a spot to take advantage of the roster circumstances.
White averaged 18.5 points per game at Syracuse, knocking down 3.3 three-pointers per game at a 40 percent clip. It wouldn't be a surprise if he's one of the Cavs' leading scorers in Summer League action.
Casey Prather, 6'6″, 208 pounds, F
The 26-year-old is well-traveled, playing in Australia, Germany and the G-League over the last three years.
Prather averaged 11.8 points per game with the Bakersfield Jam in 2014-15. In 2016-17, he averaged 19.5 points per game with the Perth Wildcats of Australia's NBL.
He smoothly transitioned to Germany, averaging 8.7 points over 18 minutes per game at a level where the competition is a couple notches above the G-League and NBL.
Prather is another intriguing candidate to watch and he could be one of the Cavs' bigger scoring threats, along with Felder, Tavares and White.
T.J. Williams, 6'3″, 205 pounds, G
The undrafted guard lit up the statsheet at Northeastern his senior year, averaging 21.4 points per game.
Williams spent his first three college seasons as a role player, but erupted onto the scene and rose up prospect rankings in 2017. Draft Express listed him as the No. 98 prospect in the nation heading into the 2017 Draft.
Cleveland addressed the backup point guard spot with Jose Calderon, but it's far from a guarantee that Felder will receive significant playing time behind him this season, even with his impressive numbers in the G League.
While Felder will be handling the ball the majority of the time in Las Vegas, keep an eye on Williams, who is a candidate to erupt, much like he did in his senior year of college.
Update: According to Sam Amico of AmicoHoops: "the team is also said to be keeping a particularly close eye on shifty guard Sam Cassell Jr.," an undrafted rookie out of Iona and the son of the former NBA guard.
CAVALIERS PRELIMINARY ROUND GAME SCHEDULE
Friday, July 7 vs. Milwaukee – 6:30 p.m. at Thomas & Mack Center
Saturday, July 8 vs. Houston – 10:00 p.m. at Cox Pavilion
Monday, July 10 vs. Golden State – 10:30 p.m. at Thomas & Mack Center
*The summer league tournament schedule is as follows: First Round – July 12, Second Round – July 13, Consolation Round – July 14, Quarterfinals – July 15, Semifinals – July 16, Championship – July 17

NEO Sports Insiders Newsletter
Sign up to receive our NEOSI newsletter, and keep up to date with all the latest Cleveland sports news.