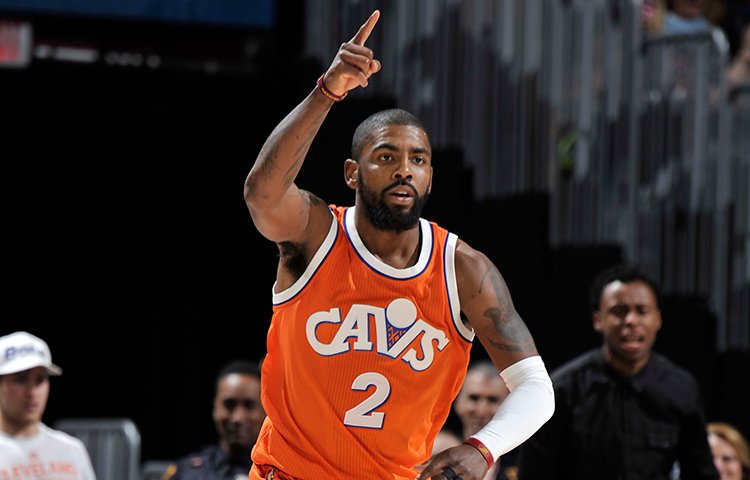 The Cleveland Cavaliers earned a much-needed victory on Friday night, defeating the Philadelphia 76ers, 122-105.
The box score looks much like any other Cavs blowout would, as LeBron James scored 34 with six assists and nine rebounds, Kyrie Irving scored 24 with nine assists and Kevin Love posted a double-double with 18 points.
What stood out from the start was the Cavs looked like a team that came to the building with a mindset to win.
That could not have been said for much of the month of March.
At least the month ended on a good note.
Here are five notes from the bounce back victory:
1.Winning the turnover battle
Defensively, Cleveland still made its fair share of mistakes, allowing Philadelphia to shoot 49 percent from the field, but the Cavs played a clean game on offense committing only eight turnovers, opposed to 17 from Philly. Throughout Cleveland's rough stretch of games, turnovers (particularly unforced errors) had been a thorn in the side of the Cavs, often turning out to be a big part of the difference between winning and losing.
In the month of March, Cleveland turned the ball over 196 times in 16 games (prior to Friday). That's more than 12 a game for you math majors. Lately, it's been worse. Cleveland committed 44 turnovers in the previous three games alone. Coincidentally, they lost all three.
The Cavs corrected that issue for one night at least. We'll see if they can use this game to start a trend.
2. Kevin Love back to his double-double ways
Love posted his 34th double-double of the season. He ranks 14th in the NBA in double-doubles, which is remarkable by itself, let alone given the fact he missed more than a month's worth of games. It might seem trivial, but since Love returned from injury, he has only posted three double-doubles out of his nine games back.
Prior to Friday night, he went three straight games without posting a double-double, which is the longest-streak of his season without accomplishing the feat.
Earlier this month, Love was playing on a minutes restriction, which is partially responsible for the lower scoring and rebounding totals.
However, during the last three games, he averaged 27 minutes a night and still had rough stretch, scoring single-digits in back-to-back games.
Coming back from a knee injury, it wasn't expected to be all smooth sailing, but the Cavs are hoping Love can get back in a groove leading up to the playoffs, and this game could be a step in the right direction.
3. Is J.R. Smith finding his shot? 
Much like Love, it's been a bit of an adjustment for Smith since coming back from a broken thumb. Although he's played 13 games since March 9 without taking a night off, he still hasn't appeared to be in rhythm.
Smith hit some shots early in Chicago Thursday night, knocking down 4-of-7 three pointers, and put together a second solid game Friday, shooting 5-for-9 from the field.
It may not seem like much, but for Smith, this is the best two-game stretch he's had since his return.
Prior to Thursday, Smith had only scored double-digits in four of 11 games. The Cavs' fourth scoring option is probably going to need to pick up the consistency in that regard come playoffs, as teams will look to do everything they can to make "the other guys" (not LeBron and Kyrie) beat them.
Similar to Love, we'll see if Smith can get back to his old self in time for the postseason.
4. DeAndre Liggins played 18 minutes
The man who seemed to be the odd man out in the rotation played a meaningful role in Cleveland's bounce back win. A team that lacked defense for much of the month turned to its defense-first backup guard and it appeared to pay dividends.
It was a three-point game after one quarter, but the Cavs began to pull away and it wasn't a coincidence that one of the best defenders on the team was on the court.
Liggins didn't score a point, but his defense early in the second period played a big role in helping the Cavs outscore Philadelphia, 38-23, in the quarter.
The Cavs never looked back after they got that huge lead. After the game, Tyronn Lue wouldn't give a definitive answer on whether or not Liggins earned himself more playing time, but said "We'll see."
As Lue noted, it will be tough to fit guys in the rotation when Richard Jefferson and Kyle Korver return. It's already tough to find a consistent rotation without those guys.
However, there will likely be nights where Irving and possibly other backcourt members rest in the few remaining regular season games, so that alone should give Liggins some opportunities to show what he can do.
He's not a strong two-way NBA player at this point of his career, but his defense could come in handy on a team that desperately needs it.
Certain matchups down the road against tall backup point guards (Shaun Livingston) could be a prime opportunity for Liggins to prove why he's on this roster.
5. #ALLinOrange
Taking care of the ball, playing with a little bit of extra defensive intensity and getting guys back to close to 100 percent is great, but what really matters is the jerseys.
All jokes aside, the Cavs have been flat-out dominant when they wear orange this season. You might think it's a joke, but look at these final scores:
114-108 over Heat
116-105 over Hornets
(106-94 loss to Bulls)
107-91 over Thunder
128-96 over Pistons
122-105 over Sixers
Last year, a whole storyline developed where LeBron ripped his sleeves and the Cavs ended up wearing their black "funeral" jerseys during the Finals, heading to Golden State for Game 7 to bury the 73-9 Warriors' historic season.
This year, the Cavs have played some of their best games in the orange and blue, going 5-1 in those six games.
Don't be surprised if they pull them out at some point in the playoffs.
The Cavs are back at the Q Sunday night against Indiana at 6 pm and currently sit a half game behind Boston for the one-seed. We'll see if they can put March behind them and finish the regular season on a good note.

NEO Sports Insiders Newsletter
Sign up to receive our NEOSI newsletter, and keep up to date with all the latest Cleveland sports news.