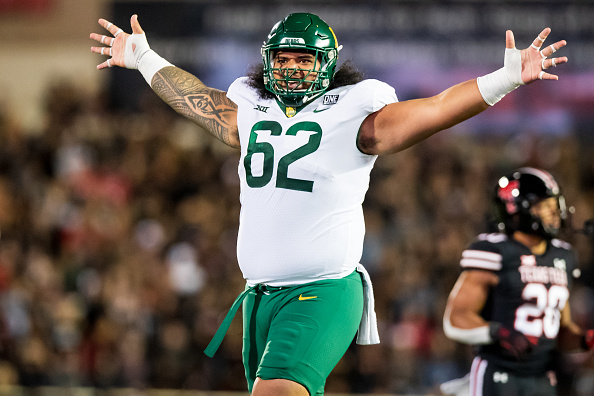 The 2023 NFL Draft is in the books and the Cleveland Browns came away with a solid group of college prospects. The Browns didn't have a draft pick until the third round at pick 74. In all the team took seven players. They traded away their final pick to their divisional rival Baltimore Ravens for a future 2024 sixth-round pick.
The Browns didn't need to pick starters like they have in the past. Thus, choosing players to add depth was key to this draft, and they certainly did that. Let's take a look at three good moves made by the team in this draft.
Move No.1: Bigger and stronger.
The Browns play in the tough AFC North and need bigger and stronger players. That's what they did in picking players in this draft. They selected an imposing 6'3'wide receiver Cedric Tillman from Tennessee. He is a tank as a wideout. Tillman also plays football more like a basketball player by boxing out his opponent when the football is up for grabs.
The Browns then drafted defensive tackle Siaki Ika, from Baylor, a 335-pound, 6'3 beast. Cleveland hasn't drafted too many heavyweights on the defensive side of the ball, so this was nice to see. There has been some criticism of the pick because Ika has shown lapses in his play on the field. However, the sky is the limit for this kid, who with some refinement and coaching by defensive coordinator Jim Schwartz, should be better than advertised.
Cleveland then drafted a ginormous offensive lineman from Ohio State, Dawand Jones, who weighs a solid 385 pounds and stands at 6'8. As of print time, Cleveland's starting left tackle Jedrick Wills hadn't been offered his 5th-year extension by the team which would have been made by May 1st. This move to not give Wills his 5th year could mean the team will be parting ways with him sooner than later.
Move No. 2: The Buckeye connection 
After only 58 years, the Browns finally drafted, not one but two Ohio State Buckeye players in the draft. They drafted the previously mentioned Dawand Jones at pick No. 111. Using pick No. 142 they drafted center Luke Wypler.
It was back in 1965 that the Browns last took two Ohio State players in the same draft. The most recent draft picks by the Browns that were Buckeyes were defensive tackle Tommy Togiai from 2021 and before that, cornerback Denzel Ward in 2018. Since 1965, Cleveland had only claimed 11 Ohio State players through the draft.
It really is phenomenal that these two teams have never connected over the last half a century, Maybe, the Browns front office finally recognizes that Ohio State has some pretty good players and will continue to draft them like other good teams across the NFL do routinely. Ohio State has had nearly 500 players drafted in the NFL in the history of the league including 90 first rounders.
Move No. 3: Added depth at multiple positions
Despite the Browns having sub-500 records the last two seasons, they have been close to turning it back around. The Browns roster has been pretty solid. Now with the acquisition of a few free agents this off-season the 53-man roster is coming into shape. This draft was about finding depth at particular positions by the team. That was certainly seen throughout this past weekend's draft.
The Cedric Tillman pick at wide receiver was a good move by the Browns. This will make the competition in the wide receiver room only more competitive this summer. Will the Browns keep six wide receivers, or will they go with seven?
The Saiki Ika signing finally gives the Browns defensive line a strong defensive tackle that can potentially start in time while in the meantime being a rotational player behind newly signed free agent Dalvin Tomlinson, and other current Cleveland veterans like Jordan Elliott.
On the offensive side of the ball, the signing of Dawand Jones means that the Browns got a huge boost with a player that can either start if needed or play behind right tackle Jack Conklin. Conklin has been injury prone recently so any addition like Jones is welcomed news. He could also move to the left side of the ball where Jedrick Wills is playing right now.
There has been a lot of speculation about Will's contract and his future with the team. Jones has played before at left tackle so the idea of him doing that again isn't out of the realm of possibilities if indeed Willis doesn't return to the team.
All in all, it was a very good weekend for Cleveland and the drafting of their picks. When you can add depth like they accomplished this time, you're building a competitive team for the long run and that's nice to see if you're a Browns fan.

NEO Sports Insiders Newsletter
Sign up to receive our NEOSI newsletter, and keep up to date with all the latest Cleveland sports news.