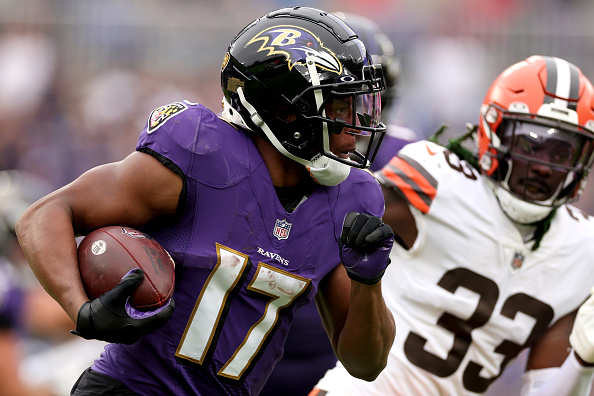 The Cleveland Browns have had one of the best run games in the NFL for the last several seasons. Much of that success had been because of the combination of a tremendous offensive line and having running backs Nick Chubb and Kareem Hunt making big plays and chewing up yardage. Chubb isn't going anywhere moving into the 2023 season, but his former running mate Hunt is a free agent and won't return.
The Browns will need to find a couple of reliable running backups. The team is expected to give second-year player Jerome Ford a chance at that sidekick role to Chubb. He had a solid collegiate career at Cincinnati and was a good rusher and pass catcher.
It still feels though that Cleveland is thin at the position in the absence of not only Hunt but also D'Ernest Johnson, who'd been that third back the last couple of seasons. Johnson went to the Jacksonville Jaguars as a free agent.
The Browns then didn't draft any new running backs, which many thought they would have done with a considerably deep class of backs available. That brings us to this team likely picking a new backup via free agency. There are still many runners out there so let's introduce you to three of them that could fit the bill for Cleveland.
No. 1 free agent running back Browns could target: Benny Snell
He's a former Pittsburgh Steeler. That's the bad news, but the good news is that the former Kentucky Wildcat is only 25 years old. He was never a starter in Pittsburgh, but he had a decent first two seasons there. He collected 784 total yards in his first two seasons while scoring six touchdowns.
Snell is a local Ohio kid having grown up in Columbus and went to Westerville Central High School. When he was at Kentucky, he ran for 3,873 yards while scoring 48 touchdowns. I would think that Snell has a bit more left in the tank and if the Browns want to pick up a player that would be very inexpensive with a lot of potential then Snell would be a great possibility.
No. 2 free agent running back Browns could target: Royce Freeman
The former Oregon Duck was drafted in the third round by the Denver Broncos back in 2018. After a couple of good seasons with the Broncos, he's spent the last two campaigns bouncing around the league. Last season he played for the Houston Texans. He's collected 1,473 yards on the ground but more impressive is the fact he's caught 85 passes for 519 yards.
When he was in his second season with Denver, he caught 43 passes and ran the ball 132 times. That type of versatility is key and if he came to Cleveland, Freeman could be used in this type of way. He's only 27 years old and would still be in his prime for an NFL running back.
No. 3 free agent running back Browns could target: Kenyan Drake
Of the free agent running backs, we're looking at today, Kenyan Drake, the former third-round pick of the Miami Dolphins back in 2016, has the most veteran experience. From a statistical angle, he's had the most production compared to these other free agents.
Drake earned 44 starts and rushed the ball 867 times for 3,866 yards and scored 33 touchdowns over his career. He's also a guy that has the ability to catch the ball coming out of the backfield. Drake collected 1,624 yards by catching 216 passes. He's also scored eight touchdowns this way. In his third season in Miami, he caught 53 passes for 477 yards and scored five times.
Drake played for the Baltimore Ravens last season and had a respectable campaign as he rumbled for 482 yards on 109 carries. He also caught 17 passes and scored a touchdown.
I think signing Drake would make a lot of sense. He's 29 years old and has some veteran experience that could be useful to the younger Cleveland running backs like Jerome Ford.
Drake played his college ball at Alabama. He was never the No. 1 guy there, but he still produced. That's what his career has been like in the NFL too.
Drake won't dazzle you with 1,000-yard seasons but he will give your team a reliable option in the run game.

NEO Sports Insiders Newsletter
Sign up to receive our NEOSI newsletter, and keep up to date with all the latest Cleveland sports news.