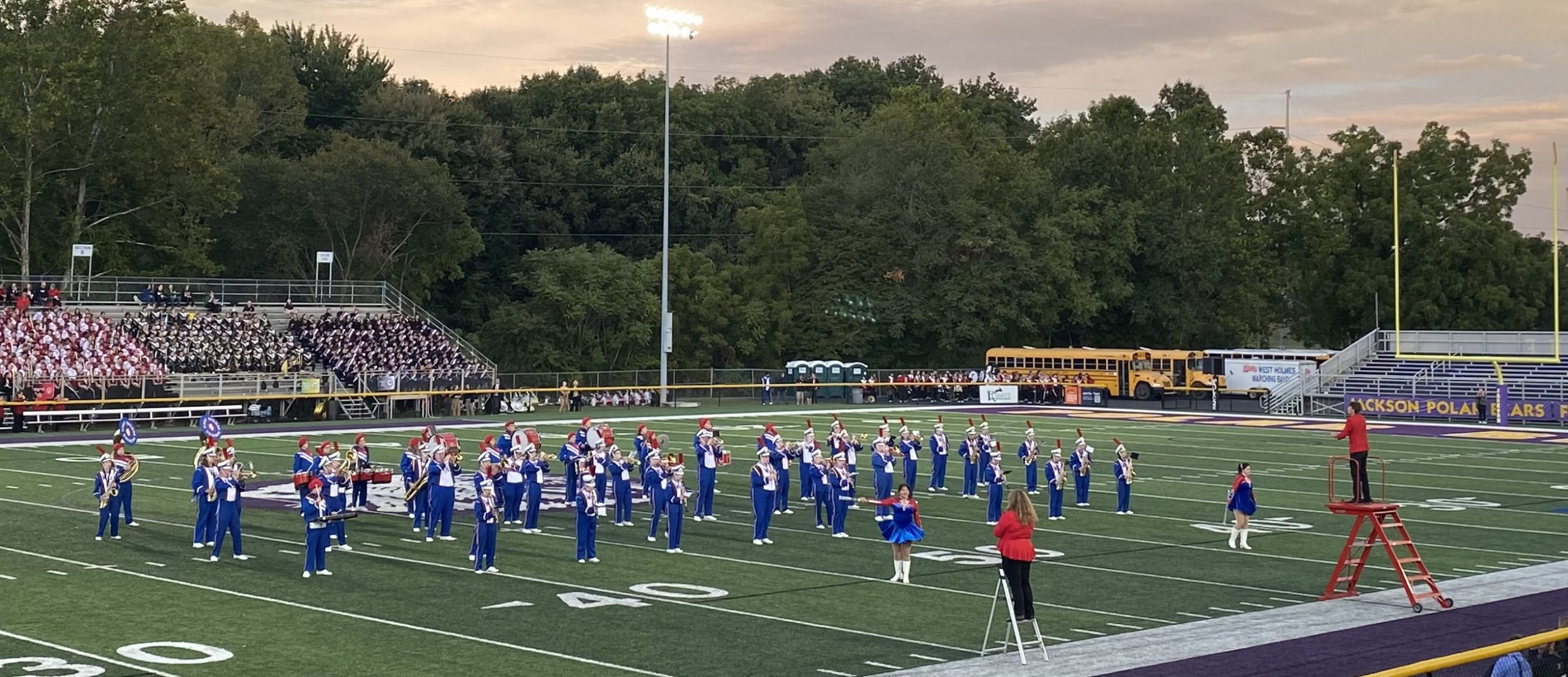 Imagine an evening filled with a space that encourages friendships, cultivates creativity, and provides students with a unique opportunity to grow as individuals. The foundations and lessons gained from marching band make it an extremely valuable learning experience for all ages.
This year's event showcased nine incredible high school marching bands from all over the state of Ohio. This is one of my favorite events that our school hosts every year. The entertainment is truly like no other. The beautiful school colors that each marching band proudly represents floods the stadium visitor's section as the sun is just about to set. Each school is unique in their own way. Several of these schools' football teams will battle it out over the next few weeks. But tonight, there are no rivals. There were just a little over 1,100 extremely talented musicians that all came together as one to share their spectacular gifts and talents.
What makes this evening so fun is that each marching style and music can be so different. Marching bands can be defined by the different styles of marching that they do, Military, Corps, and Traditional styles. This evening, and throughout the football season, you will see bands perform a combo of many of these techniques. This evening, there were times where the bands marched forward in sharp consistent straight lines. Then suddenly their step sizes increased and smoothly glided into fascinating formations and captivating sets.
As Master of Ceremonies, Mr. Sean Monigold, welcomes the crowd to Robert Fife Stadium to the 2023 Jackson Festival of Bands – Jackson's Marching Band Squad Leaders kicked off the evening with their traditional rendition of The Star Spangle Banner.
The Garaway "Marching Pirates", under the direction of Aaron Morris, are the first to perform tonight. The Pirates school colors are red, white, and blue. The theme of their program was "The Jungle". Welcome to the Jungle, The Lion Sleeps Tonight, Jungle Boogie, and The Bare Necessities were played with high energy and showed smooth dance moves that brought cheers from the crowd and the other bands. Garaway's Color Guard had flowing yet crisp movements as they waved green and black flags high into the air. Garaway is a smaller but mighty band. Boy, do they know how to entertain. They were spectacular!
West Holmes High School are the "Marching Knights" that have a long tradition of excellence. Their school colors are also red, white, and blue. They are under the direction of Steve Butcher. Sweet Child O' Mine, Do You Want to Know A Secret?, Creep, and I Want You Back is what we had the pleasure of hearing tonight. Each of these bands bring such creativity. The Knights brought high energy and showed great emotion and connection to their songs. The dancing! Another great addition to their performance that has the crowd cheering. The performance of their two majorettes brought beauty and wow to this evening's performance. West Holmes was able to capture our attention. The Knights absolutely thrilled the crowd!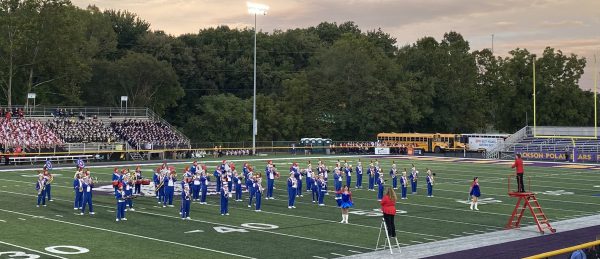 Next up, the Fredericktown High School Marching Band, "Home of the Freddies". Their school mascot is the Cardinal. Fredericktown's band is directed by Andrew Hollenbaugh. Their school colors are scarlet and grey. Tonight, they played Welcome To The Black Parade, The Middle, and THINKS FR THE MMRS. During each of these songs, the band's energy increased. Let's talk about their smooth moves. Once they placed those instruments down, Watch Out! Their dancing was incredibly fun and made you smile. You actually wanted to get up with them and dance. Magnificent creativity, Fredericktown! Great Show!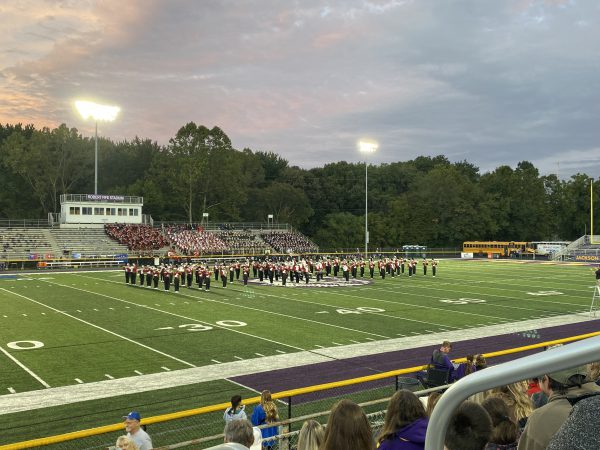 The Lakeview High School Marching band is under the direction of Nathan Sensabaugh. The "Bulldogs" are a dazzling blue and white. You could see the majorette's outfits sparkling in the end zone. Smells Like Teen Spirit, I'll Be There For You, Wherever I May Roam, Boot Scootin' Boogie, Poison, Creep, and Zombie were played with enthusiasm beyond measure. Lakeview's sound tonight went from moments of forte to piano. They were smooth in transition and kept your attention. One of the things that caught my eye about the Lakeview Marching Band was their Majorettes. At the beginning of each song, as the band entertained us with their rich and vibrant sound, their equally talented majorettes were quickly having a completely new wardrobe change for every song. It was amazing and incredible to see! They also had a moment where the percussionists took center stage and dazzled everyone with their excellent talent. Lakeview's rich tradition of excellence did not disappoint. Congratulations, Bulldogs, you are absolutely memorizing!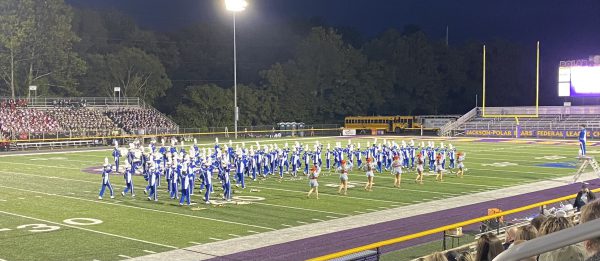 Here comes "The Pride of Canton!"…. The Canton McKinley Bulldogs. Zachary Taylor is the director of McKinley's marching band. With their striking red and black uniforms, these Bulldogs are always on point. You can tell they come to entertain. McKinley is always enjoyable and an inspirational band to watch. A couple years ago, they were named on of Stark County's Band Fan Favorites. And tonight, we see why. As the band beautifully serenades the crowd with In the Stone, Atomic Dog, Purple Rain, and Tear the Roof Off the Sucker, as their majorettes and dancers dazzled the stadium with their captivating dance style. As usual, the Bulldogs performance was absolutely outstanding!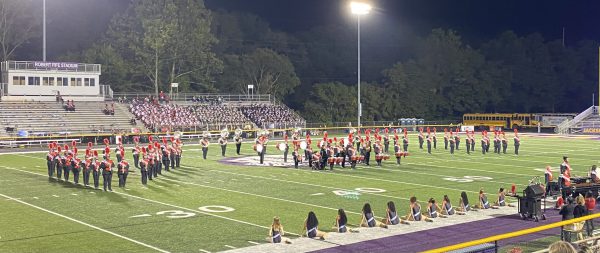 The Wadsworth High School "Grizzly" Marching Band is directed by Dana Hire. Their school colors are red and white. Tonight's performance was a "Rock n' Roll" theme that immediately the crowd ready to rock. The songs in their program consisted of Back In Black, Come Together, Enter Sandman, and Master of Puppets. The stunning and beautifully dressed Color Guard used dramatic synchronized movements to match the exhilarating sound of the band with flags and rifles. The Grizzlies have a unique blend of competition style with show band style that definitely makes them a favorite among audiences at band shows. The Grizzly Marching Band is made up of 130 members. With being a larger group of musicians, their discipline and marching techniques were impressive. It was an honor and a pleasure to see this band perform. Beautiful performance!
Next up, The Pride of Plain Township: The GlenOak High School and "Golden Eagles" Marching Band. They are under the direction of Chris Irwin and their school colors are green and gold. Tonight, their program consisted of A Hard Day's Night, Won't Get Fooled Again, Crazy Little Thing Called Love, and I'm Still Standing. Their marching band is a "show style" marching band utilizing a traditional "chair step" and more contemporary "glide step" in their marching. Their musical performance was filled with in sync movement and excellent tone. At one point, during their performance, the featured twirler ran over to entertain the other bands. Loud cheers and huge applause rang out across the stadium as she threw several batons, at one time, higher in the air with one spectacular catch after another. GlenOak's Color Guard perfectly executed the use of sparkly gold hula hoops that were new to see and excited the fans. Thank you, Golden Eagles, exceptional performance!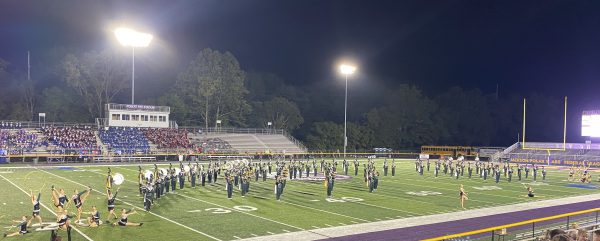 It took them a little over two hours to get here tonight, and we are certainly glad they made the trip. Welcome, the Pickerington North High School "Marching Panthers", who are directed by Gregory Benson. Their school colors are black, purple, and silver. Before each performance, one of the bands traditions is to play Amazing Grace as a warmup before performing. The announcer for Pickerington North shared that they wanted to share this with the other eight bands. The Marching Panthers stood quietly at attention, as they stood on the track that surrounded the football stadium right in front of their fellow peers. You could hear a pin drop in the stadium. It was one of the most loveliest renditions of this song I have ever heard. After their warmup, they entertained the crowd with Juke Box Hero, We're an American Band, Livin' on a Prayer, and Free Bird. Before you know it, while playing Livin' on a Prayer, the Panthers head back over in front of their peers. As they came to the chorus of the song, you could hear hundreds of instrumental musicians sing the chorus as the band played. Pickerington North's performance was thoughtful, personal, interactive, and brilliant!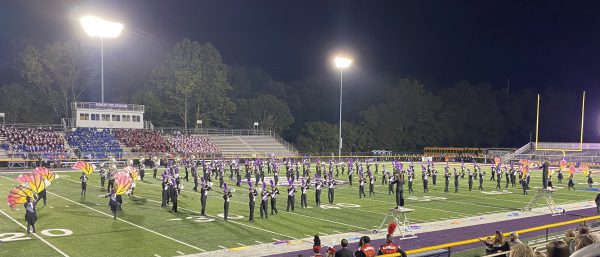 Last but not least, the "Pride of Jackson High School and The Show Band of Stark County" …. The Jackson High School's "Purple Army" Marching Band. The hosts of the evening are under the direction of Michele Monigold. The Polar Bears sport the colors of purple and gold. This evening was filled with so much respect, kindness, and encouragement. Throughout the night, each band continued to cheer and support one another. As the Purple Army got ready to hit the field you can hear a band member from a different school shout out,  "1, 2, 3, Good Luck Jackson!". It actually gave you goosebumps. Jackson started off their performance with Buckeye Battle Cry. Then proceeded to play Somebody Told Me, She's Gone, Proud Mary, Middle of the Road, Don't Go Yet, You Should Be Dancing, and closed off the show with Across The Field. Each performance demands nothing less than their very best – nothing less than excellence. The Purple Army is widely known as one of the biggest and best bands in Ohio. And tonight, while watching their field show, that is what we saw. Jackson's band is 250 members strong. Tonight's performance was breath taking as the band was dressed sharply, solid execution, and the music felt alive. Another Exhilarating Performance, Purple Army! Go Bears!!!

I can't thank you all enough! It was a magical night. Can't wait for next year!

NEO Sports Insiders Newsletter
Sign up to receive our NEOSI newsletter, and keep up to date with all the latest Cleveland sports news.