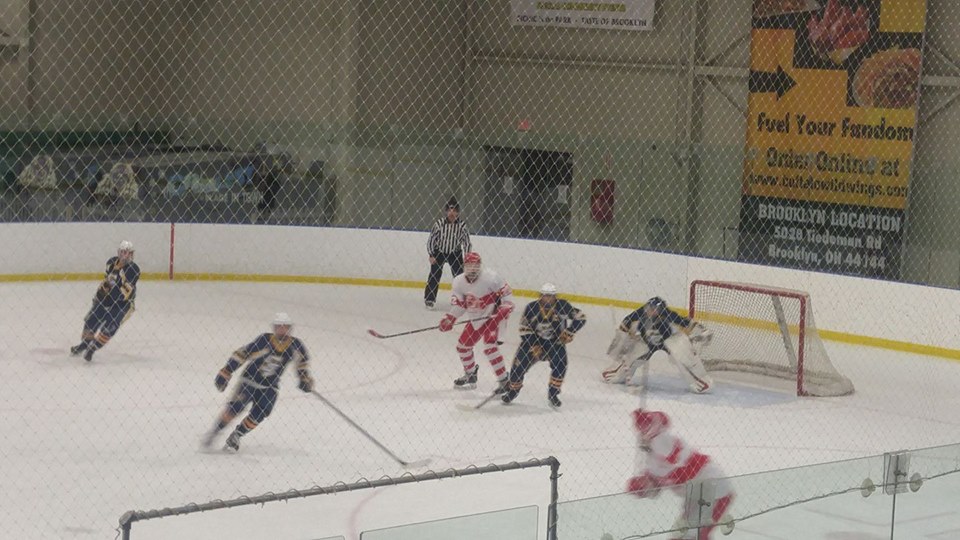 BROOKLYN – Baron Cup 1 action kicked off tonight with a hotly contested game between defending champion and Number 1 seeded Shaker Heights (21-6-2) defeating 8th seeded Solon (10-11-2).  The Red Raiders won by a score of 6-2 over the Comets. The Red Raiders will now take on the winner of the night cap between North Olmsted and Kenston.
Solon came out guns a blazing sniffing for an upset. Despite Shaker having the puck more then 13 minutes of the first period, the Comets held their own.  Solon drew first blood at the 10-minute mark when Niko Wu made a dazzling shot look easy to score.
Shaker, stunned but not without focus, regained their composure and scored to tie it minutes later with a Devin Campbell blast that found the back of the net.  It seemed as though the game would stay tied at 1 with less then a minute to go, but then things got crazy.
Within a 9 second span, both teams scored in the final minute of the frame.  Solon briefly retook the lead on a Charlie Gortz goal before 9 second later it would be Keenan O' Toole tying the game for Shaker.
It was an amazing effort by the Solon Comets goalie Michael Nagy in the first period, as his defense let up 24 shots, and he showed the quick instincts to stop 22 of them.  The Red Raider attack was fierce, but Nagy did his best to keep the Comets in it.
The relentless assault of Shaker Heights would bust through in the second period however as they once again controlled on both sides of the ice.  Breaking the 2-2 tie only 1:26 into the period was Asher Pollack.  About 7 minutes later it was time for The Captain Britt Anderson to get his goal, and extend the lead to 4-2.  The Anderson goal was shorthanded.
The Red Raiders would tack two more on in the third on their way to capturing a 6-2 victory.  They look like the early favorite to win it all once again after a very strong showing tonight.
Scoring Summary
First Period
Solon Niko WU unassisted @10:33
Shaker Devin Campbell unassisted @5:05
Solon Charles Gortz from Andrew Oliver @0:57
Shaker Keenan O Toole unassisted @0:48
Second Period
Shaker Asher Pollack from Evan Richards @1:26
Shaker Britt Anderson from DC Benicasa @8:12 (shorthanded)
Third Period
Shaker Keenan O' Toole from Britt Anderson @14:23
Shaker Britt Anderson from Ben Greenberg @4:07
Box Score
Solon 2 0 0 = 2
Shaker 2 2 2 = 6

NEO Sports Insiders Newsletter
Sign up to receive our NEOSI newsletter, and keep up to date with all the latest Cleveland sports news.