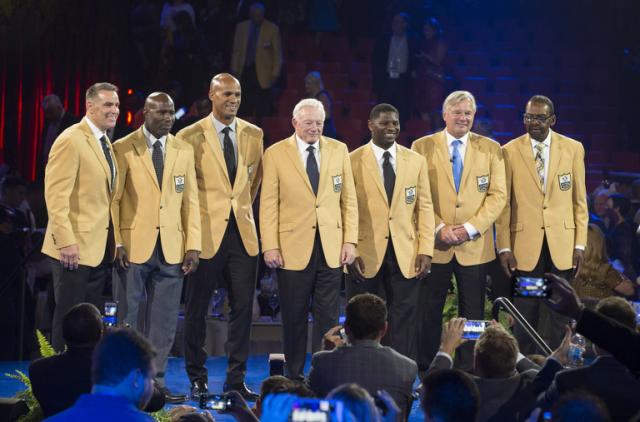 The 2017 NFL Hall Of Fame Ceremonies took place this weekend in our own backyard of Canton, Ohio.  While the game on Thursday wasn't worth watching, the induction ceremony on Saturday Night always is.
NEO Sports Insiders was on the scene capturing every moment of the fun as always.
Here is a list of each inductee, and a brief synopsis of what they had to say.
QB Kurt Warner
He thanked his wife and mentioned how she was truly the support that got him though several tough moments throughout his entire career. He told a story of seeing Dan Marino on a Wheaties box in "aisle 7 at 3 a.m." and how it motivated him to keep chasing his football dream as he was working as stock boy in a grocery store.  Kurt Warner started 3 Super Bowls, 2 for the Stl. Louis Rams and 1 for the Arizona Cardinals.
Jerry Jones – Dallas Cowboys Owner
The Cowboys have won three superbowls since he took over ownership of America's team and while he could have swelled a large ego, he chose not to and instead opted to give praise to his former head coach Jimmy Johnson.  "Jimmy, it was a great decision. You were a great teammate. You were a great partner. Contrary to popular belief, we worked so well together for five years and restored the Cowboys' credibility with our fans … I thank you."   It was a classy moment, and refreshing to see.
RB LaDainian Tomilinson
Arguably the best running back of the last decade, Tomlinson was gracious in acceptance. He was well due into his placement into the hallowed halls but remained humble, as he did throughout most of his career with the Chargers and Jets.
LT, gave one of the best quotes of the entire night when he said, "In sports, we're evaluated on our desire, ability and we're given a chance to compete. America is the land of opportunity. Let's not slam the door on those who may look or sound different than us. Rather, let's open it wide for those who believe in themselves, that anything is possible."
S Kenny Easley
Easley went into the Hall of Fame as Seattle Seahawk from yesteryear.  Easley was first to speak at the ceremony and made a point of mentioning his religious faith.  He also gave much praise to his parents which was well deserved.  He didn't stay away from politics however, which made some a bit uncomfortable.  It was completely unnecessary, but he couldn't resist.
"Black lives do matter," Easley said. "And all lives matter, too. But the carnage affecting young black men today, from random violence to police shootings across this nation, has to stop."
K Morten Anderson 
It is a rare thing when a placekicker enters into the Hall of Fame.  But with Anderson, it was most deserved as he was the NFL's All Time Points Scored leader over a lengthy career.  He gave praise to his home country of Denmark and also explained that he was originally only supposed to be in a America for a brief period.  He also let it slip that he thought a football was actually round until he saw it for the first time.
DE Jason Taylor
It seems like just last week, Jason Taylor was sacking QB's all over the NFL.  Well, it has been at least 5 years because he grabbed his Gold Blazer last night.  Taylor broke down crying when talking about his agent and friend Gary Wichard, who died in 2011.  He also gave a lot of praise to his mother Georgia, who Taylor described as "The toughest person he ever knew".
RB Terrell Davis
TD, the 2 time super bowl winning, 2,000 yard rushing RB also took his spot in the NFL Hall of Fame.  Davis will easily go down as one of the most popular players in Denver Bronco History as he was a key cog in their first two Super Bowl victories in franchise history.
While many of us know all about Davis great NFL career, few knew that it almost didn't happen.  Davis told the story of how his first preseason game in the NFL went so bad, he tried to quit, but because it was Japan, he couldn't.
"I had one of my worst practices prior to the game.  I thought I had blown my chance of making the team, so I decided to quit. Can you imagine that? I called the front desk at the hotel and arranged for a flight home, but because I couldn't speak Japanese, we couldn't communicate, so I couldn't leave."

NEO Sports Insiders Newsletter
Sign up to receive our NEOSI newsletter, and keep up to date with all the latest Cleveland sports news.