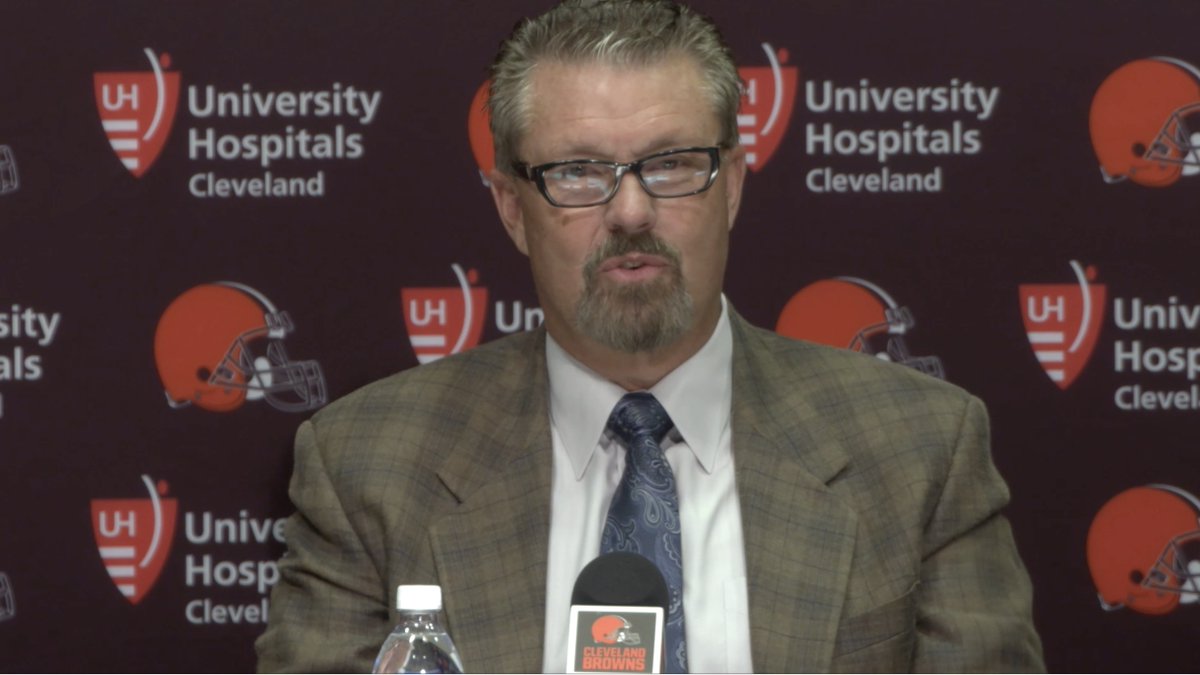 From the moment the press conference started, new Cleveland Browns defensive coordinator Gregg Williams set the tone for what should be an interesting dynamic between him and members of the media.
Of course all that matters is how the Browns play on the field, but at the very least, we know there are going to be some funny press conferences, for better or worse, through this ride.
Veteran reporter Tony Grossi tried to ask Williams about the "Bountygate" scandal from his days with the New Orleans Saints, to which the new DC immediately shut the question down.
Williams is focused on the present and has turned the page on that chapter of his coaching career.
His attitude may rub people the wrong way over time, especially veteran reporters who do not like to be talked down to by coaches, but if the Browns win, people will praise it as a no-nonsense type of mentality.
Whatever the case may be, he has a background of coaching teams with good defenses, so that's all that matters at this point.
Nevertheless, here are 12 quotes from the press conference that I found to be a combination of funny, motivational, and some that I couldn't tell if he was joking or serious.
We'll go in chronological order from the beginning of the presser
1.  "I don't believe in one voice, but I do believe in one message."
Williams said he was "impressed with the building and the people" in Berea and the people in different areas of the organization.
From Jimmy Haslam to Sashi Brown to Hue Jackson, it appears the team is all in lock-step, something that was an issue of tension under previous regimes.
Williams is the type of coach who would have had other options to coach for better teams in the league and if there were significant issues of lack of unity throughout the organization, he probably would not have taken the job in Cleveland.
2. "Cleveland-Based Defense"
When asked if he would run a 4-3 based defense. Williams simply said, "Nope. Cleveland-Based."
He went on to essentially say that the defense would be built around the strengths of the players and their skillsets, along with the competition the Browns face in the AFC North.
3. "I'm studying every one of y'all. Some of you slumped (in your chair). You won't slump in my meeting room. You're gonna' have your feet flat the first day and we're gonna talk about how you sit in your chair."
File this one under bizarre. It reminds me of middle school, when we had an intimidating assistant principal and a nice, but serious principal.
In this case, Williams is that assistant, who hands out the detentions, while Hue Jackson is the principal, who is more calm and collected.
This quote had to raise some eyebrows in the room.
Williams prides himself on being able to judge body language. Let's hope he can judge talent in the draft to assist the front office and scouts in their assessments.
4. "ADHD's been around a long time. I've been coaching guys like that long before they medicated 'em. I'm gonna' medicate 'em."
I assume he means he's going to medicate his players with good old-fashioned hard-nosed football and none of this cushy-mushy everybody gets a participation trophy nonsense. Or something like that.
5. "I can't cut 'em. But as long as I'm here, I'm gonna' decide who plays on defense."
The first name that came to mind as soon as I heard this was Justin Gilbert.
Although 2016 was a season for draft picks to get tons of playing time because the roster was so thin, Williams sounds like the type of guy who will not let where someone is drafted determine their playing time.
Later in the press conference, he mentioned how nearly a dozen of his defensive players with the Rams were selected in the sixth and seventh rounds or were undrafted altogether.
We'll see how short of a leash he has for some of the upcoming rookies and young players in 2017.
6. "I can only affect what Mom and Dad put in the gene pool about this much. My job is to butt their heads up against the cap of what the genes say they can do."
In other words, Williams is saying there's only so much you can do as a coach to affect a player's talent level and their football IQ, but his goal is to help his players realize their maximum potential and get maximum productivity out of their skillset and their knowledge of the game.
7. "I get two or three hundred calls on Father's Day every year."
Hold the phone. 2 or 3 HUNDRED?!
There are so many questions I have about this.
First off, how can you not know the difference between 200 calls and 300 calls? I guess they must all blur together and it's probably somewhere around 250-260ish.
Secondly, how long are these calls? If it's a quick, five minute chat, that seems do-able.
But if these are heart to heart, father-son conversations, WHAT TIME DO YOU HAVE TO WAKE UP TO MANAGE THIS??!?!?
I'm picturing Williams sitting by his phone, charger plugged in for the long marathon that's about to take place.
The clock turns from 11:59 pm to Midnight.
And it's go-time.
Non-stop for 23 hours 59 minutes and 59 seconds.
Click.
Father's Day is over.
In all seriousness, it's great that Williams has so many former-players that are like family to him now. If he were to say he receives 2 or 300 texts every Father's Day, I could probably see that being realistic.
But 2 or 300 calls? The guy has his own kids to hang out with, too, you know?
I'm reading way too much into this, but it was pretty funny when I heard him say that.
8. "Even in your own field, when you guys stop trying to re-prove yourself every day, they're gonna' find somebody else to sit in your chair, too."
No matter what type of job you have, whether it's the NFL, working in the media, or just about any work environment imaginable, the day you are complacent is the day that someone might be hungrier for that job than you are.
Williams is spot on with this one and it's something that all of us should remember because once upon a time, we were those guys/girls looking to get to our current jobs, and there's someone just like us waiting outside the door.
9. "Once I put my hands on those guys, I'm not gonna' watch any of their college film."
Williams is referring to the upcoming experience at the Senior Bowl.
He indicated that he's the type of guy who learns everything he needs to know by seeing a player in practice and getting to know them on a personal level.
The fact that he said he won't watch ANY of their film afterwards is a little bit unsettling to me. So a guy can have a great week leading up to the Senior Bowl, have a good character and high motor, and then Williams would just disregard whatever inefficiencies were shown on the tape?
Of course the scouts, front office, and other coaches will watch film, but sometimes "trusting your gut," can go too far to the other end of the spectrum.
Williams followed that up by saying he's friends with Nick Saban, coaches at Clemson, and coaches all throughout College Football, so that indicates he'll be listening to their input in evaluation, also.
10. "Special Teams… It's not a commercial."
Among the many areas in which the Browns were mediocre in 2016, Special Teams was not an exception. For a team like the Browns, with little talent on the roster compared to more veteran teams, winning requires all three phases of the game to be complementary.
The only time the Browns won a game in 2016, a blocked field goal was the difference.
There was a game early in the season in Miami where three missed field goals blew it.
Williams has experience as a special team coach and assistant to the special teams coach, and I hope he helps Chris Tabor out in 2017.
The phrase, "it's not a commercial," stood out to me.
How many times have we all watched games and see the Browns are about to punt "AGAIN". So then you decide to get up, grab a beverage, get some chips, etc.
You get back to the TV and the Steelers have the ball at the Cleveland 40-yard line because of poor punt coverage.
Special Teams is not a commercial. Maybe players even tend to take it more lightly than they would a third down situation.
That message to the team of "not taking plays off" on special teams, if followed by the players, could make the difference in some games in 2017.
11. "I'm here because I respect Hue Jackson… I watched every one of Hue's post-game (press conferences)… I have even more respect. I hope you do."
Say what you will about how horrible the Browns were in 2016. 1 and 15 is unacceptable. So on and so forth.
Through that horrible season, Jackson never once looked like a person who was defeated, at least in my mind and in Williams.
Williams goes on to say "How he stood up and what he did meant a lot to me. I want to evaluate people in distress. Not in good times."
We all can relate to that. How do you act when things aren't going well? That's often the measure of true character. And like Williams, I agree that Jackson handled the situation calmly and didn't make excuses. Now it's on him to see this thing through to hopefully the light at the end of the tunnel.
12. "I've got enough friends in life. If I want another friend, I'll go buy a Labrador."
That's a great way to end an introductory press conference.
I'm not a football player and I don't even have a dog, but I'd run through a wall for this guy.
If you'd like to watch the full press conference, check it out.