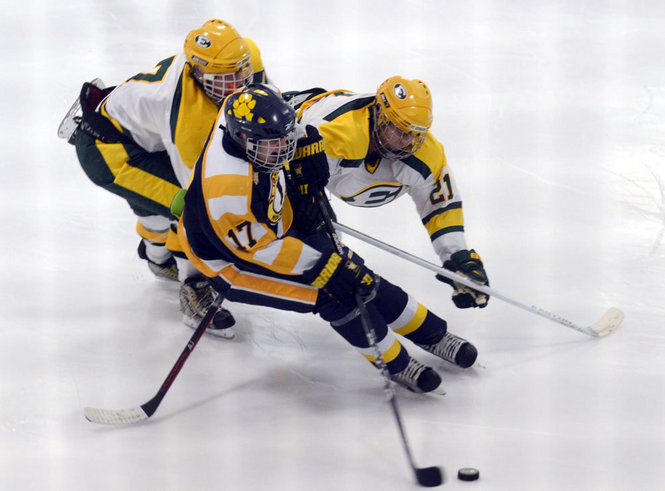 The final two teams have been determined for the Brooklyn District and it looks like a heated rivalry will have another chapter to add to its athletic history book.
The St. Ignatius IceCats and the St. Edward's Eagles will meet in the Championship game on Saturday, March 5. For most people, these two teams meeting in this game wasn't a shocker. But, both these teams had to battle through the gauntlet of hungry teams looking to take down the top two seeds in the bracket.
St. Ignatius' road to the finals started off with an 11-1 win over the 22nd seed Garfield Heights. The IceCats then moved on to face #9 Midview, where they cruised to a 9-1 win. The team finished off their journey to the championship game by defeating the #5 ranked Holy Name 5-0. The story for St. Ignatius' journey through this tournament is scoring at will. They had no trouble putting up points, outscoring their opponents 25-2 in the three tournament games they have played so far.
St. Edward's road to the championship game was similar to their rival's. They started off by defeating #22 Lakewood, 10-0. The Eagles had to then battle for a hard-fought win over 8th-ranked Avon, 2-0. St. Ed's had one more game to win before a meeting with the IceCats. That game was against #3 Padua. The Eagles were up 3-0 going into the 3rd period on Wednesday before an unusual turn of events occured. There was a leak in the Zamboni room, so the game was postponed until Thursday evening. None of this seemed to bother St. Edward, as they came out Thursday and finished out the game, winning 3-0 and moving on to the final.
So, the game is set: #1 St. Ignatius versus #2 St. Edward. The question going into this game is can the IceCats powerful offense score on the Eagles goalie Warren Hill, who hasn't given up a goal this tournament going into the game Saturday.
These two teams have met one time this season and Ignatius pulled off a 1-0 victory.
The puck will drop at 1 PM on Saturday, March 5. You can listen to the game live on AllSportsCleveland.com and get the recap right here as soon as the game is finished.