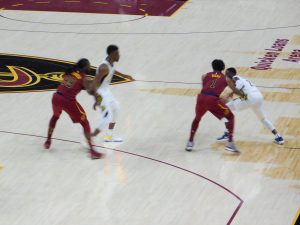 3. The only way out is through
Look, the NBA season is a long one. The Cavs have proven that some of the same issues that have plagued them in years past, (i.e. lack of a sense of urgency, boredom) did not die with eight new faces on the team in 2017-18.
But the only way out of this rough stretch is through it. At some point, they are going to have to all mentally buckle down, especially on the defensive end. During the 13-game win streak they proved that they are capable of doing that.
As rough as these last 10 games have been, the Cavs need to realize that the only way out of this calamity is through it. And let's be real, their schedule isn't getting any easier after today as the Golden State Warriors come to town on Monday. Friday night is as good of a time as any to right the ship.