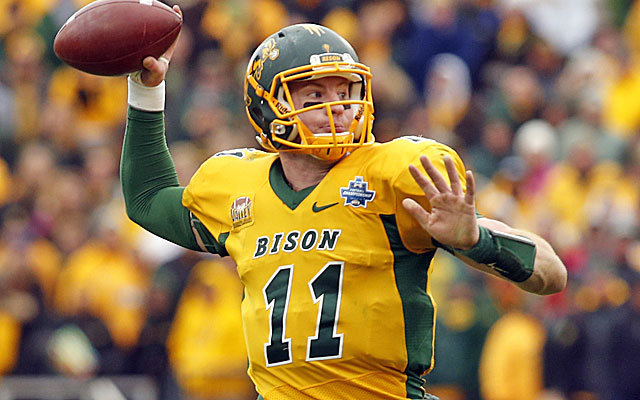 One of the quarterbacks among the list of several candidates to become the future face of the Cleveland Browns is Carson Wentz of North Dakota State, but reportedly, the Philadelphia Eagles may want to trade up to the number two spot in the NFL Draft to get him.
"Don't be surprised if a team like the Eagles makes a really strong move up the board to get Wentz," an anonymous NFC executive told NFL.com.
As Browns fans know, the number two spot is a big question mark for Cleveland's new front office.
The draft situation might be even less clear if the Browns decide to sign Robert Griffin III, as reports have indicated they are close to doing.
Before the potential signing of Griffin became apparent, the Browns were in discussions to trade for Colin Kaepernick, so maybe this new regime is not too high on any of the quarterbacks projected to go near the top of the draft.
If the Browns were to trade down to give Philadelphia the number two pick to acquire Wentz, it would mean that Cleveland in all likelihood would miss out on Joey Bosa, DE from Ohio State, Jalen Ramsey, DB from Florida State among other top prospects.
The Eagles currently hold the 13th pick in the first round.