Last season was filled with growing pains for first year head coach and 2004 Willoughby South graduate Jeff Fink, coming to Brush his program was in a number of games, but ended the season 1-9.
The former Mentor offensive coordinator is ready for the Arcs to get off to a fast start in 2016, and likes what he sees from the effort his kids have put in this summer.
"We're excited for this year, the kids have put a lot of work in this summer, working five days a week all summer long, they've invested," Fink said.
"That gives us a lot of hope and belief of where we want to go this year because they have invested and put the time in."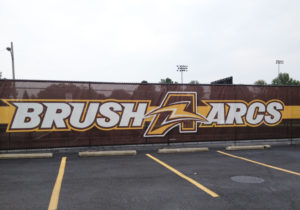 The Arcs were in the first two games last season, losing a close opener to Hoover, and then in week two falling in overtime to Perry. This season Fink has stressed a fast start as a key for the team to gain early confidence.
"You never say a game is a must win, but this has the makings of a very, very important football game," Fink said. "We understand where our kids are at right now, they believe, but until they go out and see that pay off, I think that's a spark to really ignite us.
"The kids have set the goal to be a playoff program, and in order to do that you have to win week one."
There's a lot to be excited about when it comes to the Brush offense, which starts with senior quarterback Tommy Loya, who looks to build on his playing time under center last year.
"Tommy Loya has done a tremendous job developing as a quarterback," Fink said. "Last year was kind of a rough transition for him as a junior, it's year two in the system for him and he's really starting to blossom."
The wide open offense should see plenty of opportunities for wide outs like junior wide out Markel Toney, who is 6-4, and senior speedster Aaron Murphy at 6-3 will be on the side opposite of Tony.
Another player to watch is 5-10 junior Godwin Joe, who will line up in the slot and could see plenty of opportunities to make some big plays for the Arcs.
"He can create mismatches for safeties," Fink said of Joe. "He stated the first five games for us last year at the quarterback position, but in time we've been able to move him back out to the slot position."
Christian Wright will line up in the be the Arcs backfield, and he also can catch passes and make things tough on opposing defenses.
"He is a physical, physical person, one of the best in the area, 4.40 type of kid," Fink said. "Pound for pound the strongest kid on the team."
There's a couple keys to the Brush offense that should make the Arcs more consistent in 2016, as Fink said the team has been working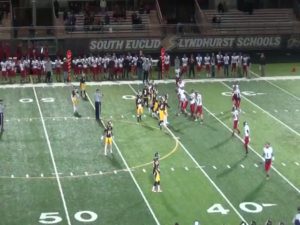 daily on making sure there are less mistakes this season.
"The key with our offense is going to be avoiding mistakes, not stopping ourselves," Fink said. "We turned it over a little bit too much last year, and had some costly penalties.
"You have to win first down, we can't be putting ourselves in long situations. We believe if we win first down, we can move the sticks, and then take some shots, because we have guys that can stretch the field vertically and can run by people.
"If we can do that and catch our rhythm we certainly are a team that can put a lot of points up on the board."
The Brush defense was beat up last season, as Fink said the team throughout the season lose 12 defensive starters, making it tough for the Arcs to keep up with teams in the Western Reserve Conference.
This season the Arcs have changed to a 3-4 defense, and hope that will pay off with a solid group of linebackers led by James Kalan, a 5-11 senior.
"Just an old school, hard nosed football player," Fink said of Kalan. "He's the type of kid who lives in the weight room, and once he sees the ball he hits the ball, he leads by example and is the heartbeat of that defense."
Another reason for optimism for the Brush defense is two cornerbacks that should be able to help shut down opposing pass catchers, Tyrin Miles, a 6-footer, and Lloyd Mcfarquhar.
"We are pleased where we are at, a lot of those guys we lost defensively are returning, and they are coming back healthy and stronger and playing with great confidence. If we can stop the run I feel very comfortable with our secondary."
The Premier Conference should be another dogfight in 2016, and the Arcs are hoping to be right in the mix of the conference fighting for a playoff spot in 2016.
"There's a lot of parity in our conference," Fink said. "Week in and week out it's a battle."
Fink likes the look of his squad in 2016, and feels that last seasons' one-win team will mature quickly and be ready to make strides starting against Hoover Friday night.
"They are a talented group, we have a good number of seniors, and then some juniors to support them, and a good number of sophomores that will see the field for us," Fink said.
2016 Schedule
8/26 7:00p Hoover (North Canton, OH)
Location: Brush High School
9/2 7:00p @ Perry (Perry, OH)
Location: Perry High School
9/9 7:00p @ Strongsville (Strongsville, OH)
Location: Strongsville High School
9/16 7:00p @ Madison (Madison, OH)
Location: Madison High School
9/23 7:00p South (Willoughby, OH)
Location: Brush High School
9/30 7:00p Mayfield (Mayfield, OH)
Location: Brush High School
10/7 7:00p Riverside (Painesville, OH)
Location: Brush High School
10/14 7:00p @ North (Eastlake, OH)
Location: North High School
10/21 7:00p Chardon (Chardon, OH)
Location: Brush High School
10/28 7:00p @ Kenston (Chagrin Falls, OH)
Location: Kenston High School