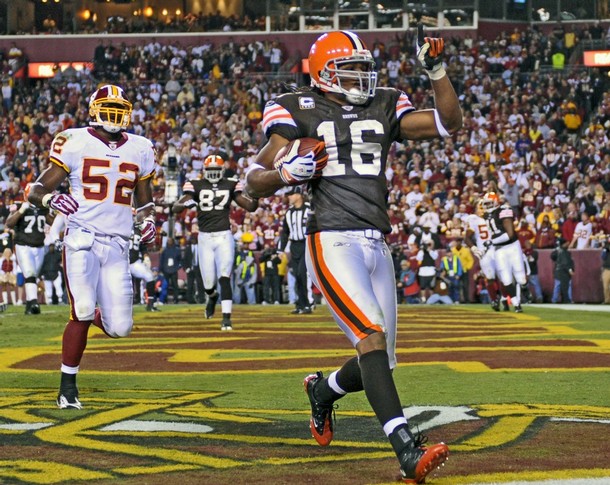 On Wednesday, former Cleveland Browns wide receiver and kick returner, Josh Cribbs announced his retirement from the NFL.
Cribbs last played in the NFL during the 2014 season with the Indianapolis Colts.
Josh Cribbs made an UNINTERRUPTED video that was posted on the UNINTERRUPTED twitter account.
"I'm grateful to officially retire a Cleveland Brown. Thank you, Cleveland." — @JoshCribbs16 pic.twitter.com/vLZ9DLSLCA

— UNINTERRUPTED (@uninterrupted) March 22, 2017
In the video, Cribbs announces that he officially retires as a member of the Cleveland Browns.
The Cleveland Browns posted this on their twitter:
"That experience, the [Browns] fan base, I wouldn't trade it for the world."@JoshCribbs16 retires from the @NFL » https://t.co/ND3OXfCW6r pic.twitter.com/TKeIX0e5Bz

— Cleveland Browns (@Browns) March 22, 2017
Cribbs finishes his NFL career with 110 receptions, 1,175 receiving yard, and 7 receiving touchdowns. Cribbs also had 11 touchdowns off of returns and totally 11,113 kickoff return yards.
Cribbs had his best receiving year in 2011 when he had 41 catches for 518 yards and had 4 touchdowns.
Cribbs is tied for the most kickoff return touchdowns in a career with Leon Washington, they both have 8.