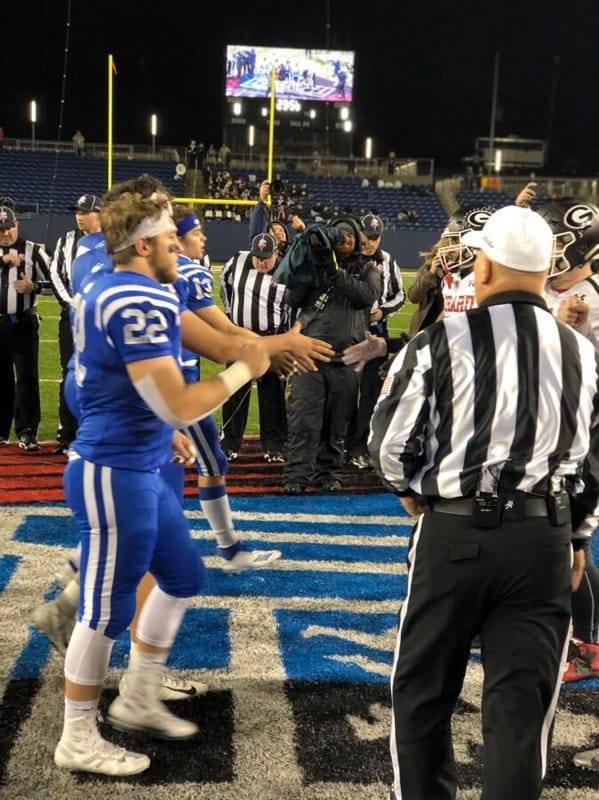 CANTON, OHIO – In a blowout that few people saw coming, the Wyoming Cowboys dismantled the Girard Indians 42-14 to capture the Division IV State Championship. It was 28-7 at halftime, and never close from that point on.
The game featured two of the best running quarterbacks in OHSAA history with Mark Waid of Girard and Evan Prater of Wyoming. Both young men had incredible seasons and gave defenses fits all season long. Tonight, was their first head to head meeting, and Prater won easily.
When it was all said and done, Prater finished with 242 yards on 35 carries with 2 touchdowns. He also found a way to throw for 149 yards and two more scores. Waid was held in check, finishing with only 31 yards on 13 carries with 1 touchdown. Waid and the Indians got down early and were forced to throw, he finished with 194 yards and a touchdown.
Helping the Cowboys dominant rushing attack was tailback Pierson Rogers who tallied 97 yards on 28 carries. All in all, the Cowboys chalked up 355 rushing yards on the night while the Indians were stoned to 46. Again, a lopsided stat that few envisioned.
Six minutes into the game, both Prater and Waid already had touchdown runs, and it appeared as if we were headed for a classic. From there, it was never close again as the Cowboys took over and didn't look back.
The remainder of the first half became the Prater show as he passed for two touchdowns and ran for one. Both touchdown passes were too Joey Edmonds of 16 and 29 yards. His second touchdown run of the night was for 8 yards.
The Indians attempted a small comeback in the third quarter, scoring first and cutting the deficit to 28-14. The score came on a Waid to Nick Malito 95-yard touchdown pass. It was a one play drive after being pinned on their 5-yard line.  It brought the Girard contingent of fans to their feet and provided a glimmer of hope.
It was a great moment, but not nearly enough to turn the game around as the Cowboys scored the next 14 points and put it away.
It was a great weekend in Canton, NEOSI would like to congratulate all the winners!