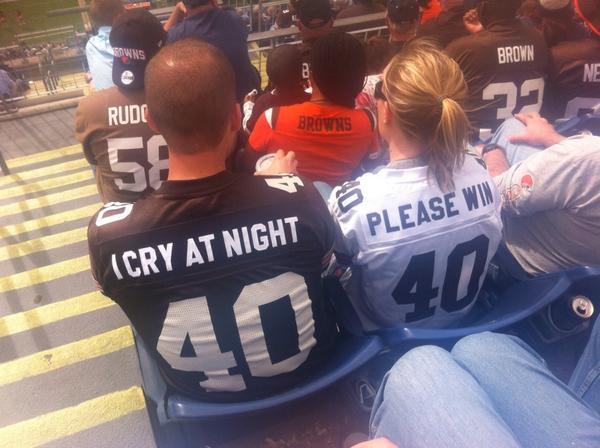 As a true die-hard fan of the Cleveland Browns, with all the negativity surrounding my favorite home team, it's honestly been a tough task to write about football.
Don't get me wrong, the Browns are always a hotbed of hot topics for Cleveland and the NFL – there is no shortage of usable content. If I so choose I could easily pen my opinions regarding the ineptitude of this franchise on a weekly basis. Hell, probably even on a daily one.
I feel a certain responsibility of informing Cleveland sports readers with relevant and engaging discussion. I strive to be as fair in my assessments as possible, and I value the ability of voicing our (the fans) concerns.
To some I may miss the mark with my apparent admiration of certain players. They tell me columnists need to be objective. I'm still working on that.
At the end of the day though, I'm just a Browns fan. Kicking my team while they're down isn't fun for me.
Yet still, here we are. Another wasted year. Another blown opportunity for relevance and respect.
Why?
Why is this brand of professional football standard for Northeast Ohio? When do we get to turn the corner?
I'm not really interested in listening to the 'this year isn't over yet' nonsense. There is not one element of this version of the Browns that should make you comfortable moving forward. If there is you're either lying to yourself or simply don't know what the hell you're talking about.
Old-timers remind me of the glory years, recalling the sweet childhood memories with faint smiles. I can't help but to feel a 'so what' attitude as I've become numb to these recollections of teams that have no bearing on my own life.
Sure, these trips down memory lane remind me that at one time Cleveland did in fact have a really good football team. However each of these conversations also share another commonality – how like clockwork their smiles melt into cold frowns once we fast-forward the conversation into present day Browns football.
23 quarterbacks have come through Cleveland in the last 16 years. None ever head and shoulders better or worse than the one before them. Or after them.
Do you know how hard it is to miss on 23 quarterbacks?
Subpar QB play in Cleveland is as common as the frowns that brace the faces of the old-timers of my Browns discussions.
Like clockwork.
But the question is a simple one; why should we believe in the Browns?

NEO Sports Insiders Newsletter
Sign up to receive our NEOSI newsletter, and keep up to date with all the latest Cleveland sports news.