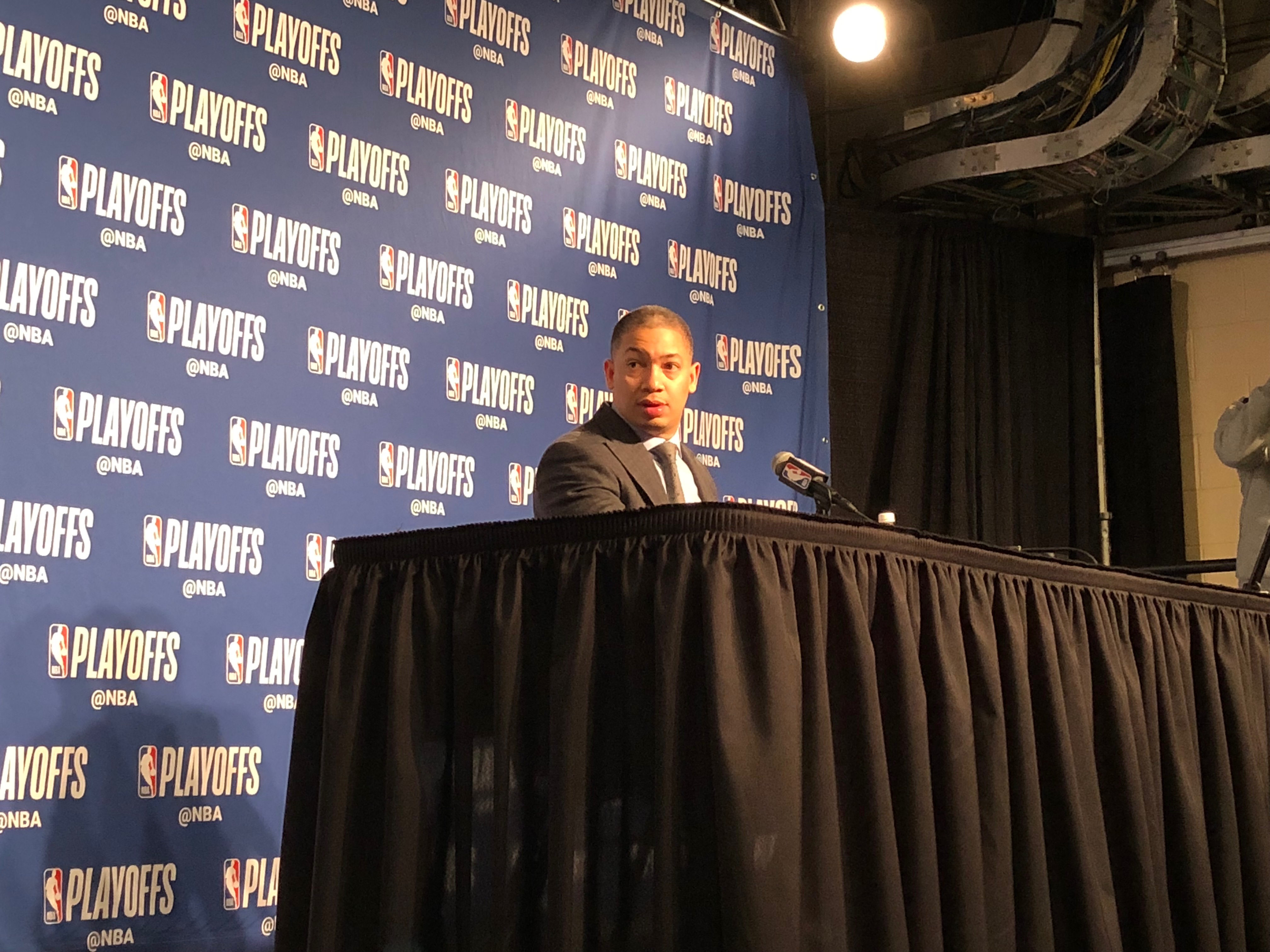 CLEVELAND– Stick with what works. That's exactly what Cleveland Cavaliers head coach Tyronn Lue did in Game 2 against the Indiana Pacers on Wednesday night.
After an awful opening performance from everyone not named LeBron James or Kevin Love, Lue needed to switch things up. With two days to ponder adjustments, many tried to get inside the mind of the Cavaliers' decision-maker.
What would Lue do about the combined 16 points from his three other starters? Or how about the fact that he couldn't buy defensive help if it was for sale?
Those answers came on Wednesday when skepticism was at its highest.
With four players left from the 2016 championship team, Lue only had so many players whose game he knew inside-out. You could also throw Kyle Korver into the fold of familiarity due to his run with the team last year, but that still only gave Lue five players with war experience together. In situations such as the one presented to the third-year head coach, Lue went with his gut. His gut told him to go with the old guard, and the reliable bunch responded once again when called upon.
Lue went with a lineup that featured LeBron James, Kevin Love, George Hill, Kyle Korver, and JR Smith– five guys that have a lot of playoff experience together. With no room for error, the seasoned vets pulled through.
"I thought JR was great defensively on (Victor) Oladipo," Lue told reporters following the team's victory. "I thought he really challenged him up the floor picking him up full-court, being physical with him, denying him the basketball. And then at the end of the game, having a big steal that went down and laid the basketball up. JR's defensive aggression was really good for us to start that game."
Oddly enough, Smith finished with only five points in thirty-five minutes. In fact, the highest scorer not named LeBron James or Kevin Love was Kyle Korver, who gave the Cavaliers 12 points in the starting role. But Smith, along with George Hill, provided the tenacity on the defensive front that was sorely missing in Game 1.
The decision to start Korver shouldn't have caught those in the Cleveland media off-guard. Lue stated he wanted to start Korver once the playoffs began but a multitude of setbacks prolonged the process. After the death of his brother, a foot injury, and being sick, the sharpshooter was ready to go.
"Talking to him when he missed practice the other day I said 'Well, I want to start you at the same plan.' He said 'I'll be ready to go.'"
Lue has oftentimes been under scrutiny for remaining too loyal to his players, especially the ones he's formed a strong bond with. But he's shown early in this playoff run that he won't let his heart influence his decisions this time around.
The first sign of that being the case was Tristan Thompson being relegated to the bench. Thompson, who was an underdog hero for the Cavs once upon a time, has seen two minutes of action through two games. With everything going on off the court with Thompson along with his decreased production, playoff minutes will be hard to come by.
Secondly, moving Rodney Hood and Jeff Green to the bench caught everyone by surprise.
For starters, Green was named a playoff starter by Lue before the postseason began. There were assumptions that no matter how bad his game looked, Green would remain on the floor. That wasn't the case and he saw just 13 minutes on Wednesday.
Hood hasn't been able to find a flow with Cleveland due to nagging injuries and an uncertainty on where exactly he fits. After seeing him battle foul trouble in the first half during a shaky Game 1 start, the midseason acquisition was moved to the second unit. Hood finished with five points in 16 minutes of action.
No one is quite sure how far this Cavaliers team is capable of going. But one thing's for certain, Lue won't allow his past mistakes get in the way of his lineup decisions. That could very well help lift Cleveland to higher heights than previously expected.

NEO Sports Insiders Newsletter
Sign up to receive our NEOSI newsletter, and keep up to date with all the latest Cleveland sports news.