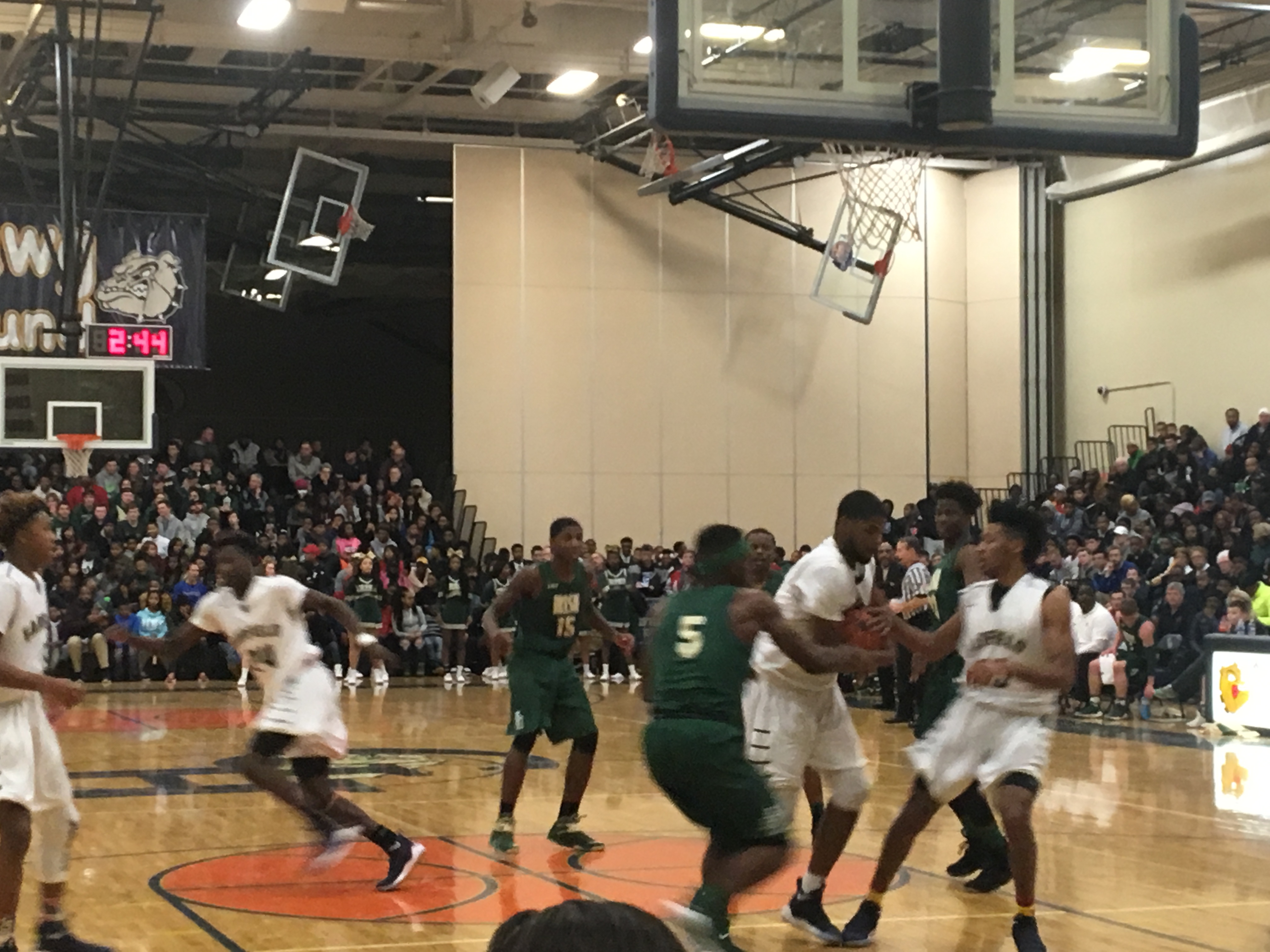 GARFIELD HEIGHTS, OHIO– The Garfield Heights Bulldogs escaped with a thrilling overtime victory over St. Vincent St. Mary, 85-76, in their NEO Youth Elite Christmas Classic.
Garfield Heights' Alex Heath won game MVP after a 23-point performance. Big man Alonzo Gaffney had a double-double with 15 points, 12 rebounds and four monster blocks. Also scoring in double-figures were Meechie Johnson with 14, Julian Whiteside with 13 and Donovan Forte with 10.
The Fighting Irish were led by Seth Wilson with 18 points, Scott Walter with 15, and Jalen Ross with 14.
Check out video highlights from the game below.
We are underway at Garfield pic.twitter.com/v7pvSFe6aX

— Ashley Bastock (@AshleyBastock42) December 28, 2017
3 Ptr from @GHbulldogsAD Alex Heath gives Garfield a 5-0 lead @NEOSportsInside pic.twitter.com/2HSorYOT5K

— Ashley Bastock (@AshleyBastock42) December 28, 2017
Another 3 from Alonzo Gaffney (his second of the game) gives @GHbulldogsAD 17-7 lead in 1Q @NEOSportsInside pic.twitter.com/o7yeGewmp7

— Ashley Bastock (@AshleyBastock42) December 28, 2017
Gaffney with his 3rd 3ptr for @GHbulldogsAD. He has 11 as Bulldogs lead St. V, 25-23 @NEOSportsInside pic.twitter.com/XMoL6D0pGp

— Ashley Bastock (@AshleyBastock42) December 28, 2017
.@GHbulldogsAD Meechie Johnson with his 1st FG of the game, Bulldogs lead St. V 30-29 with less than 4min to go in the half @NEOSportsInside pic.twitter.com/TxZYcDg5yY

— Ashley Bastock (@AshleyBastock42) December 28, 2017
Nice move from @STVMAthletics Seth Wilson to put the Irish up, 34-32 @NEOSportsInside pic.twitter.com/nonDR6HRcB

— Ashley Bastock (@AshleyBastock42) December 28, 2017
Meechie Johnson to Marlon Jordan for 3 @GHbulldogsAD @NEOSportsInside pic.twitter.com/QftW8s6uJB

— Ashley Bastock (@AshleyBastock42) December 28, 2017
2Q: A Malaki Branham bucket gives @STVMAthletics a 41-40 lead over @GHbulldogsAD at the half @NEOSportsInside pic.twitter.com/5E3h0MSPT2

— Ashley Bastock (@AshleyBastock42) December 28, 2017
Seth Wilson with the rebound put back to give @STVMAthletics a 50-45 lead over Garfield in 3Q @NEOSportsInside pic.twitter.com/ZDuVAlBldM

— Ashley Bastock (@AshleyBastock42) December 28, 2017
Keyshawn Jones lay up gives @STVMAthletics their largest lead of the game, 56-47 @NEOSportsInside pic.twitter.com/YycBR8SM15

— Ashley Bastock (@AshleyBastock42) December 29, 2017
3Q: Dagger baseline 3ptr from @GHbulldogsAD Alex Heath to tie the game, 57-57, heading into final 8 minutes @NEOSportsInside pic.twitter.com/KENPgBCeJb

— Ashley Bastock (@AshleyBastock42) December 29, 2017
Wilson 3ptr ties the game at 60 @NEOSportsInside pic.twitter.com/DXROW6NdxT

— Ashley Bastock (@AshleyBastock42) December 29, 2017
Fun sequence here: a steal from @STVMAthletics Walter, to a block on the other end from @GHbulldogsAD Whiteside, ends in a score for the Bulldogs that ends in a Whiteside score. @NEOSportsInside pic.twitter.com/lktcUkMfeL

— Ashley Bastock (@AshleyBastock42) December 29, 2017
.@GHbulldogsAD Gaffney with the monster block with 50 sec to go in the game. GH leads, 69-64 @NEOSportsInside pic.twitter.com/ceXyIsqfdD

— Ashley Bastock (@AshleyBastock42) December 29, 2017
Bedlam: after a Gaffney made FT to put @GHbulldogsAD up 3, @STVMAthletics Seth Wilson with the dagger 3. GH's Meechie Johnson called for a charge. ST. V timeout with 1.77 sec to go, tied at 70 pic.twitter.com/gc1CZ2l31d

— Ashley Bastock (@AshleyBastock42) December 29, 2017
After a St. V turnover (ball hit the ceiling on an attempted Hail Mary throw), Meechie Johnson gets a good look but it's no good. Headed to OT with game tied at 70 pic.twitter.com/RShuoZ63I9

— Ashley Bastock (@AshleyBastock42) December 29, 2017
Whiteside with the transition lay-in to give @GHbulldogsAD an 81-72 lead in OT @NEOSportsInside pic.twitter.com/I7y8bU7EAk

— Ashley Bastock (@AshleyBastock42) December 29, 2017
FINAL: after outscoring @STVMAthletics 15-6 in OT, @GHbulldogsAD wins 85-76. Alex Heath with 23 for GH, wins MVP. Here's his layup to put the Bulldogs up 11 in final seconds @NEOSportsInside pic.twitter.com/qvtqINkpKG

— Ashley Bastock (@AshleyBastock42) December 29, 2017
.@NEOSportsInside catches up with Alex Heath after Garfield's big win pic.twitter.com/db41UjDYUI

— Ashley Bastock (@AshleyBastock42) December 29, 2017
Our interview with Garfield's Alonzo Gaffney pic.twitter.com/2amLnjamm5

— Ashley Bastock (@AshleyBastock42) December 29, 2017
.@NEOSportsInside talks to Garfield Heights freshman Meechie Johnson after their 85-76 win over St. V pic.twitter.com/FdUuvMM9k4

— Ashley Bastock (@AshleyBastock42) December 29, 2017