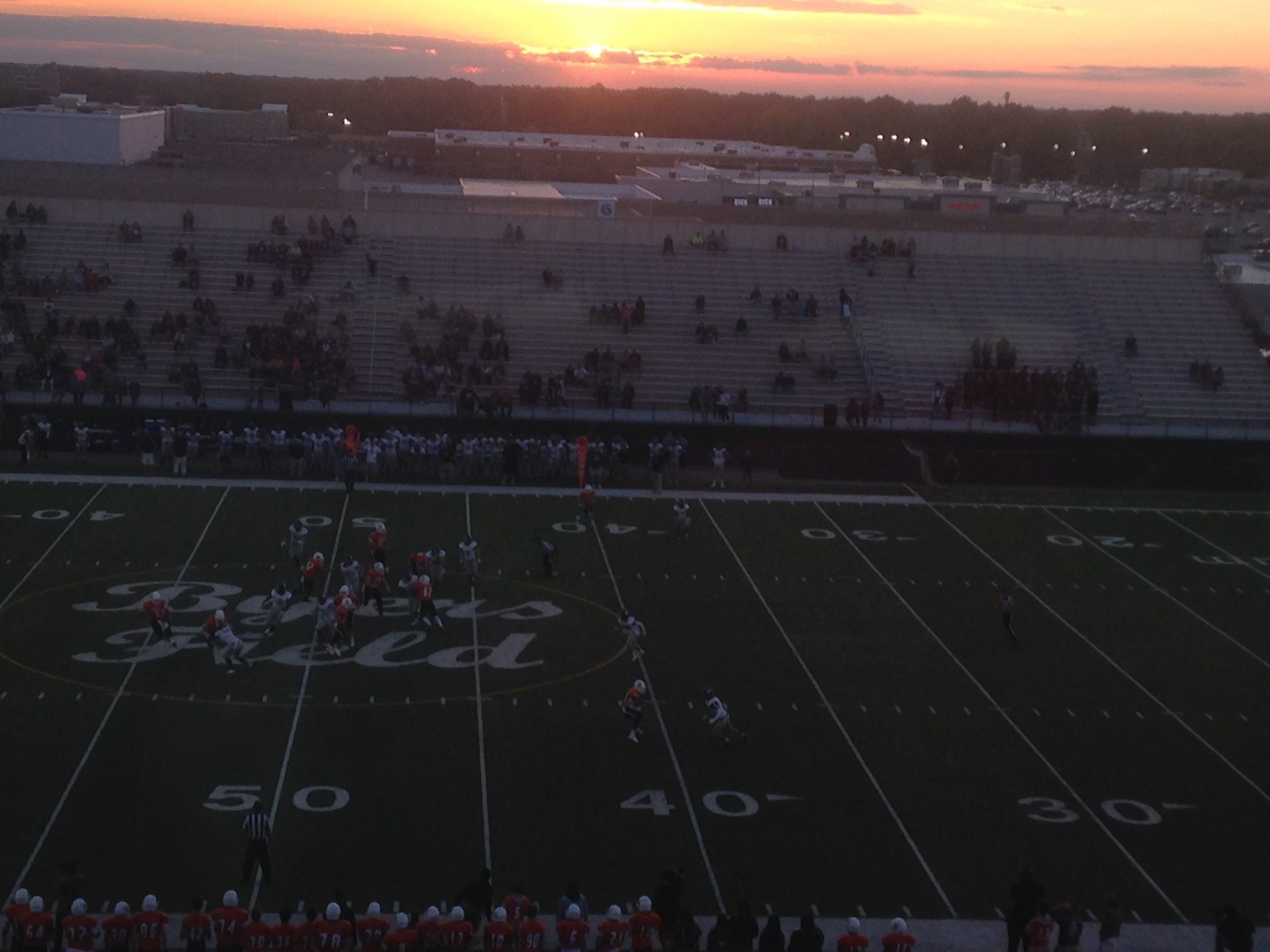 Parma, Ohio — Valley Forge sophomore running back Mike Pappas rushed 25 times for 257 yards and four touchdowns as Valley Forge knocked off previously unbeaten Normandy, 41-8 on Thursday night to kick off Great Lakes Conference play.
Valley Forge got things started on their very first possession, helped by a big pass play of 38 yards from senior quarterback John Quinones to wide receiver Ryan Groves. Pappas would punch it in from a yard out to give the Patriots the early 7-0 lead.
Normandy came into tonight's contest at 3-0 on the year, and looked to move to 4-0 for the first time since 2007. They would answer with their own score and were also helped by a big pass play, this one being 53 yards, from senior quarterback Ryan Dengler to junior Neno Czerwinski. Dengler would later find another junior, Matthew Ashe, for a 15 yard touchdown. The Invaders would utilize a little trickery on the ensuing two-point conversion to take the lead, 8-7.
In the second quarter, the Forge offense really got going, as Mike Pappas broke off a 65-yard touchdown run with 6:45 left in the quarter to regain the lead. After a defensive stop, Pappas got into the end zone again, and the Patriots led, 20-8 at the half.
In the third quarter, Normandy moved the ball inside the red zone, looking to cut into the Valley Forge lead. Despite the five minute drive, the Invaders could not get any points as they missed a 37-yard field goal.
Valley Forge answered with a long drive of their own, as Mike Pappas got into the end zone, scoring his third touchdown of the evening, to increase the lead to 27-8.
But Pappas wasn't the only player to have a big night for the Patriots. Junior running back Jalen Varner also got in on the fun, breaking off three big runs during the fourth quarter, and eventually getting a touchdown of his own in the fourth.
Senior Louis Arena scored a rushing touchdown with 3:16 left to cap off the scoring.
Valley Forge outgained Normandy in rushing 417-51.
"We were just fighting every play. We're playing to win. That's all we have to do." said Pappas.
Jalen Varner had six carries for 87 yards and a touchdown, and senior wide receiver Louis Arena had six carries for 45 yards and a touchdown.
"We had a lot of momentum after that stop in the third quarter. And we just gotta keep pushing." said Varner.
"I was just trying to help the team win in my first game back. It was awesome to get the win." said Arena.
"They're having a good season. It's a rivalry game, kids are fired up, wouldn't expect anything less." said Valley Forge head coach Marcello Deangelis. "The (Great Lakes Conference) is kind of wide open right now. Our kids battled, they played hard, and we got a win. I'm proud of them." he added.
In a losing effort, Normandy senior quarterback Ryan Dengler went 15 of 28 for 174 yards passing with a touchdown and interception. Junior wide receiver Neno Czerwinski had four catches for 75 yards, and junior Matthew Ashe had four catches for 34 yards and a touchdown.
Valley Forge (2-2) hosts Elyria Catholic on Sep. 21. Normandy (3-1) plays against Parma on Sep. 22.

NEO Sports Insiders Newsletter
Sign up to receive our NEOSI newsletter, and keep up to date with all the latest Cleveland sports news.