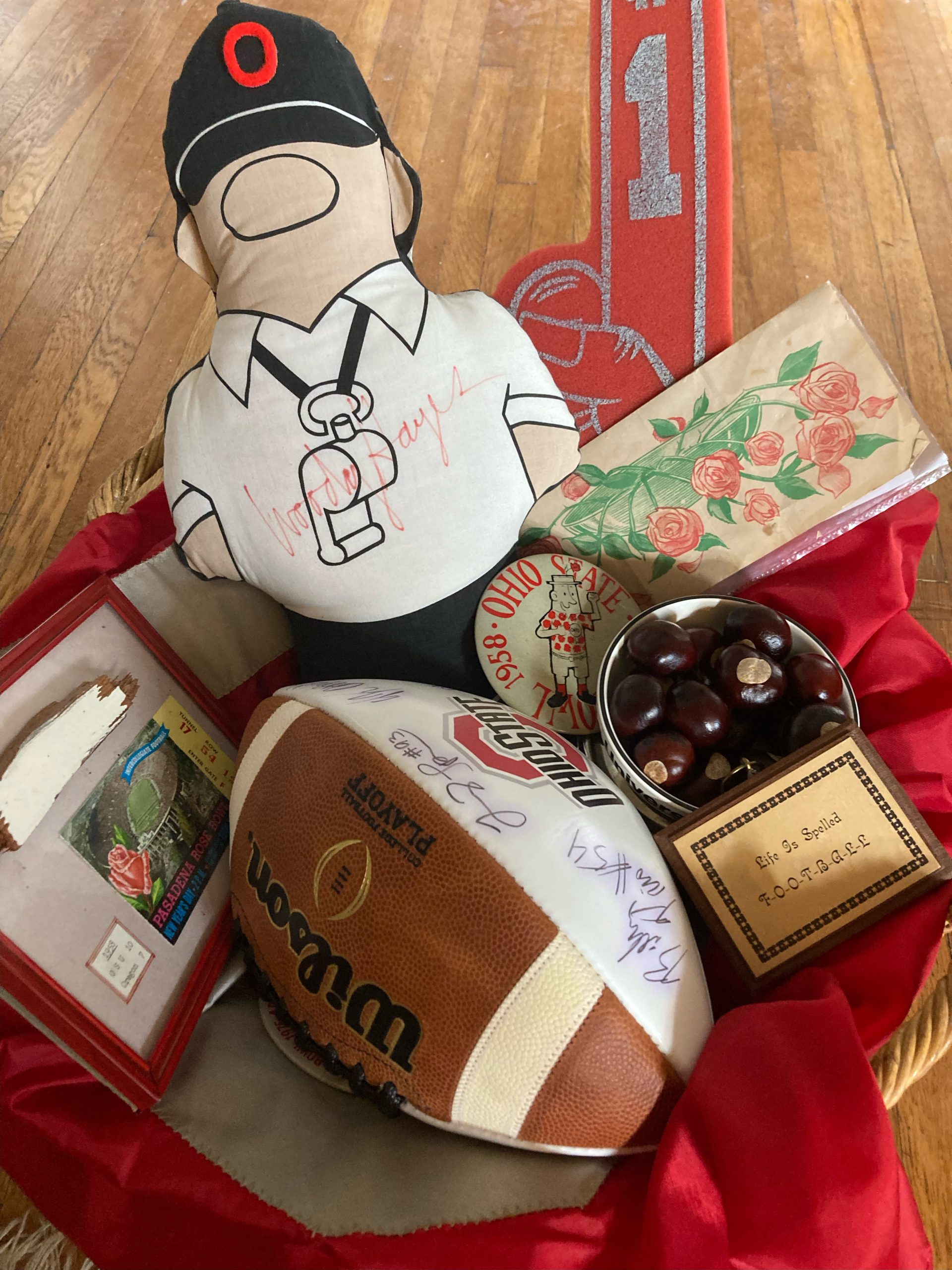 Can Ohio State get a break from playing Rutgers? The Buckeyes have played the Scarlet Knights every year since 2014 when they were added to the Big Ten Conference, and it's never been a competitive game. In the nine games, Ohio State has outscored Rutgers 477-53, an average final score of 53-6! Ohio State has never scored less than 49 points against the Scarlet Knights, consistency! The Buckeyes will win by a similar margin this week, I wouldn't be surprised if the defense pitches a shutout.
Do we have to suffer through this every year? We want compelling matchups that boost Ohio State's strength of schedule. We want to see the Bucks prove they have the mettle to win a championship.
Aside from two games against quality opponents, Notre Dame and Penn State, Ohio State's 2023 schedule hasn't been strong. The Buckeyes played Notre Dame in South Bend the 4th week of the season. It was a huge matchup between college football powerhouses, and the game lived up to the hype. It was a beautiful thing to see the Silver Bullets lined up across from the Golden Domers wearing their green uniforms. Ohio State showed its mettle in that game, specifically quarterback Kyle McCord who led a game-winning touchdown drive in the final minute.
The other non-conference games? Youngstown State and Western Kentucky, an FCS Division school and a former one. These matchups had us yawning before kickoff. The Notre Dame game bolstered Ohio State's strength of schedule, but games against Youngstown State and the like boost the Buckeyes' "Weakness of Schedule."
Ohio State's 2023 schedule can be categorized as follows based on the level of competition:
Games that Contribute to Strength of Schedule
9/23 @ Notre Dame – contributes to strength of schedule – marquee win
10/21 vs. Penn State – contributes to strength of schedule – we don't how good Penn State is
10/28 @ Wisconsin – contributes to strength of schedule – difficult road environment
11/25 @ Michigan – contributes to strength of schedule – marquee opponent on the road (against cheaters)
Games that Contribute to Weakness of Schedule
9/2 @ Indiana – contributes to weakness of schedule
9/9 vs. Youngstown State – contributes to weakness of schedule
9/16 vs. Western Kentucky – contributes to weakness of schedule
10/7 vs. Maryland – contributes to weakness of schedule
10/14 @ Purdue – contributes to weakness of schedule
11/4 @ Rutgers – contributes to weakness of schedule
11/11 vs. Michigan State – contributes to weakness of schedule
11/18 vs. Minnesota – contributes to weakness of schedule
Strength of Schedule Analysis
Notre Dame and Michigan are marquee opponents. Wisconsin is a tough road game, but the Badgers have fallen from their ranks as a perennial power when Barry Alvarez was on the sidelines.
The quality of Penn State is yet to be determined despite their 7-1 record. Don't be surprised if the Nittany Lions lose this week at Maryland, and again the following week at home vs. Michigan. If I'm wrong, I'll be the first to admit it.
If Penn State loses to Maryland and Michigan – and I expect Penn State to lose both – Ohio State will have only one marquee win heading into the season finale against Michigan. If the Lions win both games, the victory against Penn State will also be considered a marquee win.
West Coast Invasion
Four west coast teams will be joining the Big Ten in 2024, most are already aware of this. The crème de la crème of the PAC Ten Conference is heading to the Midwest: Oregon, UCLA, USC, and Washington. The Big Ten Conference will expand from 14 to 18 teams.
The first expansion was in 1992 with the addition of Penn State. Pretty amazing that the Big Ten's had more than ten teams for over thirty years! Then came Nebraska, and then Rutgers and Maryland. Ugh.
The influx of competitive teams into the conference will be exciting. Growing up, a nickname for the Big Ten was the "Big 2 and Little 8" with Ohio State and Michigan the only big boys. Expansion has not increased the competitiveness of the league as had been hoped. For the most part, the conference could now be named the "Big 3 and Little 11" with the addition of Penn State (Big), Nebraska (Little), Maryland (Little), and Rutgers (Little).
The New-and-Improved Big Ten Conference
Oregon, UCLA, USC, and Washington are behemoth additions to the Big Ten Conference; the PAC-10 has basically been gutted. Individually, each of these schools boost the competitiveness of the Big Ten. Collectively, the influx from the west entirely reshapes the conference. Do you think Ohio State and Michigan are still going to own the Big Ten in the years to come? Think again.
Every season there will be 4 or 5 teams in the conference that can stand toe-to-toe with Ohio State, right now there is only 1 team that can stay with the Buckeyes. Starting next season, Ohio State could be mired in 3rd place for the foreseeable future. I hope this doesn't happen, but it's a possibility and it's a trade-off. Would you rather have a weak, sometimes boring schedule and come out on top every season? Or do you prefer more compelling games, even if Ohio State wins only one-half or two-thirds of them? The accumulation of losses might be a hard pill to swallow for Buckeye faithful.
It will be extremely difficult to run the table in the new-and-improved Big Ten, but also not necessary. With an expanded College Football Playoff, it will be possible to secure a berth with three or four losses if the quality wins and strength of schedule are there. If the top Big Ten teams are battling each other every week, the strength of schedule will be unmatched by any other conference, which will give Big Ten teams a firmer claim to available playoff slots.
Please, No More Western Kentucky's on the Schedule
To take full advantage of the level of competition within the conference and the number of powerhouse teams, the Big Ten should eliminate non-conference games except for one marquee matchup each season. Ohio State would play one high-caliber non-conference opponent every year, a team such as Alabama or Texas, and stop scheduling weak non-conference games.
Given the choice, most fans would rather watch a competitive game than see Ohio State beat up on a lesser team. Ohio State football tickets are expensive these days; it would be nice to get a better return on the investment. Let Western Kentucky play Rutgers, it will be more competitive.
Who's Excited to Play Rutgers?
East coast Ohio State fans living in New York and New Jersey get excited when the Buckeyes travel to Piscataway to take on Rutgers. It's my friend Steve's only chance to catch an Ohio State football game, and there are a lot of Ohio State fans out east. Getting to SHI Stadium is easy, just hop on a train from Penn Station in Manhattan and it's a short walk once you arrive. Or you can drive and tailgate.
Ohio State fans show up in force to tailgate, pregame, and cheer on the Buckeyes, and there are always plenty of tickets available for a Rutgers home game. The Buckeye fans pack the house, making the sea of red even more red. It's the Scarlet Knights vs. the Scarlet and Gray, after all.
Watching the Game?
Aside from east coast Buckeye fans, who else is excited to play Rutgers? Not me. I'll record the game and listen to Paul Keels on 97.1 The Fan as I drive up to Cleveland. It's not a matchup I look forward to. It would be nice if we didn't have to play Rutgers every year. I'd be satisfied playing them every three years. Same goes for Indiana and Maryland, every three years is enough.
One game every three years is enough for almost every team in the Big Ten West, the division is full of lower-echelon teams: Minnesota, Northwestern, Illinois, Purdue, Nebraska, and Iowa. Wisconsin is the only team in the Big Ten West that's had sustained success in recent years, even if they have dropped off since the Barry Alvarez days. Other than Wisconsin, I don't look forward to these matchups with much anticipation.
New Age Scheduling – Soccer Anyone?
It is possible for the Big Ten to schedule competitive matchups every week, and at the same time eliminate games against programs that don't stack up. Consider professional soccer in England. The English Premier League is the top tier soccer league in England, and the Champions League is the second tier. At the end of each season, the three worst performing teams in the Premier League are relegated to the Champions League, and the three best Champions League teams get promoted. The system helps keep both leagues as even as possible from top to bottom.
The Big Ten Conference could do the same thing! The Big Ten could split into First Tier and Second Tier divisions, each with nine teams. The initial tiers could look something like this:
First Tier: Ohio State, Michigan, Michigan State, Oregon, Penn State, UCLA, USC, Washington, Wisconsin
Second Tier: Illinois, Indiana, Iowa, Maryland, Minnesota, Nebraska, Northwestern, Purdue, Rutgers
Scheduling the season out, each First-Tier team would play games against the other 8 First Tier teams, 1 marquee non-conference matchup, and 3 games against the Second Tier, for a total of 12 games. Every two years, the three worst performing teams in the First Tier are relegated to the Second Tier, and the three best performing teams in Second Tier are promoted.
Wouldn't it be exciting as an Ohio State football fan if the Buckeyes had a big game every week of the season?
It Would Have Been Fund
The Big Ten football schedules are already published for the next few years, and there's no chance my idea will see the light of day, but wouldn't it be fun? There would be more losses, sure, but every game would be "must-see TV." The Big Ten would rake in the television revenue every week. Imagine a TV lineup like this every weekend: Michigan-Oregon at noon; Wisconsin-UCLA as the afternoon game, and Ohio State-USC in prime time. The schedule would be grueling, but it would be hard to deny a Big Ten team a playoff berth over a team from any other conference with the same number of wins and losses. Something to think about, anyhow.

NEO Sports Insiders Newsletter
Sign up to receive our NEOSI newsletter, and keep up to date with all the latest Cleveland sports news.