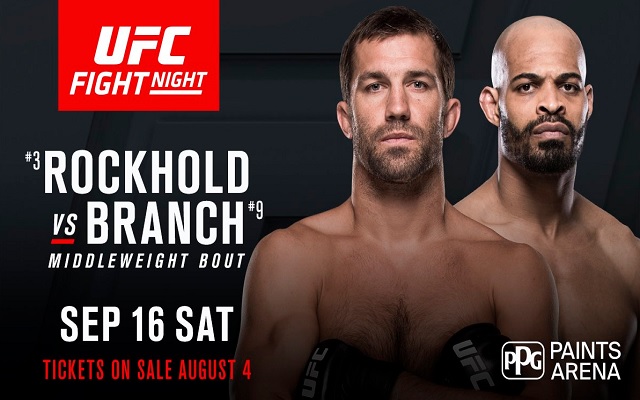 This live look into UFC Fight Night is brought to you by https://www.workoutfactory.com/
UFC Fight Night is taking place live in Pittsburgh right now and NEOSI's own Eli Mooneyham and Vince McKee are both at PPG Arena to cover all of that action.  All quotes provided by the UFC Media Staff. 
Scroll Below for the live Blog and match by match recap!
 And we are liiiiiiiiiiiiiiiiiiiiiiiiiiiiiiiiiiiiiiive from Pittsburgh and underway as the first fight has begun.
Jason Saggo vs Gilbert Burns
Burns out struck and attempted a submission late to take round one 10-9.
However, has a large red mark on his leg from several Saggo kicks.
Saggo dominated the second round with constant leg kick and strikes, but got caught in a Burns slam late into the round.  Moments later they are both standing when Burns lands a vicious right hook that knocks out Saggo, at 4:55 of the second round.
Result – Burns by second round knockout.
Gilbert Burns: Post Fight Comment 
 "I feel great. I have great jiu-jitsu, I have great grappling and I was working for a very long time to get my hands better, my striking better. I know I have a lot of power in my hands, but it's not just the power; it's the timing, it's the precision. I was working on the distance a lot. My coach said before the fight not to look for the right hook, but that if I hit him with it, he was going down. As soon as I threw it and I saw the way he was going down, I knew it. I know everyone in this division doesn't want to go to the ground with me, I know it for a fact. He was playing smart, he was doing a great job, but I think I was winning both rounds. I have a lot of respect for Jason Saggo and I hope he comes back strong, but I think I'm on a different level now. Once I get more comfortable on the feet I'm going to be even more dangerous. I heard Jim Miller is looking for a fight and I'm ready, let's do it."
Krzystof Jotko vs Uriah Hall
What an incredible first round of action as Jotko hit Hall with everything he had and couldn't put him away.  He came close to getting the fight stopped in the early part of the round with several flurries.  He then had Hall in trouble on the ground with a possible choke, but couldn't put him away.
Hall would make him pay in the second round as it was clear he was gassed out.  Hall carried the action and waited for the perfect opening to land the crushing knockout blow.  A brutal straight landed on the button and put Jotko out.  Giving us two exciting knockouts in the first two fights.
Result – Hall by second round knockout.  
 Post fight comment by Hall.
"The first round I couldn't find my footing. I was just really nervous to get back in there and I started to think too much about what's ahead rather than focusing on what is now. After the first round, I realized I lost and I just said 'F it.' I just bit down and I knew I had to go forward. I kind of felt extra pressure (knowing I was on a three-fight losing streak) it was just a hard mentality to fight back and forth. It's tough in a sport like this because it's a single sport, not a team sport. You're in and your head thinking that you can't lose, but I was trying not to think about that because I had no control over it. The second round I started to be here. The only other time I felt an exhilarating feeling like that was after I beat Gegard Mousasi and I was trying to contain my emotions as best I could."
Anthony Hamilton vs Daniel Spitz
If you blinked, you missed it.  Spitz by KO in less then 25 seconds. WOW! 3 fights, 3 KO's
Result – Spitz by first round knockout. 
 Spitz had this to say after the fight
Daniel Spitz:
"I imagined a knockout (in my first UFC win), the 24-seconds part was kind of cool, we're not paid hourly. This is amazing, it's so surreal. I worked really hard for this fight. Fans should expect more of the same moving forward – a giant, in shape heavyweight. They pay me to fight, I don't care what's next. I'd like to be on the Detroit card in a couple months, that'd be cool. I think Chase Sherman would be a fun fight. I have nothing against him, it's not personal. I like the way he fights and it would be fun for the fans."
Tony Martin vs Olivier Aubin Mercier
A back and forth tactical fight that drew some boo's from the crowd.  A lot of time on the mat.
Result – Olivier Aubin Mercier in a split decision win.
Olivier Aubin-Mercier: 
"I made a little mistake, but the key was to grind him out against the cage. We've seen in his previous fights that he gets tired against the cage and he actually got tired. It was just me, I made the mistake in the third round and I made the fight a little bit closer than it should have been. I think that was my biggest fight. The guy (Tony Martin) was really good and I just came back from a big win and he had three wins in a row. That was my biggest win. Right now, I may not be a top-15 guy because it's really a stacked division, but I think top-30 would be plausible. I think that's where I'm at right now – not top-15, but top-30 easily. I would like Charles Oliveira, but I don't think that's going to happen, but why not? David Teymur would be a smart fight for me too."
The main card is underway!  A solid undercard saw three brutal knockouts.  What will the main card bring?
Justin Ledet vs Zu Anyanwu
A sluggish first round saw very little action.  However, the guys behind us have downed several "soda pops"
Ledet has done nothing through two rounds, Zu hasn't done much more.  We go to the third.
Zu's right eye appears to be swollen as we start the third.
Result – This was a clunker, the swollen eye was enough to get Ledet the split decision win.  
Ledet
"I was disappointed in myself and my overall performance. I had an opponent change on seven days' notice and I was preparing for a grappler. It's tough."
Kamaru Usman vs Sergio Moraes
Kamaru Usman is the best Nigerian Nightmare since Christian Okoye and he has officially arrived on the UFC Welterweight Title Scene.
Result-  Usman by First Round KO!
Kamaru Usman:
 "Absolutely. That was the statement win I've been looking for. If people around the world are thinking that I'm not the guy to take that belt away from (Tyron) Woodley, they are crazy. I think RDA (Rafael Dos Anjos) and then I think after RDA is a title eliminator against the winner of Colby Covington and Demian Maia. I want to beat up RDA before the end of the year, early next year fight the title eliminator and then the middle of the year, after Woodley is healthy, I'm taking that belt from him."
Gregor Gillespie vs Jason Gonzalez
A first round slugfest that has the fans going crazy in Pitt.  Both guys bloodied already!
An absolute incredible first round by both men.  Plenty of action.  Gillespie gets the slight 10-9 edge.  We cannot wait for the second round!
The second round is every bit as good as the first, but ends violently when Gillespie chokes out a game but overmatched Gonzalez.
Result – Gillespie by 2nd round submission.    ( early favorite for fight of the night!) 
Gillespie:
"I think I showed I'm a complete fighter. I don't think I was trying to prove anything. I was out there doing what I've been doing in sparring, my striking coach has been preparing me the right way for the striking. I've been sparring with some amazing partners; they've been getting me ready and their striking is second to none. I'm good in all those areas, I'm just tying it together better. Everyone likes to say the weight class is so deep, but I don't have to fight everyone in the division at once. I just have to fight the next guy in line."
Hector Lombard vs Anthony Smith
Lombard and Smith get the task of following an instant classic.
Lombard picks Smith apart in the first round with constant leg kicks.
Smith has failed to use his size advantage at all through twp rounds. Slow fight that Lombard is winning easily.
Down 2 rounds to 0, Lombard get's caught, stunned and knocked out.  Smith finds a way to win after being down deep.
Result – Smith by 3rd round knockout  
Anthony Smith:
 "It's a real family. I've trained a lot of different places, but it's never felt like a really family. I've always been with Scott Morgan my entire career. It's just been the two of us and we've kind of bounced around a bit. Once we found Factory X, we knew we found a home. We train with a bunch of killers there and it's just this little gym that no one even knows about. It forces me to stay young, not that I'm old, but I've been around this game for a long time. I think the new camp and like I've said, I think I'm just a late bloomer and I'm more mature. I think I've made my life a lot simpler, it's just family and fighting. I'm open to fight at 185 or 205. I can keep making the weight, that's not a problem. I think that there are some big opportunities at 205 and I think I'm one of the few 85'ers that can go up and be right in the mix. How many guys are going to hang with Alexander Gustafsson? I've got the size to do it."
Mike Perry vs Alex Reyes
Well, that didn't last long.  Perry wasted no time in wrecking Alex Reyes with ease.  1 seconds is the quickest KO of the night.
Result –  Perry via First Round KO.
Luke Rockhold vs David Branch
Branch gets the slight edge in round one.  Rockhold comes out on a mission in the second and puts Branch away with a flurry on the ground.  The already crowded UFC Middleweight Champion gets a little more cluttered as the former champion is back on the prowl with a victory after 15 long months.
Result – Rockhold by second round knockout.  

NEO Sports Insiders Newsletter
Sign up to receive our NEOSI newsletter, and keep up to date with all the latest Cleveland sports news.