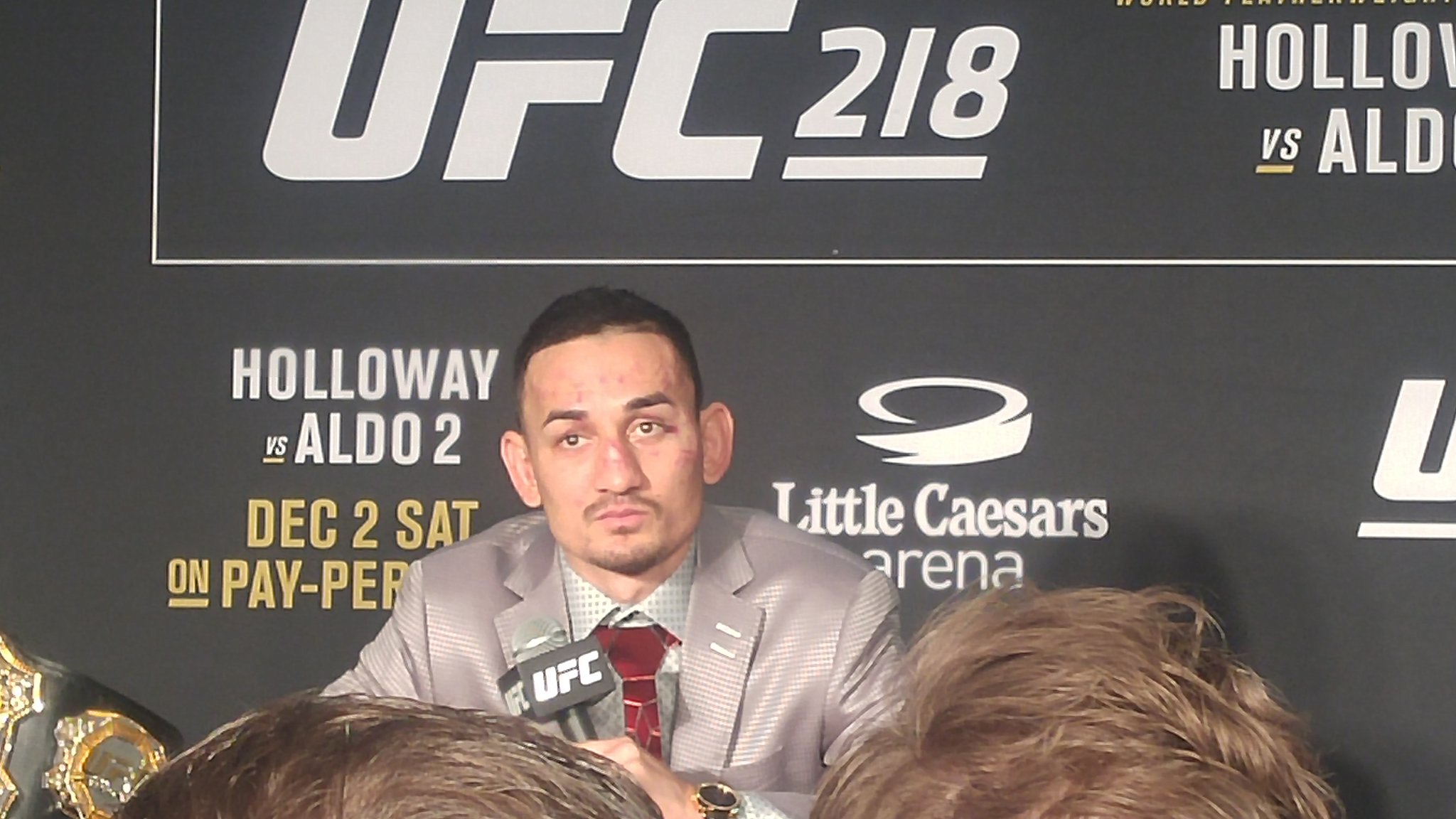 DETROIT, MICHIGAN – UFC 218 was and fast furious tonight from Little Caesars Arena in Detroit Michigan.  Here are some quotes from the winners of all 13 excellent fights!
Willis defeats Crowder via first round knockout.
Justin Willis:
"It was incredible to start the night off with a bang for the fans here in Detroit. I call that the 'pretty flex'. I'm a man of my word and I said first round knockout. My coaches were telling me to kick but I wanted to throw headshots and get the finish. It was very emotional for me in there because I came from nothing. I started from the bottom and now I'm here in the UFC – the biggest show on the planet. I'm going to keep knocking everyone out that steps in front of me. The guy that gets paid is the guy who steps up. Give me anyone and I will put them down. This is my time."
Reyes defeats Kimball via first round submission (rear naked choke).
Dominick Reyes:
"That's two UFC fights and two finishes so I feel awesome. The 205lb division is known for being one of the most exciting divisions in the sport and I'm trying to carry on that tradition. I took my UFC debut 22 days after my previous fight so it was great to get a full camp in for this fight. I wanted to learn more and improve my skillset and I think I showed that tonight by controlling the positions, locking in the body triangle and getting the submission. I'm a young guy who can finish the fight at any time so, wherever the UFC matchmakers think that puts me, is where I am. I don't have a specific opponent in mind just yet. I'll talk to the UFC and see who makes the most sense. I want to prove that I'm the future."
Razak Alhassan defeats Homasi via first round TKO.
 Abdul Razak Alhassan:
"I am obviously happy to win but how the fight ended is disappointing. I understand why the referee stopped the fight though since he was watching from behind. From that angle, it looked like he was injured from my punch and the referee must look out for our safety. However, if I lost a fight in that manner I know how I would feel, so I feel for Homasi. I expected the fight to be a war because my coaches had shown me how tough [Homasi] was but I thought he would start slow and that would come later in the fight. It was a lot of fun out there though. Regardless of the circumstances, it is great to have the win. I am not the type of fighter to call out or trash talk so I will be ready for whoever the UFC gives me next. I hope that that this is the start of me climbing the division and fighting bigger names."
Cooper defeats Magana via second round TKO.
Amanda Cooper:
"I believed that I was the better fighter coming into this fight but I was surprised by how easy the takedowns came and how easy I controlled the pace. She's a tough fighter but tonight was my night and I wanted to prove my dominance. When they told me the fight would be in Detroit, I was nervous. I felt like I fight better away from home because of all the pressure that comes with fighting in front of all your friends and family. I didn't want to disappoint them. It was very therapeutic to win like this in my hometown. It showed me that all I need to worry about is growing and being the best fighter, I can be. I'm still young in this sport and I want to continue to take smart fights and put on great performances. I study this division a lot and I want fights that will test me and push me to grow."  
Herrig defeats Casey via split decision.
Felice Herrig:
"I'm very happy to get the victory. It was a close fight but I thought I had done enough to get the unanimous decision. You never know what the judges are looking for though so I'm just extremely happy to get the win. [Casey] is very tough and I think we both knew how close the fight was so we were both running high on emotion but there's no bad blood there. Just a competitor spirit. I'm on a four-fight winning streak and I think I deserve high ranked opponents. The title just changed hands and I want to get my shot!"
Teymur defeats Klose via unanimous decision.
David Teymur:
"I knew that this would be a very tough fight but that is why I fight in the UFC – so I can fight the best guys in the world. I am undefeated in the UFC and I've been fighting the top prospects. I want to fight a top 15 opponent and continue to prove myself."  
Medeiros defeats Oliveira via third round TKO.
Yancy Medeiros:
"Thank you to Oliveira. He's a cowboy and we all know that cowboys are tough; he proved it in that fight. Thank you to all my teammates and to Hawaii – I love you! Detroit, thank you for welcoming me and I hope you enjoyed what you saw tonight. Give us the bonus!"
Felder defeats Oliveira via second round TKO.
Paul Felder:
"I have a lot of respect for Charles, he's a very sneaky fighter, but I have crazy jiu-jitsu artists trying to choke me out daily in camp so I knew what to look for out there. It was a back and forth fight and he's very tough. I knew that I could start dropping big elbows if I could get to the top position and that's what I did. I felt him start to soften up. I did feel him tap but it was very light and I wasn't 100% sure that it was a real tap or if it was just him moving. Dan [Miragliota] was watching over my shoulder and the last thing I wanted was to let up and him to say to keep going. I never want a fighter to take extra damage but I also wanted to make sure I finish the fight. That's three straight finishes for me so I hope that the UFC sees this as time for me to step up in competition. I would love to fight Al [Iaquinta] if he decides he wants to fight again. I have a lot of respect for his style and I think we'd put on a hell of a show. I know Dustin Poirier is ahead of me but he just beat one of my teammates so I'd love to fight him too. I just want to fight the best 155-pound fighters in the world so, whoever that is, I'll be ready."
Torres defeats Waterson via unanimous decision.
Tecia Torres:
"Going into the third, I thought I had done enough to win the fight but I was a bit iffy because of her takedowns during the second round so I wanted to seal the deal in the third. I just kept throwing and looking for the finish. My goal in the third round was to finish her but I'm very happy to get the win. Rose [Namajunas] and I are have fought twice and we're 1-1. I feel tonight was my best performance in the UFC and I would love to get that rematch. A trilogy fight for the title would be incredible and I would love to show off everything I have learned since the last time Rose and I fought."
Alvarez defeats Gaethje via third round TKO.
Eddie Alvarez:
"Titles are great but, at the end of the day, the thing everyone cares about is who the most violent fighter is and that's what this fight was tonight. I trained for this like it was a five rounder and my plan was to finish in the third. If you're not ready for Justin Gaethje, he'll put you on your butt every time so I used the body shots to hurt him and control the pace. Every single day, I'm in the gym with my coaches. I try to be ready for anything."
Cejudo defeats Pettis via unanimous decision.
Henry Cejudo:
"I felt stronger out there. I never felt his power. My plan was to wrestle a little more, let my hands go when we were standing and I imposed my will. I've been dreaming about getting back to the championship for a long time and I just beat two Top 5 contenders. I want Demetrious Johnson. I know there's talk of DJ and TJ [Dillashaw] but I think I deserve Demetrious. If not, then give me TJ. If DJ won't fight him, I'll fight him. DJ or TJ. Give me one of them!"
Ngannou defeats Overeem via first round knockout.
Francis Ngannou:
"I feel really good. Actually, I feel great. I have worked hard to be here and I thank Overeem for the fight. It is one punch. Not just to Overeem, not just to Stipe [Miocic], I will do that to everyone. I am on my way to completing my dream. I always dreamed of being a world champion. I thought it would be in boxing but my dream changed when I discovered MMA. MMA was my calling and now I am on my way to this dream. Tell Stipe that I am coming. I am on my way to collect my belt. I thank him for keeping it for me but that time is over. That is my belt."
Holloway defeats Aldo via third round TKO.
Max Holloway:
"At the end of the day, it is what it is! All due respect to Aldo. He is a hell of a technician but this is the Blessed Era. This is something new. He kicks very hard but I think we passed the test. I took him into deep waters. Tonight, was a Hawaii vs. Brazil thing. My bother Yancy did his thing tonight. I did my thing. All of these guys are cupcakes and I love cupcakes. I look forward to the new flavor but I'm going to eat them all."

NEO Sports Insiders Newsletter
Sign up to receive our NEOSI newsletter, and keep up to date with all the latest Cleveland sports news.