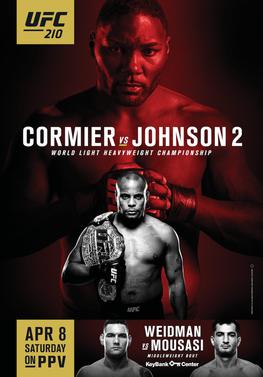 UFC 210 is this weekend from the KeyBank Center in Buffalo, New York and NEOSI's very own Eli Moon and myself will be in Buffalo to cover the event first hand.
It features a main event of Light Heavyweight Champion Daniel Cormier defending his crown against number one contender Anthony "Rumble" Johnson.
This is a rematch of UFC 187 in May of 2015 when Cormier submitted Johnson in 3 rounds via rear naked choke.  As you may recall, Anthony Johnson actually rocked and almost knocked out Cormier in the early moments of the fight.  "DC" was able to rebound and eventually come away with the title victory.
The CO- Main Event is also nothing to sneeze at as former UFC Middleweight Champion Chris Weidman looks to stop a two-fight losing streak when he takes on the former DREAM Light Heavyweight Champion, former DREAM Middleweight Champion, former Cage Warriors World Middleweight Champion and the former Strikeforce Light Heavyweight Champion in Gegard Mousasi.
The card is loaded with 13 great fights, and as long as no one gets stuck on a faulty elevator, all 13 look like they are going to happen.  Considering the fact, we will be there live in person to cover every second of the entire show, Eli and myself thought it would be best to predict each fight.
Have fun following along and don't forget to join us Saturday live via Facebook and Twitter for a match by match, blow by blow recap!
Flyweight – Jenel Lausa vs Magomed Bibulatoy
Prediction – I sense Magomed Bibulatoy will make his UFC debut in style and come away with the decision victory.
Women's Bantamweight – Katlyn Chookagian vs Irene Aldana
Prediction – Chookagian by split decision in a razor thin margin of victory.
Lightweight – Josh Emmett vs Desmond Green
Prediction – Josh Emmett makes his UFC debut by knocking out Green early into the second round.
Lightweight – Gregor Gillespie vs Andrew Holbrook
Prediction – Holdbrook can has a number of ways he can beat an opponent, and he will find a way to submit Gillespie in the second round in what some may consider a mild upset.
Light Heavyweight – Patrick Cummins vs Jan Blachowicz
Prediction – Cummins hasn't done well in his UFC career since coming over from Strikeforce a few years back.  However, Blachowicz hasn't exactly been a world beater either.  Not really all that great of a match but I'm forced to pick someone, so I will go with Cummins.
Featherweight Charles Rosa vs Shane Burgos
Prediction – Burgos remains unbeaten with a split decision victory in a bout that could go either way on paper, let's see what happens when they get inside of the cage.
Welterweight – Kamaru Usman vs Sean Strickland
Prediction – This has Fight of the Night written all over it.  This match truly may steal the show as both of these guys are studs.  It is almost impossible to predict but Strickland has been a little more convincing in his wins so I see him pulling out a very close split decision victory.
Featherweight – Myles Jury vs Mike De La Torre
Prediction – Through 2014 Myles Jury was on the fast track to be the new big thing in the lightweight division and many saw a possible long run with the title for him.  Then a crazy thing happen, he lost to Donald Cerrone to kick off 2015 at UFC 182 and has not been the same since.  In fact, he has only fought once in the last two plus years since then, and lost to Charles Oliveira in one round by submission.
Was the quick 15-0 rise of Jury a fluke, or is he really that good and just on an odd losing streak?  Whatever the case, this match against Mike De La Torre is now a must win for Jury.  I think he does just that, getting back on the winning end of things with a first round submission victory by rear naked choke.
MAIN CARD
Lightweight – Will Brooks vs Charles Oliveira
Prediction – Oliveira is a veteran of 30 MMA pro fights and has been in there with some very solid competition over the years.  He has high profile wins over Myles Jury and Jeremy Stephens to name a few.
Brooks is 19-2 but few to no signature wins and is coming off of a loss.  He was 9-1 during his time in Bellator as well.  Both fighters have a lot of miles on them and a lot of tape for their opponents to study and game plan for.  Neither man can afford a loss and both are desperate for a win.
In the end, I see Charles Oliveira pulling it off by split decision victory.
Welterweight – Thiago Alves vs Patrick Cote
Prediction – Cote is a savvy UFC veteran who once fought Anderson Silva for the UFC Middleweight title.  That fight, (a losing effort), was back in 2008 and he has gone a mild 10-6 since and is coming off of a loss to Donald Cerrone at UFC Fight Night back in June.  Another loss, and this may be it for Cote on the main card of a PPV.
Speaking of veteran who once challenged a legend for a title, Alves can claim the same.  Alves took on and lost to GSP back in July of 2009 at UFC for his Welterweight Title.  Alves has gone 4-5 since and has never appeared to be the Pit Bull Man Eater he once was.  The punch is the last thing to go however, and he still holds dynamite in his fists with 12 career KO's.
All things considered, both men are far away from ever again getting a title shot, both are closer to retirement instead.  I still believe Alves has one last great KO left in him, but it won't come at UFC 210.  Cote by decision is my prediction.
Women's Strawweight Cynthia Calvillo vs Pearl Gonzalez
Prediction – Only four fights into her Pro Carerr, Cynthia Calvillo appears to be the real deal.  A victory over Pearl Gonzalez can catapult her into title contention.  Gonzalez is no joke, her ugly style has led her to several hard fought victories. Someone has to win, and that will be Calvillo by decision, staying unbeaten!
Middleweight Chris Weidman vs Gegard Mousasi
This is a story of two fighters going in two totally different directions currently.  Weidman has lost his last two fights, one of which was for his Middleweight Championship against Luke Rockhold.  His last fight was at 205 in New York where he got brutally knocked out by Yoel Romero.
If Weidman hopes to stop his two fight losing streak, he will have his work cut out for him in the former DREAM Light Heavyweight Champion, former DREAM Middleweight Champion, former Cage Warriors World Middleweight Champion and the former Strikeforce Light Heavyweight Champion Gegard Mousasi.
Mousasi wants to taste gold one more time, this time in the UFC and is currently on a tear.  Mousasi has won his 4 straight fights, and is 8-3 in his UFC Career.
I smell upset here, and Gegard Mousasi moves one step closer to a UFC title shot with a split decision win.
Light Heavyweight Championship Fight with Champion Daniel Cormier vs Anthony Rumble Johnson
What can you say about this match that hasn't already been said? Daniel Cormier is one of the best grapplers in MMA history.  His resume speaks for itself with only one career loss on it, to arguably the greatest of all time in Jon Bones Jones.
Standing in his way of yet another successful title defense and a shot to face his sworn enemy Jon Bones Jones, is a monster named Anthony Rumble Johnson.
Rumble has been on a tear since moving up to Light Heavyweight and has only that one loss to Cormier at 205 pounds. A fight in which he almost knocked out Cormier early on.  Rumble can also grapple with the best of them when needed and will be equipped to do so against DC.
This is a classic head vs heart prediction as my heart would love to see DC's title reign continue until the "Ultimate Showdown" with Jones. But my head says Anthony Johnson simply has to much power in those hands and cannot be stopped this time around.  The weight cut I also see being a problem this time for DC because he hasn't defended his belt in a very long time and it's not easy to flip that switch for a natural heavyweight to cut down to 205.
Thus, I'm picking Anthony Rumble Johnson by ref stoppage in the Third Round.

NEO Sports Insiders Newsletter
Sign up to receive our NEOSI newsletter, and keep up to date with all the latest Cleveland sports news.