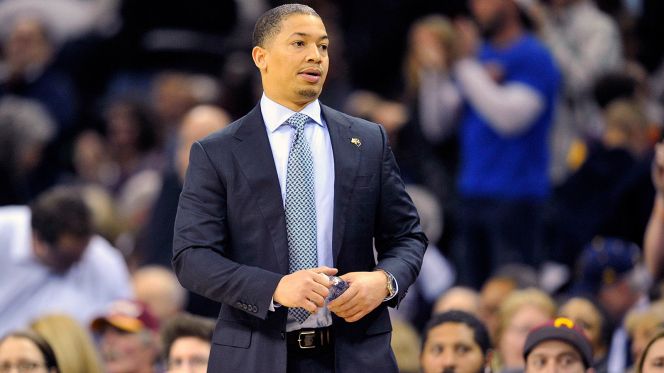 Tyronn Lue is a cool customer.
When chaos is abound and mayhem is rearing its ugly head over the basketball court, Lue is as calm, cool and collected as they come.
It is costing his Cleveland Cavaliers dearly.
The Cavs are in the NBA Finals, facing a Golden State Warriors team that has to get every edge and advantage available to succeed. Without the little, seemingly-insignificant advantages the Warriors enjoy they would not have even advanced out of the West.
As things stand they lead the series with the Cavaliers, three games to one, with the chance to close out the series Sunday.
What do I mean by the Warriors' advantages? Well, let's look at Steph Curry. Curry has mastered the slight push-off to get open off the dribble. It isn't blatant but he gets a huge advantage when it isn't detected.
In Game Four there were three times he cleared Iman Shumpert by using his off-hand to give Shumpert a slight push. The pushes didn't necessarily knock Shumpert down but they did cause him to stumble back, enabling Curry to get off an uncontested 3-pointer.
These offensive fouls were never called.
How about Andrew Bogut? Bogut has mastered the moving screen, stepping in front of a defender that is chasing Curry or Klay Thompson. In the third quarter of Game Four, when Bogut checked in, Thompson and Curry suddenly found themselves getting open looks at the basket for the first time in the series. The reason was Bogut, who clearly set a number of illegal screens.
None of these offensive fouls were called.
Let's take a look at Draymond Green. Green, it seems, has some kind of magnetic attraction to opposing players' groins. How many "accidents" involving Green and the stick and berries of the player he is either defending or defending him are we going to see before the NBA does something about it?
In Game Four, Green clearly punched LeBron James in the junk while calling him the unpleasant term for a female dog. Not only was no foul called, James and Green were called for a double foul a few moments later when James confronted Green.
Draymond Green is a dirty player. Steven Adams of Oklahoma City, who felt the wrath of Green's obsession with groins in the Western Conference Finals, will attest to that.
(By the way, the Cavaliers' Dahntay Jones was suspended for a game of the Eastern Conference Finals for an accidental shot to Bismack Biyombo's groin area. Jones deserved the suspension even though his foul was nowhere near as intentional or violent as Green's shot to Adams…or to LeBron for that matter).
The NBA will do nothing about Green's behavior. Because of this you can bet your bottom dollar there will be more Draymond Green hitting groin "accidents" in the future.
LeBron James attacked the basket in Game Four and was rewarded with a whopping four free-throws. That's right…he went to the rim at least 15 times and was, in one of the most physical games in recent memory, fouled only twice according to the officials.
This led to the following statement by Lue after the game:
"He never gets calls. I mean, he attacks. Outside of Russell Westbrook, he's one of the guys that attacks the paint every single play. And he doesn't get a fair whistle all the time because of his strength and because of his power and guys bounce off of him. But those are still fouls, and we weren't able to get them. But we've got to play through officiating."
James is averaging 5.4 free throws per game this series, the lowest of any playoff series in his career. This coming against one of the most physical defensive teams he has ever faced.
Tyronn Lue has always made a concerted effort not to get on officials. There have been numerous occasions when Lue has refused to get caught up in the emotions of the game. In the Cavs' first-round series with the Pistons, Lue said this about the officials.
"If things are getting out of line, out of hand, then they definitely have to step in and take control of the situation," he said. "If they don't do that then I have to do more talking. Just alert those guys that things are getting out of hand. That's my job to stay on those guys and make sure it's a clean game. We don't mind the physicality. We just want the physicality to be clean."
Well, things have gotten out of hand, and Lue's response has been extremely mild. Staying "above the fray" is one thing…standing by and watching your team get punked is another.
There comes a time when a coach has to lose it. He has to go off, not only to send a message to the officials that he is not happy with their performance but also to send a message to his players that he is in their corner. That he has their backs.
Lue has failed in this capacity.
Here is what I would have loved to have seen following Game Four. I would have loved it if Lue would have walked up to the microphone, stat sheet in hand, and delivered the following statement:
"We are out there fighting our asses off. We have no problem with physical play but when one team gets such a clear advantage, such as Golden State has gotten in this series, you have to question things. LeBron James was beaten up all game and went to the line just twice. He was smacked, pushed, elbowed and even punched in the groin…and shot four free throws. I don't care that is he bigger than those trying to stop him…a foul is a foul and what the officials were ignoring out there borders on criminal. They should be ashamed of themselves. Meanwhile, Andrew Bogut does whatever he wants. Draymond Green does whatever he wants. If Draymond Green did what he did on the floor tonight out in public he would have been subject to arrest for assault.
"If this is what the NBA wants…if they want to turn the NBA Finals into something that resembles the UFC…that's not ok with me. I refuse to take part in that. I have too much respect for the NBA and its history to reduce its championship series into a series of fights as opposed to a series of basketball games. What we saw tonight was not basketball…it was one team beating up on the other without fear of reprisal. And it was disgusting."
If Lue would make a strong statement like this, on the biggest stage the NBA has to offer, the message would be heard. Yes, the fine would be immense (I doubt Dan Gilbert would mind writing the check) but not only would the NBA get the message…Lue's players would as well.
As things stand, the Cavaliers are getting manhandled by a team the NBA refuses to treat like the other teams. Golden State, for some reason, gets the benefit of every whistle. That has to change, and the playing field has to be level, for the Cavaliers to be competitive.
If Lue doesn't understand this he just might be in over his head. He has been a decent head coach so far…but now is the time for him to step up and demand the respect he, and his team, have not been shown yet. Even if the Cavs lose Game Five they will gain something almost as important as championships…respect.

NEO Sports Insiders Newsletter
Sign up to receive our NEOSI newsletter, and keep up to date with all the latest Cleveland sports news.