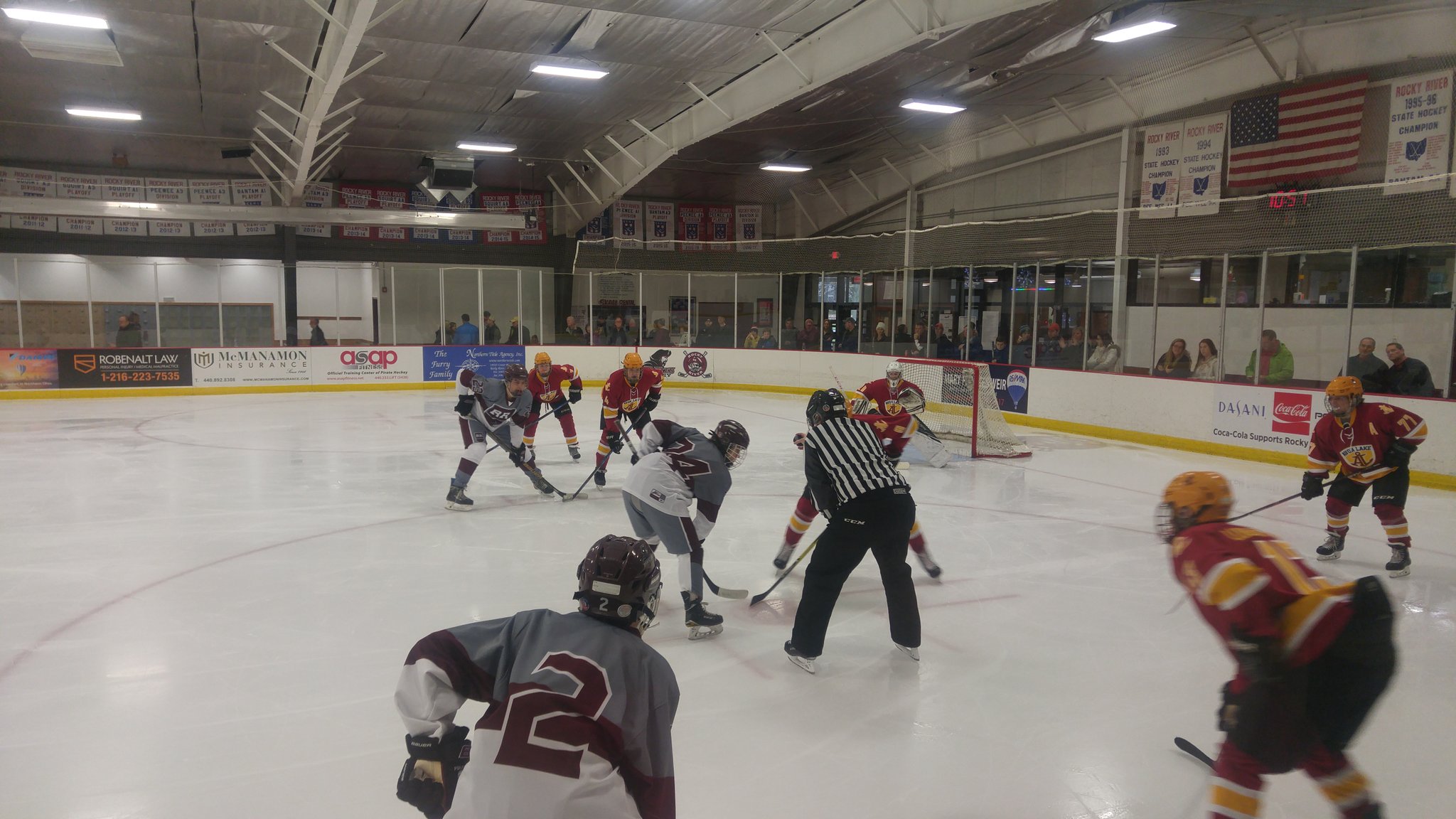 ROCKY RIVER –  Game two of day two of the Tim Alexander Memorial Tournament consisted of the Rocky River Pirates handling the Avon Lake Shoremen, and skating to a 6-2 victory on both teams home ice.  The Pirates staved off a late Shoremen rally to hang on for the win.
Luke Witzigeruter had the big night for the Pirates, with a hat trick.  He paced himself well, scoring a goal in each period.
River came out guns a blazing in the first period, firing 18 shots on goal.  Avon Lake goal tender Dillion Aslaksen turned back 15 of them in a supreme effort.  Both teams also had a power play but could not cash in.
River did strike early and often however, scoring a little over 4 minutes into the contest.  The opening goal came off the stick of Logan Fortune from a beautifully timed pass from Luke Witzigeruter.  A minute later, it was Fortune doing the feeding on a Luke Mallet goal.  Luke would then get one of his own later in the period off of a pass from Danny Asmar as River held a 3-0 lead after one period.
The second period was more of the same as River extended the lead at the 4:09 mark with another goal from Witzigeruter, set up again from Asmar.  The Shoremen would get on the board later in the period on a power play goal from Murphy Mohar.  He took a vicious shot during the play however and had to be helped off the ice.
The Shoremen mounted a small rally in the third, scoring at the 10- minute mark on a power play goal from Jacob Schaltenbrand.  The mighty 10th grader used his small size to slip in perfectly and poke the puck past River goaltender Ethan Mylett to cut the deficit to 4-2.
Dilliona Aslaksen had a great game, with over 40 total saves, and kept it a lot closer then it could have been.  The Shoremen battled hard, but in the end, River was just too much, hanging on for the 6-2 victory.  Their last goals coming in the final seconds as Witzigeruter earned his hat trick.  Then for good measure James Byall finished off the scoring.
*** A full photo gallery can be found on page two***
Goal Summary
First Period – RR Logan Fortune from Luke Witzigeruter @ 10:21
First Period – RR Luke Mallett from Logan Fortune @9:17
First Period – RR Luke Witzigeruter from Danny Asmar @8:22
Second Period – RR Luke Witzigeruter from Danny Asmar @ 4:09
Second Period – Murphy Mohar.  Power Play Goal @1:01
Third Period – Jacob Schaltenbrand.  Power Play goal at 5:51
Third Period – Luke Witzigeruter from Ethan Routenberg @ 1:01
Third Period – James Byall from Ethan Routenberg @ 0:14

NEO Sports Insiders Newsletter
Sign up to receive our NEOSI newsletter, and keep up to date with all the latest Cleveland sports news.