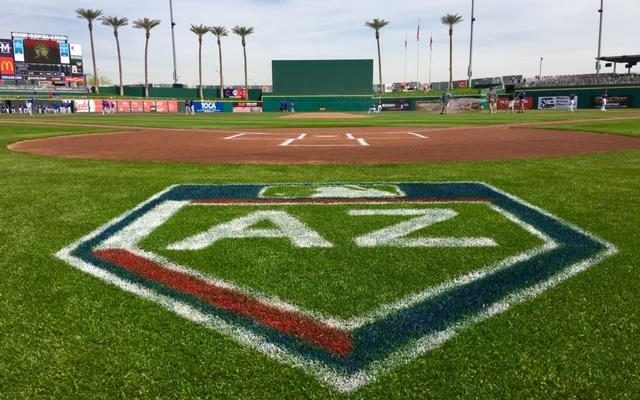 Goodyear, AZ- The Guardians opened Cactus League play against the Reds Saturday. Cleveland's offense started off with three straight hits. The Guards went up 1-0 in the first on singles from Steven Kwan and Gabriel Arias. A wild pitch during Josh Naylor's at-bat scored Kwan.
The Guards went on to lose 4-3.
Cal Quantrill was on the bump for Cleveland. Quantrill went 1.1 innings (2H, 2R/ER,BB,SO)
He had this to say about his outing and the pitch timer:
"I thought I was just going a little too fast today I don't actually think it was the timer…at least for me I don't think it was going to be too fast. I was just a little excited [being the] first time out. It seems like it's making the game faster and it wasn't a massive priority for me…seems like it's what people want so I think we'll adjust I don't see it being a long term issue. It takes time to get used to the timing of it ( with the batter)"  Quantrill said with a laugh, "I was assuming the 15 seconds was a lot faster than it was I didn't want to be the first one to get a ball."
Quantrill didn't try to work in new techniques Saturday saying, "I wanted to get on the same page with Zunino and control the fastball. I just didn't do a very good job of that. I think at this point, at least in my career, I want us to feel comfortable on the mound… I want to know that my bread and butter is where it needs to be before I start toying around with things. Today was not as comfortable as I wanted to be but all in all arm felt good body felt good fastball was coming out well I just didn't really put it where I wanted it to be."
Key notes
-Cleveland's DH David Fry produced the Guardians first home run of the season.
-Former Guardian Will Benson stole home in the 2nd inning to tie the game at three for his new team
-Guardians bullpen accounted for 6.1 shutout inning until Nick Mikolajchak gave up a sac fly in the 7th.  Relief pitcher Aaron Pinto gave up a solo shot to Reds Matt Mclain.
-The Cleveland pitchers who went scoreless in their appearances were: Brett Daniel (0.2IP) Tim Herrin (1.0IP 1SO) Xzavion Curry 2.0 IP, 1 SO) Cade Smith (1.0 IP 1SO ) and Luis Oviedo (1.0IP, 2SO)
Up next
Guardians will face the Texas Rangers Sunday 3:05 EST. Zach Plesac is set to take the mound. Fans can watch the game on Bally Sports Greak Lakes or listen on WTAM 1100 – Guardians Radio Network

NEO Sports Insiders Newsletter
Sign up to receive our NEOSI newsletter, and keep up to date with all the latest Cleveland sports news.