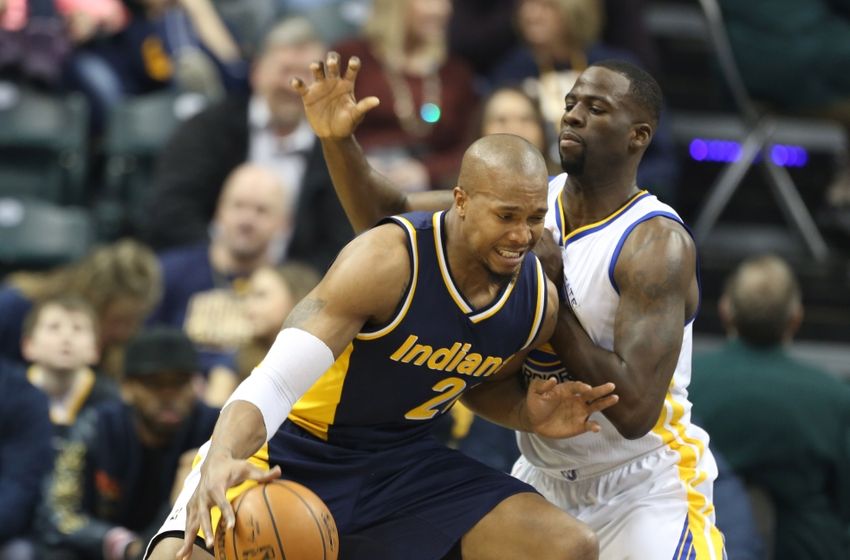 Welcome to the January 19th edition of "Write Down Euclid."
We could spend hours going over the embarrassing, pathetic, horrendous performance that the Cavaliers displayed on Monday night against the Warriors, but there's enough writers and commentators doing that.
Instead, I would like to take a look at what appears to be the biggest weakness of the Cavaliers from their last two losses, in which they played the only two teams in the NBA with better records, the Golden State Warriors and San Antonio Spurs.
When watching the two games, there were two players that stood out, that the Cavaliers appeared to have no answer for.
The obvious answers would be Steph Curry and Kawhi Leonard because those two are having MVP-caliber seasons and are the best players on their team.
But the Cavaliers actually match up better than most teams can with those two. Prior to Monday night, Matthew Dellavedova had done a solid job containing Curry in the six NBA Finals games and the Christmas Day game.
LeBron James and Leonard is a great matchup because Leonard is arguably the best defender in the league and LeBron is no slouch on defense either. So those two almost cancel each other out.
The next obvious players that come to mind are Klay Thompson and Tim Duncan, but while both of them are capable of having great games, the Cavs appear to match up well with those two. Tristan Thompson did a nice job guarding Duncan on the January 14th matchup in San Antonio, and the veteran power forward has been having a quiet, unimpressive season, but still can't be ignored.
As for Klay, J.R. Smith and Iman Shumpert are both good defenders. Especially Shumpert.
Klay has not had his usual outburst in scoring when going up against the Cavs, whether it's the NBA Finals or regular season.
A player that might come to mind is Tony Parker, who scored 24 points against the Cavs in San Antonio, but I'd still take Kyrie Irving over Parker in a heartbeat, and Delly is there for lockdown defense if you need him.
The Spurs new addition LaMarcus Aldridge has been improving with every game, but Kevin Love did a nice job on him in San Antonio, and while Aldridge is a great player, that matchup appears to be about even.
So after narrowing down the list, here are the two players for whom the Cavs appear to have no answer.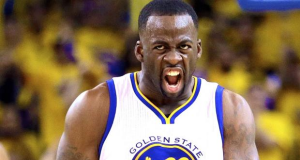 1. Draymond Green
The Cavs aren't the only team with this problem. Green is having a phenomenal season, averaging 15 points, 9.5 rebounds, and 7.5 assists.
He is a 6 foot 7 inch power forward with impressive passing ability, a nose for the ball, and something the Cavaliers don't appear to possess much of, "Toughness." Mental and physical.
Cavs fans might hate the way Green talks trash. They might hate the fact that he went to Michigan State. But you cannot hate on his game this year.
He is the focal point of the Warriors' offense and although he doesn't show up as much in terms of scoring, if you watch the Warriors play, a huge reason why Klay and Steph get so many good looks is because Green is a phenomenal passer, draws double-teams inside, puts a body on defenders to give Curry and Thompson space to shoot, and is a player who has to be accounted for if left open.
Green is shooting 42 percent from three-point range and 47 percent from the field. So if a team decides to focus on the Splash Brothers and leaves Green open, he can hurt you just as much.
As much as we are happy to have Love in Cleveland, defense is not his strong suit.
This season has really shown the emergence of Green as an All-Star caliber player, but even in the 2015 NBA Finals in June, while Green was not putting up the numbers he is now, he was a leader on the team and provided an edge and energy that was not apparent with the banged up Cavaliers.
In the two games this season that the Cavs have gone head-to-head with Golden State, Green flirted with triple-doubles both times.
On Christmas Day, he put up 22 points, 15 rebounds, and seven assists. The Cavs were not "fully" healthy, because Irving was still on a minutes-restriction, but they were certainly healthier than they were during the 2015 Finals.
On Monday, January 18th, Green scored 16 points with seven rebounds, and ten assists. He only played 31 minutes, sitting out the entire fourth quarter in a blowout.
Tristan, Love, and LeBron all guarded him at various points of the game, and he was one of the biggest reasons why Curry was able to go off for 35 points and knock down seven three-pointers, a number of which were uncontested.
Green is a player that the Cavaliers are going to have to find an answer for if they have serious hopes of winning an NBA championship. Maybe they can put LeBron on him head-to-head, but Harrison Barnes and Andre Iguodala are nothing to sneeze at either.
A team that is self-aware of its weaknesses goes out and corrects them in order to go from being a "really good" team to great.
A team that did that in the offseason is the San Antonio Spurs. They are a world-class organization with smart people at every level. They knew Golden State was a team they would have to get by. They knew the Cavaliers were a team they would have to get by. They went out and got Aldridge, but also they went out and acquired a player who might be under the radar, but is the second player that I believe can lead to the downfall of the Cavaliers' championship hopes.
West has not had an eye-popping season. Many games he goes unnoticed in the box score. But like Green, he brings toughness and leadership that is necessary to win a championship.
West is only averaging six points and four rebounds per game in the 2015-2016 season, but that's all he is asked to do right now. His real value will come when there are matchups that he can either exploit or cancel out a great forward.
It will be interesting to see a matchup of Golden State and San Antonio, and how much West will guard Green. Green is similar to West in many ways, but is a more-gifted passer.
The matchup that we saw that raised my eyebrows was on January 14th in San Antonio when West faced the Cavs.
West scored 13 points in 18 minutes, hitting five-of-seven shots. He also hauled in five rebounds, three of which were offensive, creating second-chance opportunities for a team that is already good enough with one possession.
By the way, as limited as West has been in terms of playing time this season, he is shooting 56 percent from the field.
We saw all too vividly how Love was torched on defense time and time again, especially late in the game against San Antonio, and while Aldridge did not have a great game, it was West doing most of the damage from the power forward position. Duncan also got going late in the game and took advantage of a mismatch with Love.
But looking at West's 13-year career, he has been a thorn in the side of LeBron and the Cavaliers, no matter what team he plays for.
Whether it was with the New Orleans Hornets, Indiana Pacers, or now with the Spurs, his versatile ability to shoot mid-range jumpers, his toughness and tenacity have given Cleveland problems.
In 31 career games against Cleveland, West has scored 20 or more points eight times, and has reached double figures in scoring 24 of the 31 matchups. He has seven career double-doubles against the Cavs, and while you would think that most of his great games came earlier in his career, it was less than a year ago that West put up 20 points and 15 rebounds against the Cavs as a member of the Pacers.
He is an even more dangerous piece when surrounded with the likes of Parker, Leonard, Aldridge and Duncan. Last season in Indiana, West was forced to play the role of a veteran-leader, mentor, and "player-coach" of sorts on a young, inexperienced team missing their star player, Paul George.
West chose to take less money and play in San Antonio because he has one thing on his mind; winning a championship. He didn't want to have to be a mentor, he just wanted to fit in on a great team and contribute. It appears the Spurs and West are a great combination to give him a chance to win his first ring.
Even when LeBron played four seasons in Miami, West was one of the key components why the Pacers were able to provide a formidable challenge to the Heat in the Eastern Conference playoff picture.
West played 32 games against the Heat from 2010-2014, 19 of which came in the postseason. He was one of the few guys in the league we have seen who seemed to embrace the challenge of going up against a LeBron-led team. He didn't fold under the pressure or bow down.
In those 32 matchups, West scored 20 or more eight times, posting ten double-doubles.
When you combine the games West has played against LeBron, whether LeBron was with Cleveland or Miami, West is averaging 16 points and seven rebounds per game through 50 career matchups.
There is no doubt that the Spurs' organization was factoring in West's success against LeBron as one of the reasons to sign him this past offseason.
The Spurs have basically built their style of team this year to counter Golden State, and by doing so are neck and neck with the Warriors for the number one seed in the West. It is also one of the best starts to a season in Spurs franchise history.
So Now What?
If the Cavs want to have a serious chance of winning a title in 2016, they need to address this weakness, which appears that tough, versatile big men who can shoot and pass, like West and Green, can take advantage of all day.
Maybe Markieff Morris is an answer for that. Perhaps it's Ryan Anderson of the Pelicans. What we do know is that a great organization, like the Spurs, does their homework and makes moves that almost always work out. If the Cavs are going to be that level, we have to hope they make a move that works out, similar to how the trades for Timofey Mozgov, Smith and Shumpert worked out in the 2014-2015 season.
It was those two great trades that sparked the turnaround for the Cavaliers last season. It might be one big trade that makes the difference this year. If the Cavaliers do not address this, pay close attention to the matchups with Green and West when the Cavs play the Spurs or Warriors. If the Cavs figure it out with the current roster, feel free to say "I told you so," but looking at the history, there's more than enough evidence to say this is a problem worth considering.
Maybe you trust Love, Tristan and LeBron to take care of the matchups. But the Cavs are 0-3 this season when that's been the case.
As much as West and Green get it done with tangible, measurable contributions, it's their toughness and leadership that separate them from most players. They don't flinch. They aren't intimidated by the Cavs. And quite frankly, there's no reason they should be right now.

NEO Sports Insiders Newsletter
Sign up to receive our NEOSI newsletter, and keep up to date with all the latest Cleveland sports news.