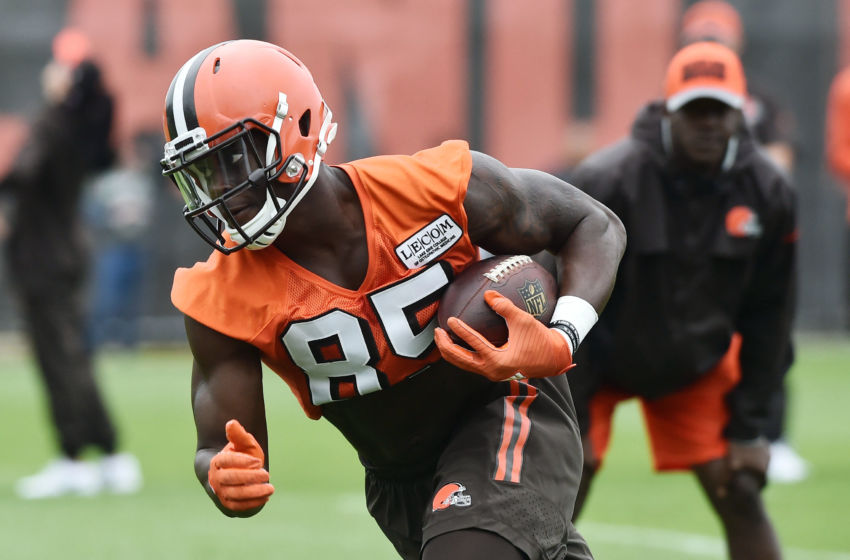 By Nick Broulis
With Cleveland Browns training camp opening up in less than a week, the Broulis Beat report will take a quick look at all the positions. Starting on offense with the tight end position.
The Browns are, on paper, expected to have a top five offense. With the trade that brought Odell Beckham Jr. into Cleveland, the sky is the limit with this offense.
Cleveland now has multiple ways of scoring and causing headaches against any defense.
Now, while the Browns have Jarvis Landry in the slot and Rashard Higgins, Antonio Callaway and Beckham out wide, some wonder about two things. First, a taller and more physical presents with speed. Well, this brings us to the tight ends.
Here are the following players to keep an eye on. Orson Charles, Demetrius Harris, Seth DeValve and the starter, David Njoku.
I'm not too sure how many tight ends Cleveland will decide to keep on the 53- man roster, but this position has talent.
I don't know a whole lot about Demetrius Harris, so this is why there are four preseason games.
DeValve was a fourth-round pick of the Browns back in 2016. Last year, DeValve didn't see much action and this year, that might be the case again.
It would be smart to keep him around for depth purposes, but if either Harris or Charles have a great preseason, DeValve could be the odd-man out.
Njoku is entering his third season in the NFL, all with Cleveland. Njoku is 6'4 and 246. The one thing he lacks, is speed. With all of the other receivers being shorter, Njoku is the guy that could be huge when it comes to those "jump balls" to the taller receiver.
I have been saying to a lot of people that his height and weight make Njoku a very reasonable threat in the red zone.
With Landry being a huge threat in the shorter yardage area, Higgins, Callaway and Backham being threats outside, Njoku will have plenty of chances to find the open spots in the field.
During last season, Njoku had 56 receptions for 639 yards and four touchdowns. Those numbers may or may not increase due to how much talent is on offense.
The two areas that David needs to improve on are being consistent with catching the ball. If he can catch most of the passes thrown to him, that, in itself, will go a long way. The other area is becoming a better blocker. If David can become a better blocker, he'll find himself on the field in more plays.