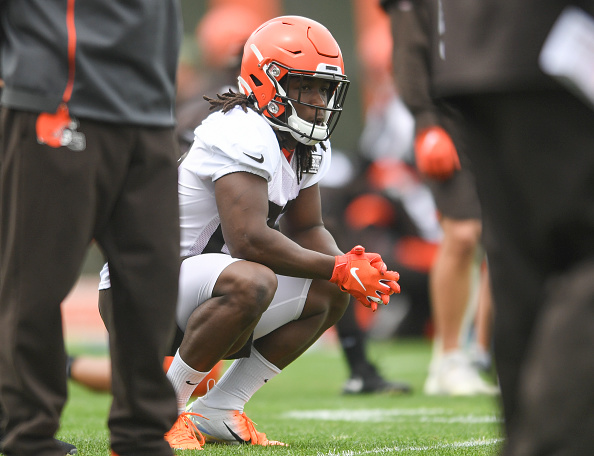 Based on what we're hearing, nothing major happened with Kareem Hunt this past weekend. This needs to be hammered home before we go any further.
Though the Cleveland Browns running back was seen talking to local police outside a downtown bar Saturday night, the incident itself appears to have been minor.
With that said, the fact nothing came of this doesn't mean it's no big deal.
I'm sure the Browns are happy that Hunt didn't already blow the second chance they offered him before the season even started. That said, as negligible as this may be, it certainly brings up enough red flags that the team can't afford to just shrug it off.
I'm not here to say Hunt needs to be cut for what, again, appears to be a minor event. If this came and went without him facing charges, then I don't believe Cleveland needs to release him.
However, I'm not in the same boat as those who are trying to claim this is nothing to worry about. I doubt the Browns are, either.
Minuscule as this incident may have been, it raises a couple questions they need to ask him which highlight why this isn't something to ignore.
First – why were you even in a position to run into something like this?
While I'm certainly not claiming Hunt needs to stay sheltered at all times, it's fair to question why he was in the middle of a downtown bar scene considering the situation he's in.
Remember, Hunt's signing was a surprise in itself, as many felt he didn't deserve to a shot to return to the pros after video of him shoving a woman was released last season. He's also seeking counseling for his issues with both anger and alcohol.
Knowing this, and knowing he's currently suspended and essentially spending the entire season under the microscope, the Browns have every right to ask him why he's out at a bar, or in any situation which involves him talking to police?
After that, this incident forces him to answer an even more important question – can we really trust that you can stay out of trouble?
Regardless of the fact Hunt walked away without charges, this was still a situation the Browns had to address. They had to release a statement about what appears to be a non-issue. They were forced to hyper-analyze a seemingly minor hiccup just to ensure the player they offered a second chance to isn't burning it.
This is something to consider for anyone who believes the incident being blown out of proportion means Cleveland has nothing to worry about. While Hunt appears to be in the clear when it comes to charges, he's still forcing the team to question its trust in him.
The Browns took a gamble with Hunt, offering him an opportunity loaded with caveats. For the most part, he's been sticking to the program they've set up for him.
However, when they have to spend time addressing requests for comments about why Hunt is in a video talking to cops, it causes some damage. It likely has Cleveland questioning the likelihood of him avoiding trouble from here on out, especially once he's away from the team when his suspension takes effect.
Which is why I'm not as quick to dismiss this as many seem to be.
Hunt has a history of getting into off-field physical altercations. Most involved alcohol. As a result, the Browns have every right to see an incident like this – minor as it may have ended up – as a source of concern.
Bottom line – what happened with Hunt isn't major in the grand scheme of things, but that doesn't mean the Browns should treat it as such. They gave him an opportunity many still feel he doesn't deserve, and they're hoping he rewards them for this.
Getting spotted at a bar talking to police isn't the best way to do that.

NEO Sports Insiders Newsletter
Sign up to receive our NEOSI newsletter, and keep up to date with all the latest Cleveland sports news.