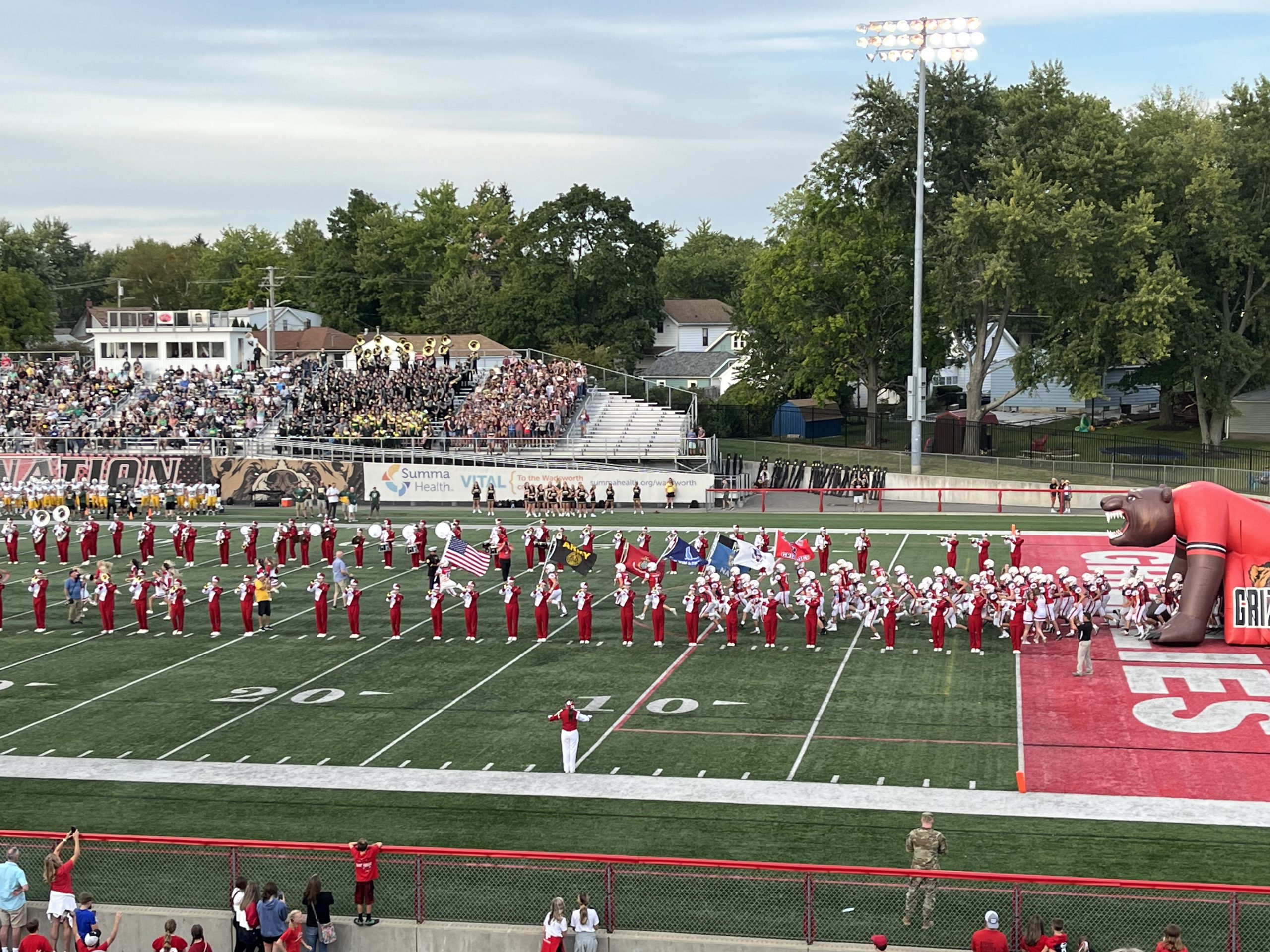 The Grizzlies got on the board first and hung tough throughout, but Danny Stoddard and the Bees were too much as Medina took down Wadsworth 45-35. After his six-touchdown performance last week, Stoddard threw for 406 yards and three touchdowns.
First Half
Wadsworth got great field position on their first drive after a bad snap on a Medina punt and converted. Junior Kyle Figuray would score his first of five touchdowns on a 30-yard pass from Will Stack to put the Grizzlies on top 7-0. They wouldn't have the lead for long though, as Stoddard hooked up with Austin Knowles for a 43-yard touchdown to even things at 7-7.
After forcing a Wadsworth punt, the Bees would strike quickly, Stoddard hooking up with Carlos Corchado for a 13-yard score. Trailing 14-7, the Grizzlies put together a 12 play, 80-yard drive that ended with a one-yard Figuray plunge to tie it up. The defenses would then make a stand, both forcing three and outs.
Taking over on their own 14, Medina quarterback Danny Stoddard had himself a drive. Going 3-5 for 79 yards, Stoddard would cap it off with a 7-yard touchdown run to give the Bees the lead, 21-14. Wadsworth responded right away, putting together another 85-yard drive that saw them rush for 42, finished off by a Kyle Figuray 17-yard score. It appeared things would go into the half tied at 21-21.
The keyword in that last sentence was appeared, as Jack Wojciak had other ideas. Fielding the ball at his own 8-yard line, the junior receiver scampered 92 yards down the field for the score. The Bees headed into halftime with a 28-21 lead.
2nd Half
After Wadsworth missed a field goal on their opening possession, Medina extended their lead when Stoddard and Knowles hooked up again for 22 yards, making it 35-21. The Bees were able to force a fumble on the ensuing Grizzlies possession, setting them up on the Wadsworth 40. Four plays later, Stoddard kept the ball himself for an 18-yard score and stretched the lead to 42-21.
Weak teams tend to fall apart when they go down big, but that wasn't in the plan for Wadsworth. Just seconds into the fourth, Figuray added his fourth touchdown of the game with a one-yard plunge. Five minutes later, the junior would score from 21 yards out, his fifth of the game, making it 42-35 with six minutes to go.
Medina was able to ice the game, putting together an 11-play drive that took over four minutes off the clock, finished off by a 30-yard field goal from Michael Gleske. Trailing 45-35 with just under two minutes to go, the Grizzlies were unable to get anything going. One kneel down from Stoddard later and the Bees were winners.
Though they fell in the end, Wadsworth showed resilience in battling back after being down 21. That kind of grit will be particularly important for the team going forward. The loss is the Grizzlies (2-1) first of the season and they'll look to get back on track next week against a different team of Bees, this time from Brecksville-Broadview Heights (0-3).
After falling to Avon in a thriller a week ago, Medina's offense was again explosive but this time they were able to hold on for the win. In his last two games, Danny Stoddard has thrown for a jaw-dropping 1,026 yards and nine touchdowns with no interceptions. Next week, the Bees (2-1) will host a tough Stow-Munroe Falls team that is much better than their 1-2 record indicates.
Top Performers
Medina
Danny Stoddard: 23-31 406 yards 3 TD, 13 carries 68 yards 2 TD
Austin Knowles: 11 catches 209 yards 2 TD
Brennen Schramm: 5 catches 94 yards
Wadsworth
Will Stack: 15-18 237 yards 1 TD, 18 carries 54 yards
Kyle Figuray: 27 carries 166 yards 4 TD, 3 catches 37 yards 1 TD
Davis Nye: 7 catches 154 yards
Scoring Summary
1st Quarter
Wadsworth 5:10- Will Stack to Kyle Figuray, 30 yards (kick good)
Medina 3:00- Danny Stoddard to Austin Knowles, 43 yards (kick good)
2nd Quarter
Medina 11:17- Danny Stoddard to Carlos Corchado, 13 yards (kick good)
Wadsworth 7:45- Kyle Figuray, 1 yard run (kick good)
Medina 3:18- Danny Stoddard, 7-yard run (kick good)
Wadsworth 0:40- Kyle Figuray, 17-yard run (kick good)
Medina 0:26- Jack Wojciak, 92-yard kick return (kick good)
3rd Quarter
Medina 7:24- Danny Stoddard to Austin Knowles, 22 yards (kick good)
Medina 4:42- Danny Stoddard, 19-yard run (kick good)
4th Quarter
Wadsworth 11:56- Kyle Figuray, 1 yard run (kick good)
Wadsworth 6:04- Kyle Figuray, 21-yard run (kick good)
Medina 1:44- Michael Gleske 30-yard field goal
| | | | | | |
| --- | --- | --- | --- | --- | --- |
| | 1st | 2nd | 3rd | 4th | FINAL |
| Medina | 7 | 21 | 14 | 3 | 45 |
| Wadsworth | 7 | 14 | 0 | 14 | 35 |
Follow me on Twitter @devinlowe123 for more high school football coverage!

NEO Sports Insiders Newsletter
Sign up to receive our NEOSI newsletter, and keep up to date with all the latest Cleveland sports news.