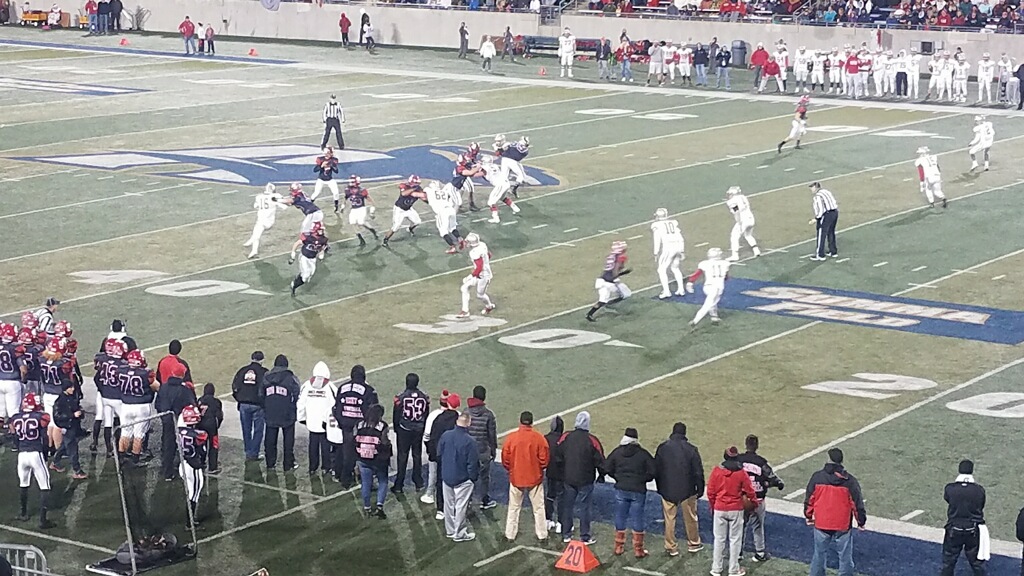 By Corey Perez
AKRON, OHIO – At the beginning of each high school football season coaches across the state preach the simple concept of 15 weeks. It takes 15 weeks of good, often great football to win a State Championship, and Friday Night the Steubenville Big Red and Shelby Whippets put their perfect 13-0 records on the line for a date in the next week's Division IV State Final.
Perfection is never easy, especially when you are literally chasing a perfect 15 weeks, you lose and your season is done, and you win? You travel to Canton for the Division IV Championship.
The Whippets entered the night with one of the most powerful offenses in the state, led by University of Virginia commit Brennan Armstrong, who helped the Whippets have twelve running clocks in their first 13 games, as they averaged 37 points and 415 yards.
Steubenville got the ball first to start the game, and took full advantage as they ran the ball down the field en route to a quick 7-0 lead on a DaJuan Jones 40-yard touchdown pass from Javon Davis.
When Shelby finally got their chance on offense they to took full advantage as Armstrong had a few nice runs to set up an 18-yard strike to Whippet Senior Carter Brooks, the Big Red would hold onto the lead as Shelby missed their ensuing PAT.
Steubenville responded on their next possession as Big Red seniors Jacob Bernard and Jonathon Blackmon each had long runs on the drive to set up and eventual 5-yard Touchdown pass from Davis to Blackmon.
Now that the Big Red offense had helped seize control of the momentum their defense came out and followed suit by forcing a big three and out, that was set up by a 7 yard tackle for loss on first down.
Steubenville continued to keep its foot on the gas as they used double digit drive to take a 21-6 lead early in the second quarter.
With all signs pointing towards a Big Red blowout dual-threat quarterback Armstrong used his strong arm to connect with senior tight end Brooks for a deep pass down the visiting sidelines. Armstrong would use his legs on the very next play to cut into the Big Red lead, 21-13 Steubenville.
The Whippets would continue to fight back in the game, as senior Cameron Hamilton was able to force and recover a fumble on the kickoff, thus setting up a very short field for Shelby.
As he had been doing the entire first half, Armstrong again used his legs to waltz into the endzone for a 20-yard score, making the Big Red lead only two.
Great teams like Steubenville rarely make mistakes that allow themselves to get beat, but with already fumbling a kickoff, the Big Red couldn't afford any more first half turnovers.
Unfortunately that was not the case as the Whippets intercepted a pass from Davis as it bounced off the hands of Gino Pierro and into the arms of Uriah Schwemley.
With the Whippets having grabbed back the momentum things appeared to going the way Shelby wished, two first half turnovers, and a number of silly penalties they had 4 opportunities from inside the five to put six on the board and they walked away with three.
Remember it takes 15 weeks of good to great football to be a champion, this was one of those moments where the Whippets needed to be great, the Big Red defense was great.
When the second half began you could sense Steubenville was playing with a new life. They gave up no more scoring drives, or even any drives that seemed like Shelby had a chance to score. The Big Red had two more scoring drives of their own in the second half en route to a 35-22 final.
Steubenville will travel to Canton next week for the Division IV State Championship vs Clinton-Massie who defeated John Glenn Friday night by a score of 28-21. The matchup will take place Saturday at 3pm on the Spectrum Sports channel.

NEO Sports Insiders Newsletter
Sign up to receive our NEOSI newsletter, and keep up to date with all the latest Cleveland sports news.