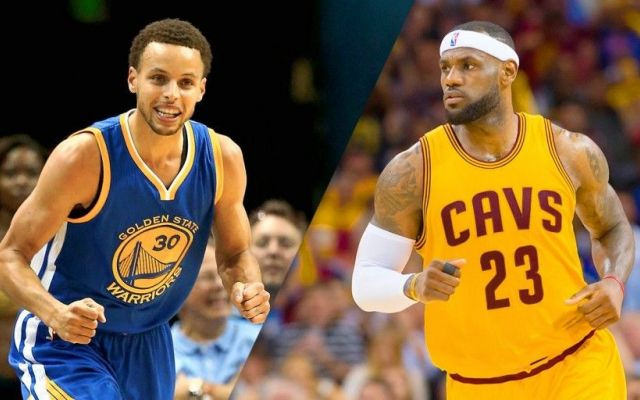 Just before the season got underway, the NBA general managers were surveyed, and determined that the Warriors would beat the Cavaliers in the Finals. This wasn't a particularly outlandish prediction, and it's probably what the majority of neutral fans would expect to see also. But it was noteworthy in that it meant a majority of NBA GMs were predicting something that's never happened in league history: a third consecutive Finals meeting between the same two teams, aka a rubber match.
Two years ago, the Cavaliers (in LeBron James's first season back in Cleveland) and Warriors met in what looked like it could be a Finals for the ages. Illustrating that point, betting markets at the time tabbed the Warriors as favorites to win the series, but they also had LeBron James in front in Finals MVP odds. That was another way of saying it was going to be a very close series, because if James plays at an MVP level, he's damn near unstoppable. As we now know, the Warriors won the series and Andre Iguodala won a surprise Finals MVP.
Last year, things were different. While people were excited about the rematch, the Warriors were coming off the greatest regular season of all time and a grinding but impressive conference finals triumph over the Thunder. They were overwhelming favorites, and it took a herculean effort from James, Kyrie Irving and Co. to pull off one of the least likely Finals comebacks of all time, ultimately bringing a championship back to Cleveland.
And that's where we stand: 1-1, with most everyone worth listening to predicting a rubber match next summer. It's too early right now to peg one or the other as a favorite in this potential third bout, but here we'll take a first, quick look at the state of the two teams.
Performance Out Of The Gate
Even if you haven't fully tuned into the NBA season just yet—who would blame you with the Indians in the middle of the World Series?—you've probably heard that the Warriors opened with a dud. Featuring arguably the most stacked starting lineup of all time (on paper) after the addition of Kevin Durant, the Warriors were expected by some to best their sensational 73-win season from a year ago. But they already made that task a lot tougher, not just losing on opening night but taking a genuine beating at the hands of the Spurs. More worrisome, however, is that the Warriors have yet to secure an easy victory.
The Cavs have had their struggles as well—their win over the Magic ought to have come easier—but they've still looked to be the better team early. The defending champions showed off midseason form against the Knicks in the opener, while the Warriors are going through some growing pains. Nevertheless, expect Golden State to hit its stride.
State Of The Stars
There are probably seven "stars" that most NBA fans would identify between the Warriors and Cavaliers: Durant, Stephen Curry, Klay Thompson, Draymond Green, James, Irving, and Kevin Love. So far, five of them are playing at a superstar level. Durant, Curry, James, Irving, and Thompson all boast PERs over 20 after a handful of early games. Thompson and Green have been a little bit slower out of the gate, though it's worth noting that Green has taken up a role as Golden State's top rebounder and distributor. Again, there are signs of growing pains. But all indications are that these seven stars will have stellar seasons, which is why this Finals matchup looks to so many like a foregone conclusion.
Mental Status
This really isn't for us to guess, but one would have to assume the mental edge is going to Cleveland at this early stage. Not unlike the Warriors during the first season of the "Big Three," they've started the season with more questions than answers, burdened by the need to adjust and perhaps by unprecedented expectations as well. One gets a sense watching this Warriors team that they're already out to defy, adopting an us-against-the-world mentality when they weren't even established as league villains just yet. Take this tape of Kevin Durant shooting and shouting motivation to himself after practice—frankly, it's a bit strange. Sure, Durant took his share of criticism during the offseason for signing with the Warriors, but the persecution complex he seems to have developed is out of whack.
The Cavaliers, meanwhile, look the part of a happy-but-hungry, well-oiled machine. The interesting thing to watch is the offense's alpha dog. It's looking a little bit like James may give up some of the scoring load to a Kyrie Irving, who's playing like an MVP candidate.
It's obviously pretty early to be analyzing anything this season. But because we're all keeping our eyes on two teams this time around, we may as well put it all on the table. And for now, you'd have to give the slight edge to the Cavs as the team more well equipped to handle the seemingly inevitable rubber match.

NEO Sports Insiders Newsletter
Sign up to receive our NEOSI newsletter, and keep up to date with all the latest Cleveland sports news.