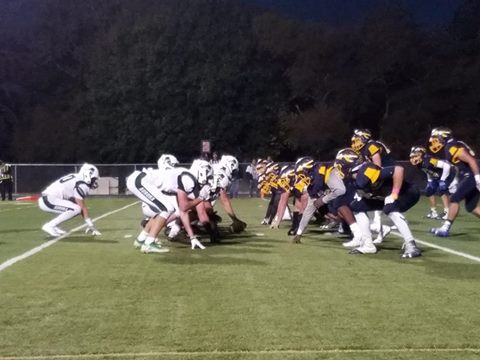 SOT Podcast's Game of the Week
Week 8
Aurora Greenmen vs Copley Indians
The Aurora Greenmen rolled into Copley to face the Indians in huge matchup that will most likely settle the Suburban League American Division. This matchup also pitted two teams in the top five of Division II Region 5, all signs pointed to a hotly contested battle between two rivals.
The Aurora Defense, particularly Senior LB Bubba Arslanian, was on a mission to stop Copley RB Weston Bridges and QB Austin Brenner. Arslanian got the Greenmen on the board first when he tipped and intercepted an Austin Brenner pass and took it 47 yards for a touchdown, Aurora lead 7-0 early in the first quarter. The Aurora Defense held stout and gave their offensive the ball on the Copley 45yard line. Aurora used a 26 yard run from RB Chris Vanzo, to set up a 2 yard Touchdown run by RB Jonathan Blue, and the Greenmen held a 14-0 at the end of the first quarter
Copley opened the second quarter on their own 34 yard line and were beginning to capture some momentum. But Bubba Arslanian got his second interception of the night and gave the Greenmen a short field in which to work. Wasting no time , Aurora used a 55 yard drive, capped off by a 1 yard touchdown run by Vanzo to take a 21-0 lead with 3:50 left in the half. On the very next drive Copley used hurry up offense to go 65 yards and scored on a 3 yard Touchdown run to cut the aurora lead to 21-7 with 0:55 left. Aurora's Gavin Blunt took the subsequent kickoff on an electrifying 89 yards for touchdown, Aurora Held a 28-7 lead at halftime.
The Indians got the ball to start the second half and wasted no in cutting into the aurora lead with a 4 yard touchdown pass from Brenner to senior WR Alex Welch, making the lead 28-14 in favor of the Greenmen. On the very next drive Aurora's Gavin Blunt got his second touchdown of the evening on a 41 yard catch and run to put the Greenmen back up by 3 TD, 35-14. Copley's Weston Bridges responded almost immediately with sensational 64 yard touchdown run , cutting the Aurora lead to 35 -21 at the end of the third quarter.
Copley's defense was able to stop the Aurora Offense and get the ball back to its offense on its own 39 yardline to open the 4th quarter. Copley again turned to its star running back to shoulder the load, but the aurora defense was able to force two sacks, stopped a fake punt attempt and forced a bad punt and gave the Greenmen offense the ball on the Copley 35 yd. line. Gavin Blunt continued his fantastic night scoring his third TD on a beautiful one handed, Aurora's lead was 42-21 with just over 5 minutes left in the game. Copley was able to respond quickly on 4 play 54 yard drive that was highlighted by a 40 yard reception by Senior WR Will Bridges and a 10 yard touchdown run by RB Weston Bridges cut the Aurora lead to 42-38 with 3:51 remaining. A failed onside kick attempt and two crucial first downs Aurora was able to secure the victory.
Aurora's Gavin Blunt had 3 receptions for 64 yds and 2 touchdowns, to go along with 124 yards and touchdown on special teams. Chris Vanzo contributed 90 yards rushing and TD in the victory. Copley RB Weston Bridges finished with 191 yards rushing on 20 carries and 2 TDs in a losing effort.
Aurora improves to 7-1 and 5-0 in the Suburban League American Division and will look to continue their winning ways when they host Canada Prep Academy in a week 9 non-conference matchup. Copley falls to 6-2 overall and 4-1 in the Suburban League American Division, they will look to rebound in week 9 when they travel to Kent Roosevelt in week 9 .

NEO Sports Insiders Newsletter
Sign up to receive our NEOSI newsletter, and keep up to date with all the latest Cleveland sports news.