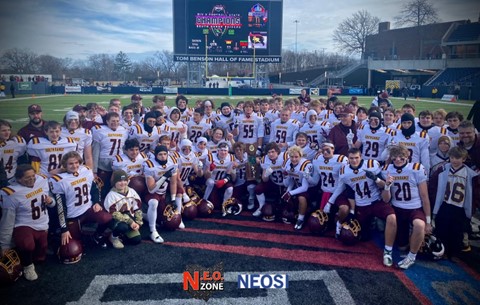 CANTON, OH – On Friday morning we had a battle between two undefeated teams in the Division 5 State Championship Game. Ironton came in led by quarterback Tayden Carpenter who has fought through adversity his whole life. Carpenter, who was born deaf, fought throughout his high school career to earn the starting job for the Ironton program. He looked to close out his high school career with a State Championship. South Range came into the game with one of the highest scoring averages per game throughout OHSAA programs. Their offense led by QB Billy Skripac looked to fight through the tough Ironton defense. A win for South Range would give them their first State Championship in program history.
Offenses Trade Blows
After taking the opening kickoff with a personal foul penalty, South Range started the game at their own 10 yard line. That was no issue for the Raiders. South Range drove down the field to score on their opening possession. They went 90 yards on 6 plays set up by a 68-yard catch and run by wide receiver Shane Lindsrom. Quarterback Billy Skripac finished off the drive with a 7-yard TD run. Ironton did not waste any time coming back. On the first play of their drive, Tayden Carpenter connected with Lincoln Barnes on a 66-yard touchdown. Both offenses got off to a fast start to the game.
Division V State Championship 🏆

1Q | 8:13
Ironton – 7
South Range – 7

1 play… 66 Yards.

Ironton's offense gets going VERY quickly on a strike from Tayden Carpenter to Lincoln Barnes.#OHSAAChampionships 🏈 pic.twitter.com/ZYxdewer26

— NEO Zone HS Sports (@NEOZoneHS) December 2, 2022
South Range Gains Momentum
After multiple stagnant drives by both teams, South Range started to take over. Their defense started it when they forced Ironton to turn the ball over on downs after starting a drive from South Range's 33 yard line. South Range turned defense into offense on the ensuing drive. They marched 67 yards down the field for a touchdown. The drive was capped by a 40-yard touchdown pass from Billy Skripac to JD Crouse. After that, the rest of the first half was all South Range. Billy Skripac continued his great 1st half by rushing for 2 more touchdowns. Running back Blake Ewert added a 31-yard touchdown run of his own. At the end of the 1st half, South Range held a 32-14 lead.
Division V State Championship 🏆

2Q | 8:56
South Range – 26
Ironton – 7

After a blocked punt, Skripac picks up his fourth TD of the half!#OHSAAChampionships 🏈 pic.twitter.com/otbkthcIxS

— NEO Zone HS Sports (@NEOZoneHS) December 2, 2022
South Range Dominates Second Half
The 3rd quarter of the game involved more defensive plays than what was shown in the first half. Each team scored just 1 touchdown in the quarter. For South Range, Skripac found Shane Lindsrom for an incredible 65-yard touchdown. Ironton quickly responded with a 7-yard touchdown pass from Tayden Carpenter to Amari Fielder. Heading into the final quarter, South Range was dominating 39-21.
Division V State Championship 🏆

3Q | 6:01
South Range – 39
Ironton – 14

South Range opens up a four possession lead on this incredible 65-yard catch-and-run by Shane Lindstrom.

Lindstrom now has 168 receiving yards.#OHSAAChampionships 🏈 pic.twitter.com/lUDnCPLGVp

— NEO Zone HS Sports (@NEOZoneHS) December 2, 2022
The fourth quarter for South Range was much like the rest of their season. They continued their offensive onslaught. Billy Skripac added his 3rd passing touchdown of the game on an 8-yard touchdown pass to Dean Depizzo. For Skripac, it was his 6th touchdown overall for the game. With just under 2 minutes left in the game, Sophomore running back Aidan Dominguez joined the fun. He put the cherry on top with a 3-yard touchdown run. When it was all said and done, South Range defeated Ironton by a final score of 53-27. The Raiders took home their first ever State Championship. Their record of 16-0 is also just the third of its kind in OHSAA History.
South Range Raiders:
QB Billy Skripac: 13/25 passing, 331 yards, 3 TDs; 12 rushes for 57 yards, 3 TDs; 6 Total TDs
WR Shane Lindsrom: 6 receptions, 176 yards, 1 TD
RB Blake Ewert: 19 rushes for 143 yards, 1 TD
Ironton Fighting Tigers:
QB Tayden Carpenter: 21/36 passing, 325 yards, 4 TD
WR Ty Perkins: 7 receptions, 121 yards, 2 TDs

NEO Sports Insiders Newsletter
Sign up to receive our NEOSI newsletter, and keep up to date with all the latest Cleveland sports news.