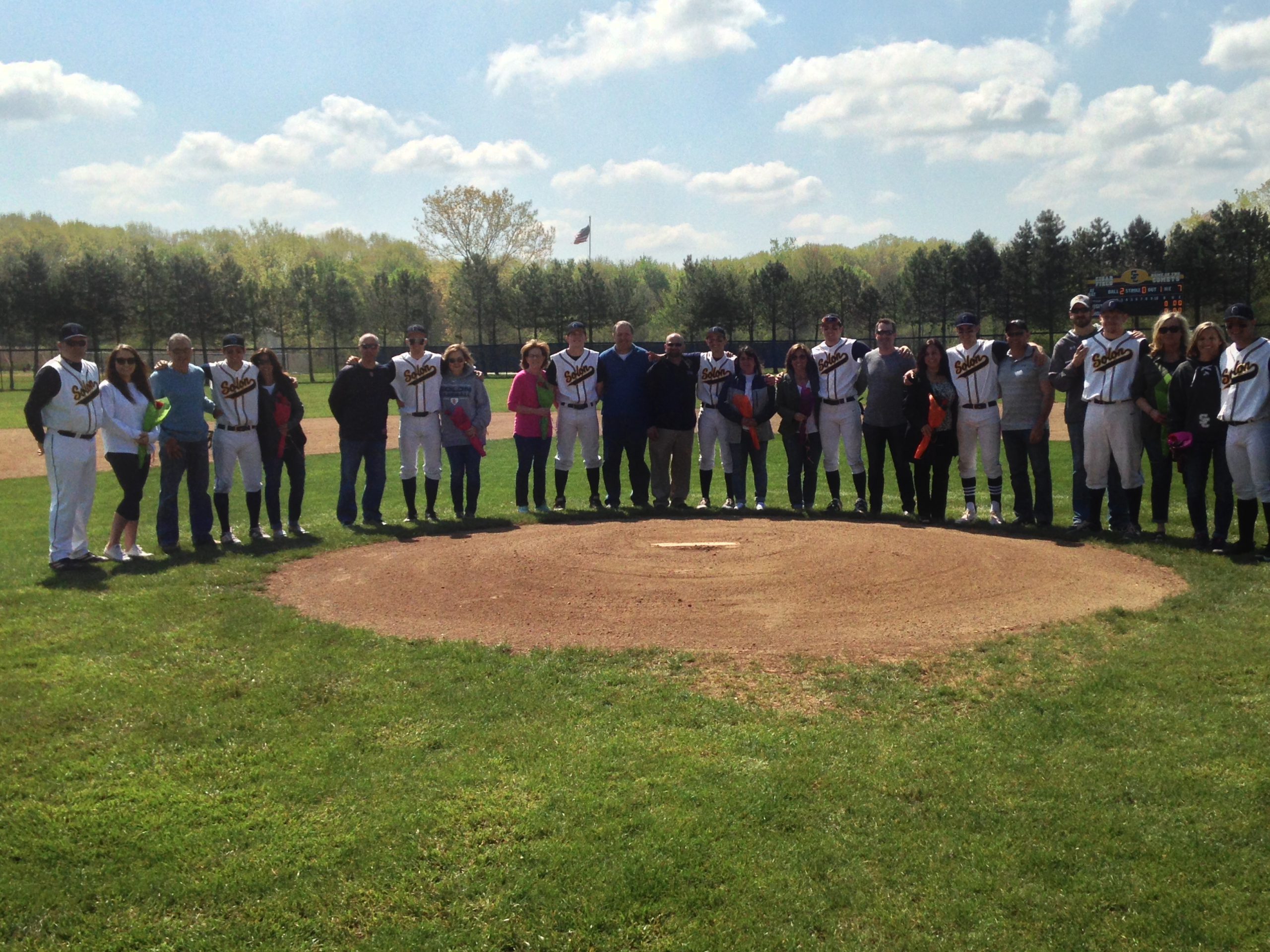 Solon, Ohio — The Solon Comets offense picked up where it left off yesterday.
After a scoreless first, the Solon Comets offense got going in the second inning, when Casey Maniglia, fresh off his no-hitter yesterday against Bedford, led off with a double to left field. Joey Bubonics brought him home with a single to center, giving Solon the early 1-0 lead.
Two hit batsmen later, Hunter Ferguson, who had four RBI in the win against Bedford yesterday, added another RBI on a pop fly single to right field, increasing the Solon lead to 2-0 and keeping the bases loaded. Starting pitcher Nick Chiodo helped his own cause by drawing a bases-loaded walk to increase the lead to 3-0, and Ryan Kitay hit an RBI grounder to second for the fourth run of the inning.
In the third, Joey Bubonics led off with a home run to left field, his second of the year, to pad Solon's lead to 5-0, and that was it for Chardon starting pitcher Nick Sensibello, who went 2+ innings, walked two, hit two batters, allowed four hits, struck out one, and gave up five earned runs.
Solon senior Nick Chiodo, making his first start of the season, threw three innings of shutout ball, but ran into trouble in the fourth inning.
With one out, Alex Radzin hit a single to center field. Joe Skilton followed up with one of his own, and junior catcher Dylan Hemly doubled to left field, plating both runners and cutting their deficit to 5-2. Chiodo went 3 1/3 innings, allowing five hits, walking none, striking out one, and allowing two earned runs.
Senior Anthony Cicero came on relief and escaped the inning with no further damage.
Chardon would cut into the lead even further in the top of the fifth when Luke Callahan drew a one-out walk. He stole second, advanced on a single by Ashland commit Perry Bewley, and scored on a wild pitch to bring Chardon within two runs at 5-3.
But Anthony Cicero struck out the next two batters to escape the inning.
In the sixth, Chardon looked to draw closer when Dylan Hemly reached on an error at short to open the sixth, and Dakota Baldwin followed with a walk. After a sacrifice fly put runners at second and third, Cicero escaped another jam for the second inning in a row, inducing a popup and a strikeout.
Despite the rough start by Sensibello, the Chardon bullpen came through, keeping the Hilltoppers in the game and shutting down the Solon offense. Senior pitcher and Heidelberg commit TJ Kinkopf threw two scoreless, and Dakota Baldwin threw a scoreless fifth, but ran into trouble in the sixth inning.
Hunter Ferguson hit a one-out single to second base, and Ryan Schwartz hit a fly ball to left that was dropped, and would later prove to be costly.
After Anthony Zavarella flied out to center fielder Luke Callahan, who made an impressive diving catch, pinch hitter Ryan McCurry lined an RBI single to left field, scoring courtesy runner JT Caver to give Solon a 6-3 lead. Mike Tsironis would reach on an error by shortstop Perry Bewley, and Schwartz scored on the misplay to increase the lead to 7-3.
But Chardon was not done yet. With the bases loaded and one out, Dylan Hemly came up and delivered a gap-shot double to left field, plating Bewley, and Callahan, cutting the lead to 7-5, but Solon got a key out on defense, throwing a runner out at third base.
After a walk, Ryan McCurry struck out Mason Metz to end the ballgame, preserving the win on senior day for the Comets.
Senior Anthony Cicero picked up the victory, improving to 2-0 on the year. He threw three innings, walked two, allowed only two hits, struck out four, and allowed just one earned run.
"I made sure just to pound strikes and keep them off balance. Our defense was great." said Cicero.
Joey Bubonics had a big day, going 3-3 with two singles, his second home run of the year, and two RBI.
"These guys play their hearts out for me so I gotta do the same for them." said Bubonics. "Anything I can do to help is extra. We've grown closer throughout the years. We just wanted to get it done for each other." he added.
"We have a lot more season left. Seeing those guys win on Senior Day was everything I needed to see. These guys gave everything these last four years, so it was good to send them out with a victory." said Kopkas. "To come out, get guys some at bats, and play our seniors, and come away with the win and build some momentum is pretty important." he added.
"Solon is a potential regional opponent in my mind if we get through districts. We had a lot of opportunities to win that game." said Chardon head coach Brian Long. "I felt the change in the game happened in the sixth. We had second and third with one out, and in the seventh we had bases loaded. We had our opportunities today, no doubt about it. Solon's a great team. They played well today." he added.
Dylan Hemly went 2-4 on the afternoon with two doubles and three runs batted in. Hemly expressed confidence in his team's chances going forward.
"Besides today, we're kind of on a roll lately. We started off slow, but we picked it up as the game went along. We're looking up from here." said Hemly.
Solon improves to 18-3. They host North Royalton on Monday afternoon in a final tuneup before postseason play.
Chardon drops to 12-10. They host Kenston on Monday afteroon, and the winner earns a split of the Western Reserve conference title with Mayfield.

NEO Sports Insiders Newsletter
Sign up to receive our NEOSI newsletter, and keep up to date with all the latest Cleveland sports news.