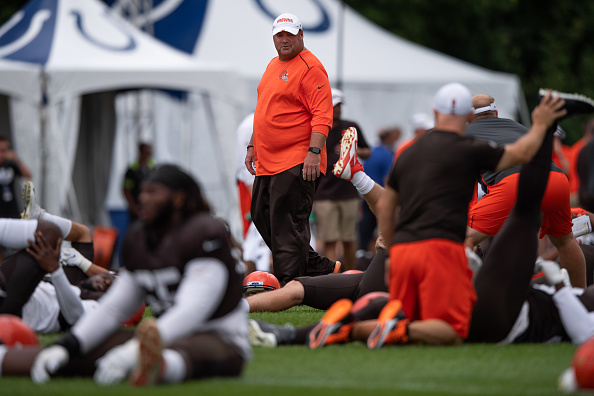 Freddie Kitchens hasn't exactly been subtle when it comes to his goals for Cleveland Browns training camp.
Since the first session of the summer, the first-year coach has been toughening up his players by running them through lengthy practice sessions, almost all of which have been in pads. His approach has been labeled by many as a "culture shock," especially considering lighter training camp methods employed by previous Browns coaches.
With that said, this culture shock does come with risks. After all, it'd be understandable for players to begin voicing their concerns after so many consecutive days of physical practice sessions.
So far, that hasn't been the case. In fact, it's been anything but.
While players may have been initially thrown off by the physicality of Kitchens' camp, everyone seems to be buying in to his approach, embracing the fact it'll only make them tougher as they gear up for an incredibly important season.
On the surface, there are certainly some drawbacks to running so many full-contact practice sessions. Cleveland has been dealing with a handful injuries which, while minor, have sidelined various players over the past few weeks.
At the same time, if nicks and bruises are the worst outcome of Kitchens' change of pace, it's difficult to gripe.
Consider this – how many stories have come out citing "anonymous Browns players" voicing concerns about the physical practices? How many veiled shots have we heard anyone take when discussing the numerous days this team has practiced in pads?
To date, the answer is zero.
Kitchens has had his players pad up for practice almost every day over the past couple weeks. He had them back on the field less than 24 hours after their preseason opener last Friday. He's been straightforward in his mission to push his team as far as it can go throughout training camp.
Yet, everyone is still on board. There's no dissension in the ranks, no complaints. Everyone seems publicly aligned in thinking this brutal camp will only benefit them in the season ahead.
For example, after expressing confidence in the system Kitchens and his staff are putting together for the Browns, quarterback Baker Mayfield was asked if the locker room was behind the consistently physical approach to practice.
"Absolutely," Mayfield said. "I think we have guys who are bought in right now. That is the best part about it."
It's tough to find any better proof than that when it comes to determining how effective Kitchens' culture shock has been.
There were certainly moments which created some doubt.
Kitchens has been overly blunt at times when asked about pushing his players this hard. Some may have been thrown off when he insisted he saw no value in assembling a leadership counsel of players, calling such a thing "a facade for excuses to blame other people."
While that may read as his lack of interest in the concerns of his team, it's instead his way of saying his message isn't one which needs further policing from a select group of players. The understanding is that everyone's on board here.
Per Mayfield, that appears to be the case.
Of course, there's a difference between having everyone aligned at training camp and maintaining this throughout the regular season. Kitchens' culture change may be proving effective now, but we won't be able to measure its success until we see how his team performs on the field.
Still, for a first-year coach, it's crucial to have the support of your team as early and often as possible. Navigating a rookie season as a head coach is no easy feat, made more difficult if you lose the trust of your players before Week 1.
Kitchens' methods certainly ran the risk of having this result. So far, the opposite has taken place.

NEO Sports Insiders Newsletter
Sign up to receive our NEOSI newsletter, and keep up to date with all the latest Cleveland sports news.