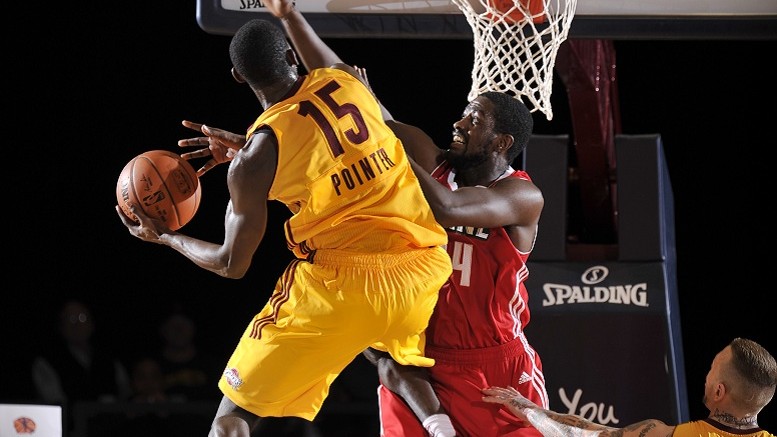 In a league where names that used to float around NBA circles, names like Josh Selby, Amare Stoudemire, Sonny Weems, Andrew Goudelock, Marquis Teague and Jeff Adrien, are all but gone and forgotten, Sir'Dominic Pointer is making a name for himself.
After being selected in the second round (53rd overall) of the 2015 NBA Draft, the Cleveland Cavaliers and their fans knew that the team had drafted a project. This was both because of Pointer being selected so low in the draft and because despite an ability to impact the game on both ends, Pointer had one major flaw. He couldn't, and often wouldn't, shoot.
He couldn't shoot threes. He couldn't make his free-throws.
What he could do was defend four positions well, even at 6-foot-5, create shot opportunities for his teammates and finish around (and above) the rim. He was a master at causing turnovers and blocking shots. Essentially, the Cavs drafted a player who could develop into another one of those useful but uniquely versatile 3-and-D players that the NBA covets so much. A player like P.J. Tucker of the Phoenix Suns.
Unfortunately, after being drafted Pointer was quickly sent down to the NBA Development League as the Cavs hoped playing time with the Canton Charge would help him develop as a shooter. Until the playoffs, that plan seemed to have fell flat on his face. Pointer was an even worse shooter with the Charge than he had been in college.
After his second Las Vegas Summer League circuit with the Cleveland Cavaliers, Pointer was on the verge of being sent to Canton again. He ended up signing with Hapoel Eilat of the Euroleague as the Cavs worked with the Israeli club to keep Pointer's draft rights as part of a two-year deal.
Then, he disappeared.
Now Pointer has resurfaced and he has clearly been working on his craft. After being released, Pointer joined the Euroleague's Ironi Kiryat Ata (Ironi K-A). Here's how Pointer and his new team stack up compared to the rest of the Israeli National League.
While Ironi K-A is 6th in the standings, Pointer ranks 6th in points per game (21.3), rebounds per game (10.3) and steals per game (2.1). He also ranks 1st in blocks per game (2.3).
Pointer was also named Player of the Week in Round 6.
Pointer, who is Ironi Kiryat Ata's leading scorer and rebounder, is shooting 61.8 percent from the field, 33.1 percent from three-point range (6.2 three-point attempts per game) and 73.3 percent from the free-throw line (5.5 free-throw attempts per game). Compare that to him shooting 19.3 percent from three-point range and 68.1 percent from the free-throw line at St. John's University or 17.2 percent from three-point range and 63.3 percent from the free-throw line while playing for the Canton Charge.
For the record, Pointer shot 25.0 percent from three-point range and 72.0 percent from the free-throw line across two Summer League circuits. Now, his shooting percentages are starting to lean more towards his performance during the NBA Development League's playoffs, when he was shooting 53.3 percent from three-point range. Pointer was showing his increased efficiency far before then with his performance for Hapoel Eilat. It's unknown why he was released from the team after only 2 games. However, with Eilat, Pointer knocked in 66.7 percent of his attempts from three-point range.
In a league where distinguishing yourself from the competition can be difficult for a player trying to make it into the NBA, Pointer is the only player in the Israeli National League who 27-years-old or younger to be scoring at least 20.0 points per game while shooting at least 50.0 percent from the field and 30.0 percent from three-point range. His youth, in addition to his physical profile, versatility, ability to impact the defensive end and knock down shots from distance isn't a combination you find just lying around.
Despite the difference of 19 inches between NBA three-point line and Euroleague's three-point line, NBA corner threes are about the same distance as Euroleague threes. With his showing this season, Pointer has at least proven he can be an average floor spacer and a player who teams can allow to camp out in the corners. With his athleticism, closing out too hard on Pointer will lead to finishes around the basket or passes to the open shooter or cutter.
What's next for Pointer is uncertain. However, the Cleveland Cavaliers still hold his draft rights.
With two-way contracts and call-ups being available for NBA Development League players, the Charge could find themselves without a few players they've grown used to seeing this season and bring over Pointer. Even better would be for the Cleveland Cavaliers, who only have three notable defenders on the perimeter outside of LeBron James, to show a renewed interest in this defensive-minded swingman.

NEO Sports Insiders Newsletter
Sign up to receive our NEOSI newsletter, and keep up to date with all the latest Cleveland sports news.