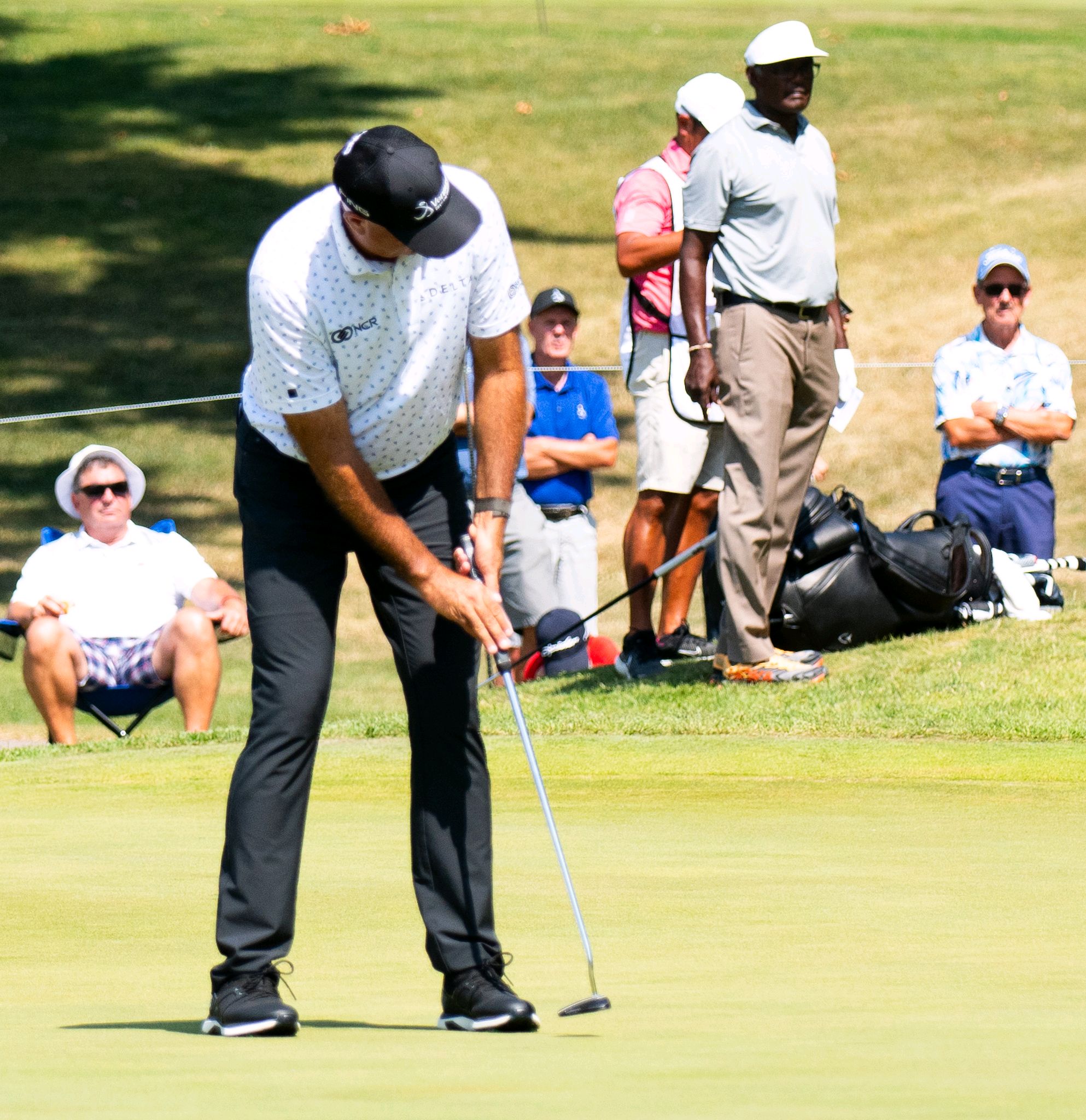 Here is a quick overview of the Round 2 stories and notes from the PGA TOUR Champions Kaulig Companies Championship.
Leader After Round Two
Harrison Frazar leads the tournament by 1 stroke over rookie Stewart Cink and two over Ernie Els.
Round Two Leaderboard:

1. Harrison Frazar -7
2. @stewartcink -6
3. @TheBig_Easy -5
4. K.J. Choi -4

» https://t.co/DrsMCvxAVJ pic.twitter.com/sqPenaStOO

— Kaulig Companies Championship (@KauligChamp) July 14, 2023
Frazar is looking for his first win on the PGA TOUR Champions.

His last win was 4,417 days ago at the FedEx/St. Jude in 2011.
How 'bout them aces?!

Tim O'Neal and K.J. Choi recorded aces at @FirestoneCC during the second round of the @KauligChamp 👏👏 pic.twitter.com/HnxAWfGtyE

— PGA TOUR Champions (@ChampionsTour) July 14, 2023
Two aces were recorded yesterday.

KJ Choi's was at the #5, 208 yard par 3 with a five iron.

Tim O'Neal's was at the #7, 178 yard par 3 with a seven iron.
Weather updates
The tee times are bumped up to 7-9:30 am today due to inclement weather heading to NE Ohio on Saturday.
Course updates
Three golfers had the low round of 4 under 66's. They included Choi, Rod Pampling, and Mark Hensby.

Round 2's stroke average sat at 72.96, a bit higher than Thursday's 72.3.

Hardest holes for the tournament so far are the 4th, 8th and 9th. (Tough way to start if you tee off on the front first, and brutal way to end if you teed off on 10.)
Pin Sheet
For those golfers who love specifics, here is Saturday's pin sheet. Need a primer on how to read? We've got you covered!
Looking at hole #16, the green is 23 paces (roughly yards) from front to back. The pin is 16 paces from the front of the green, meaning the pin is towards the back part of the green. Also, the pin is five paces from the left side of the green. Hole 5? Golfers and caddies see the pin in the front (7 yards from the front) roughly in the center (4 paces from the left and 6 from the right). Pretty cool, huh?
Quotes from the top three
Frazar:
Biggest takeaways, I didn't play as well as I did yesterday, a little bit looser off the tee. Found myself in a couple of difficult spots, managed to get the ball playable somewhere around the greens, got a couple good breaks, hit a couple good chips.

I don't feel like I wasted any shots. I feel like I got out of it kind of what I could have especially on that back nine.
Handling the nerves and remembering how to win.

Harrison Frazar (-7) is your leader in the clubhouse @KauligChamp. pic.twitter.com/r08yL4D8nY

— PGA TOUR Champions (@ChampionsTour) July 14, 2023
Cink:
So when you get in contention, that's one of the great things about why we all love it is because it gives you an opportunity to learn more about yourself in the situation. You know, if you shoot a bunch of 76s out here, you don't ever get to experience it because you really don't have that adrenaline. And there's nothing to really be all that nervous about over the weekend, but put yourself in the mix and you definitely get a chance to experience all the versions of yourself.
The Course
Frazar:
I thought the wind was a little less today, but the fairways are bouncy. And I thought some of the pins were difficult on front corners, like front left corners, some of them were in the back on the right shelf, like specifically I think it was 13. You know, those are tough pins when the ground's bouncy. So you can hit really good shots, get in the rough, get yourself in trouble, get deep on these greens pretty quick, which leave tough chip shots. You just have to be smart and try to be cagey with what you're doing.
Cink:
Yeah, you can, because the golf course is playing pretty short. It's not a short course, but it's really firm in the fairway and if you keep it in play, you've got a lot of short irons into these holes now, especially compared to what I was used to from playing here back 10, 15, 20 years ago.
If it doesn't rain, the course will continue to yield birdies if you keep it in play. But playing out of the rough is not — does not usually lead to a lot of close birdies. The rough's not that deep this year, but it's still just hard to get it really close out of the rough. You lose a lot of distance because your ball doesn't roll in the rough, it rolls in the fairway. So if you — it's one of the most rewarding courses I've ever seen in my life for hitting the ball in the fairway because you get an extra 20, 30 yards of roll on a lot of holes.
Els:
The course is in great shape, and the greens staff has done a wonderful job. It just tests your whole game!
Ernie Els after finishing with a 3-under 67 in the second round @KauligChamp.@TheBig_Easy is currently 3rd at -5. pic.twitter.com/nYnZGSzk7S

— PGA TOUR Champions (@ChampionsTour) July 14, 2023
Saturday's Concert
Saturday's concert, featuring The Sublets and The Vindys, right now will begin at 7 p.m., in the Kaulig Infinity Zone at Firestone Country Club. Read about the Kaulig Infinity Zone…here!
A 15,000-square-foot interactive space called the Kaulig Infinity Zone will headline the attractions and activities at this year's Kaulig Companies Championship at Firestone Country Club. https://t.co/Qrz1btaByQ

— Crain's Cleveland Business (@CrainsCleveland) May 19, 2023
How to watch?
The live telecast is on Peacock, GolfChannel.com and the NBC Sports app from 10 a.m. to 2 p.m. GOLF Channel will air the third round as scheduled from Noon to 4 p.m. on a tape-delayed telecast.

NEO Sports Insiders Newsletter
Sign up to receive our NEOSI newsletter, and keep up to date with all the latest Cleveland sports news.