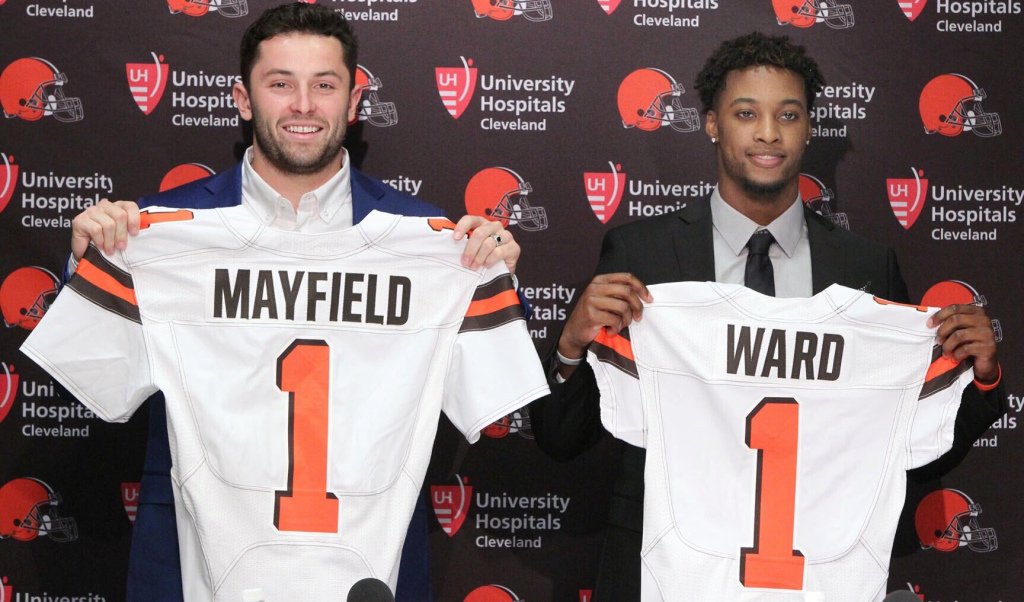 Two weeks removed from the draft and with rookie mini-camp in the books, the Cleveland Browns are in the process of signing their 2018 draft picks. So far three of the nine players selected last month have been signed. Eventually, the others will follow suit.
General manager John Dorsey hopes this group of draft picks will be cornerstone pieces of the Browns roster for years to come. His job obviously depends on it, particularly with No. 1 overall pick Baker Mayfield. Still, even Dorsey understands the majority of these newbies won't be immediate contributors. Each of the Browns draftees will have varying roles next season.
So what can you expect from the Browns nine draft picks in 2018? Let's take a look…
First round, Pick No. 1: Baker Mayfield, QB
The Browns have made it abundantly clear that Tyrod Taylor will start next season under center. They really, really want to give Mayfield a "redshirt year" of sorts. In theory, it's a sound idea, but in practice, it can be hard to stick to when push comes to shove. Mayfield could easily challenge Taylor for the starting job during the preseason, which could make for a tough decision come Week One. Weary of rushing yet another quarterback onto the field too soon, I think Hue Jackson and company will stick to their guns and begin the season with Taylor at quarterback. That said, expect Mayfield to see the field at some point in 2018. Cleveland can ride out Taylor until the playoffs are out of the question, then turn things over to Mayfield. At that point what motive do the Browns have to keep trotting out Taylor, who is set to be a free agent next offseason? Additionally, experience is the best teacher and with no pressure to win late in the season getting Mayfield some in-game action will be valuable to his development.
First Round, Pick No. 4: Denzel Ward, CB
Cleveland didn't pass on freakishly athletic defensive end Bradley Chubb to take a backup corner. Denzel Ward will head into training camp slated as a starter. Greg Williams' defense calls for corners who can play man-to-man, press coverages. Ward did plenty of that at Ohio State.
Second Round, Pick No. 33: Austin Corbett, OL

A walk-on at Nevada, Austin Corbett comes to Cleveland with an opportunity to compete for the massive void at left tackle, created by Joe Thomas' retirement. Corbett has already shot down the idea that he'll be able to fill Thomas' shoes, especially right away. Expecting that of him would be extremely unfair. The job won't be handed to him either. Shone Coleman has been working with Thomas this offseason to make the switch from right to left tackle after starting all 16 games at the latter position last season. He'll be replaced by Chris Hubbard, who the Browns signed earlier this offseason, leaving Coleman and Corbett to duke it out for the starting left tackle spot. That'll be a position battle to watch come training camp.
Second Round, Pick No. 35: Nick Chubb, RB

With the addition of Nick Chubb, the Browns now have a three-headed monster of backs to utilize in different situations. Carlos Hyde, signed this offseason, is a proven back in this league and will likely begin the season as the feature back, with Duke Johnson continuing his role as pass-catching back, particularly on third down. Then there's Chubb, who could certainly push for a heavier workload as the season progresses, but at the very least will see time on a rotational basis with Hyde. Hopefully, Hue Jackson has figured out how to utilize his running backs better than he did last season because this trio could really be something.
Third Round, Pick No. 67: Chad Thomas, DE

There's simply no room for Chad Thomas as a starter along the Browns defensive line. 2017 No. 1 overall pick Myles Garrett and Emmanuel Ogbah have the defensive end spots on lock. In between them, Trevon Coley and Larry Ogunjobi are the starters at defensive tackle. Still, Thomas should carve out a role on a rotational basis, spelling any one of those guys. His versatility in being able to rush the passer from inside or outside certainly make him a useful depth player.
Fourth Round, Pick No. 105: Antonio Callaway, WR
First and foremost, the Browns have to make sure Callaway has his head on straight after being accused of sexual assault, being charged with a marijuana citation and his involvement in a credit-card scam. Those are three very different legal situations, but each is equally concerning. Callaway has said he's a changed man and has sought guidance from Steelers wideout Antonio Brown. He also has a friend in teammate and fellow wideout Josh Gordon, who has obviously dealt with his own off the field issues. If he's truly past all that, the sky really is the limit for Callaway. He's lightning quick, an incredible athlete. Don't be surprised if he pushes Corey Coleman for that No. 3 receiver spot.
Fifth Round, Pick No. 150: Genard Avery, LB
Genard Avery will fall in line behind Pro Bowler Joe Schobert as one of a handful of backup middle linebackers ready to step in at a moments notice. Drafting Avery was all about adding depth to the position for Cleveland. He could also find a role on special teams.
Sixth Round, Pick No. 175: Damion Ratley, WR
Damion Ratley steps into an overpacked wide receiver room. Again, Corey Coleman is far from a lock to retain the No. 3 wide receiver job. Maybe Ratley can put himself in position to steal it. To do so will first require surviving roster cuts and earning a spot on the 53-man roster.
Sixth Round, Pick No. 188: Simeon Thomas, CB
Yet another player with a troubling past, and another depth addition for the Browns. Thomas will most likely fit into many of Greg Williams' defensive sub-packages as a fourth cornerback. Like Avery, special teams may be a possibility as well.

NEO Sports Insiders Newsletter
Sign up to receive our NEOSI newsletter, and keep up to date with all the latest Cleveland sports news.