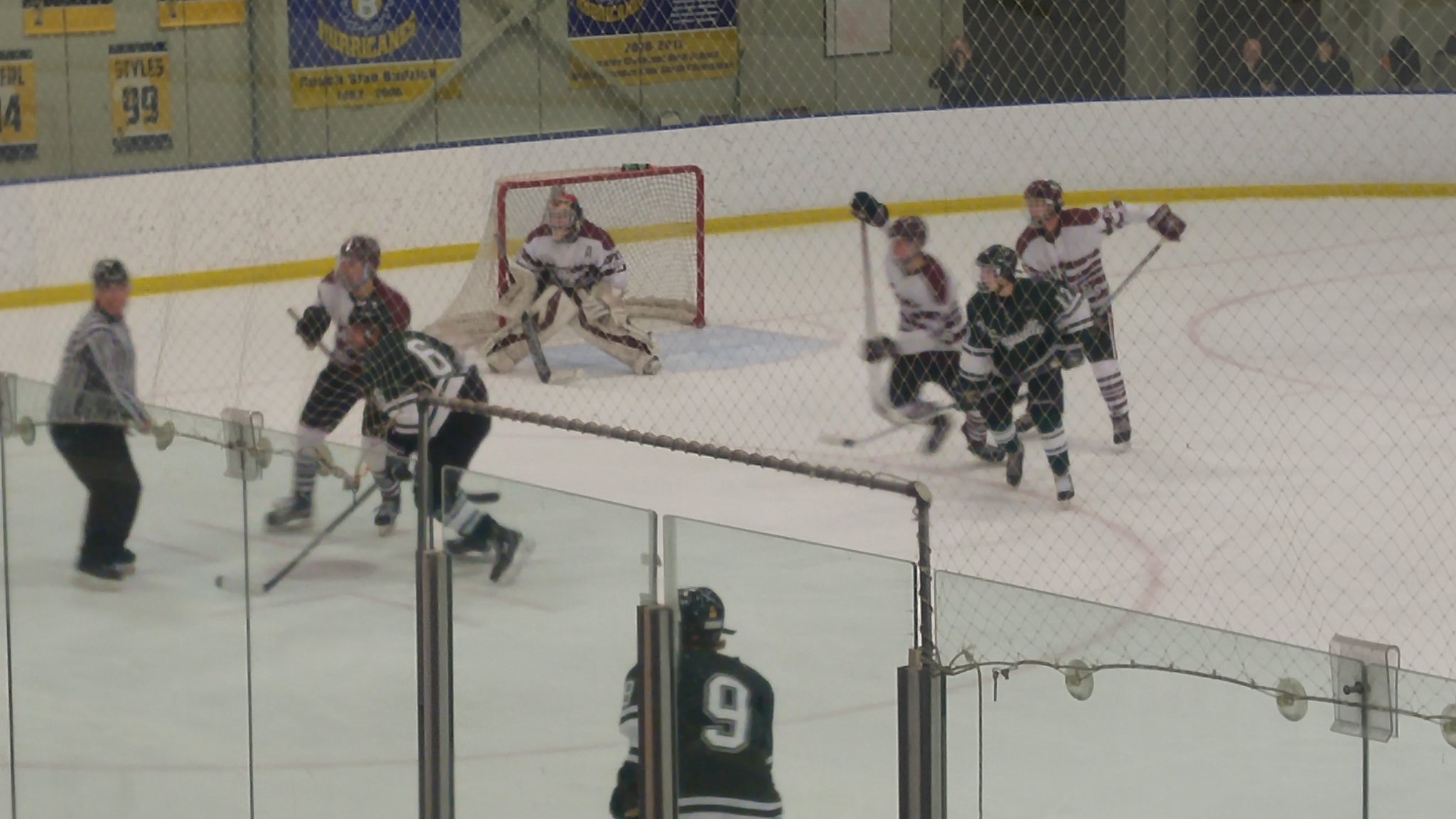 BROOKLYN, OHIO – Thanks in part to a 4-2 victory over Strongsville, the Rocky River Pirates will now face Shaker Heights who won 4-1 over Kenston earlier tonight to decide the Baron Cup 1 championship. The bracket shaped up the way many thought it would with the best two teams facing off for "The Cup".
Rocky River played extremely physical as they are known for doing, and controlled the puck most of the night.  The Pirates used that physical play to score first, at the 10-minute mark of the first period with a slashing goal by Nolan Weaver who squared up the goalie and put it past him with a blast.
The Mustangs refused to go away easy and evened the scoring midway through the second period with an incredible pass from Logan Schramn to set up a Jake Schuette goal.  River didn't waste time answering however, and quickly re-took the lead as a scramble for the puck ended up sliding by Strongsville goalie Luke Bell who was having an outstanding game. Bell kept it much closer then most people thought it would be.
The Rocky River barrage of scoring was just getting underway however, as they began to pile on the goals. Scoring two more in the next minute.  Goals by Teddy Stueber and Luke Witzigreuter put the game on ice at 4-1.  A blitzkrieg of Pirate goals was far too much for the Mustangs to come back from.
The Mustangs used a quick power play goal to start the third period, to give Strongsville a flicker of hope.  The 4-2 score would be the closest the Mustangs would get as the Pirates would close it out!
Goal Summary
First Period
Rocky River goal by Nolan Weaver @4:34
Second Period
Strongsville goal by Jake Schuette from Logan Schramm @8:52
Rocky River goal by Teddy Steuber from Ben Brej @0:49
Rocky River goal by Luke Witzigreuter from Aiden Dempsey.
Third Period
Strongsville goal by Jake Schuette from Josh Grady @14:25

NEO Sports Insiders Newsletter
Sign up to receive our NEOSI newsletter, and keep up to date with all the latest Cleveland sports news.