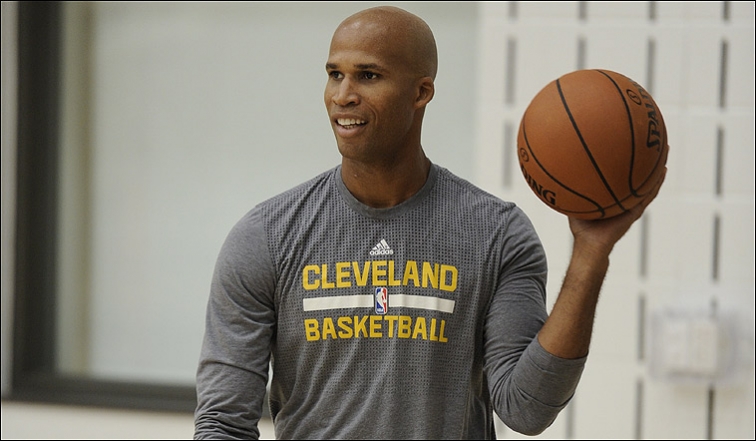 When the news broke that Cavaliers' Point Guard Kyrie Irving asked the team for a trade, everyone and their brother had an opinion. And for good reason, it came as a huge surprise to everyone-including LeBron. Now word is starting to get out on how other members of the team feel about this situation.
Richard Jefferson talked about the Irving situation on his "RoadTrippin'" podcast, coming to the defense of Irving:
"This is what I will say about this, and by the time this gets out, whenever we air this in a few days: I don't know. I don't think that there's a power struggle, like, with LeBron and Kyrie, Kev. I think Kyrie is a hyper-intelligent kid. Really, really smart. Doesn't get enough credit for how smart he is, and I think seeing that the franchise is in flux, seeing Griff leave, the amount of coaches.."
Where most would say that Irving is being difficult and making little sense, RJ does shed light on some areas that are maybe overlooked in this current scenario.
"I think Kyrie has had a much tougher time in this stretch of the organization than anyone ever wanted to ever really fully – he's the No. 1 pick right after LeBron, then he has three different coaches, then LeBron comes back, now there's trade rumors, now its "LeBron's leaving."
Jefferson goes on to make more points regarding the Cavs rocky situation, referencing the constant struggle to knowing when LeBron is happy and what he plans on doing after his contract is up.
"It's like, at some point in time, anybody would want some sort of stability. Even if it's the unknown, and I'm not saying – I don't know if he asked to be traded, I don't know this. But I will say that he's had a tougher time if you look at, from start to where we are right now, of the ups and downs of a franchise more than most. Even though we've been successful, and even though we've won a championship and he's been an All-Star, there's still so much of a wave, and to be like "Yo, we're going to sit here for a whole year on whether or not LeBron's coming back." That's gotta be tough on anybody, everybody."
Jefferson has been a mentor of sorts for this Cavaliers team and his opinion obviously matters. While he makes very good points, it is very hard to be completely vocal when still a member of the team.
What is your opinion on Jefferson's comments? Let us know in the "Comments" section below.

NEO Sports Insiders Newsletter
Sign up to receive our NEOSI newsletter, and keep up to date with all the latest Cleveland sports news.