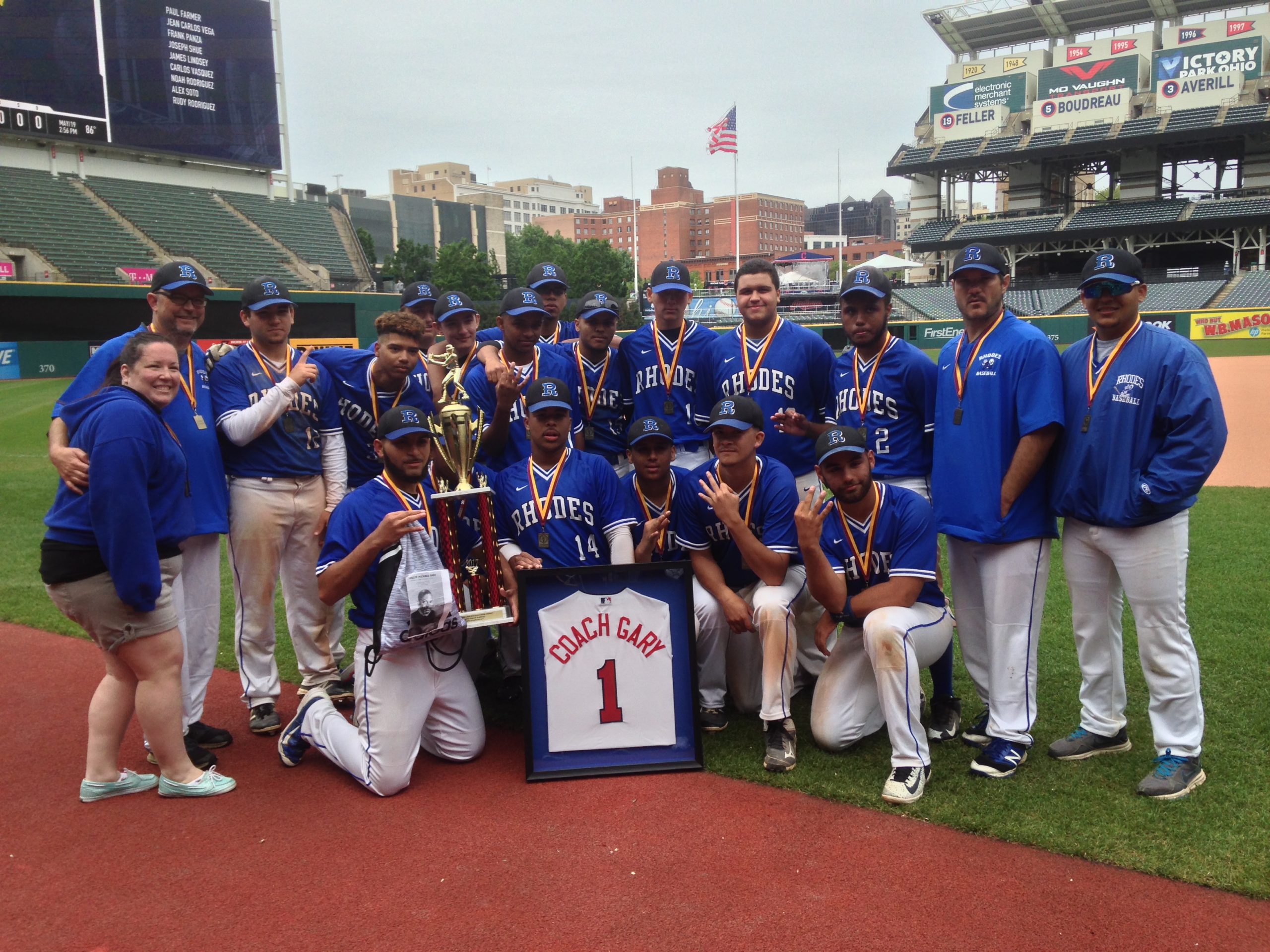 Cleveland, Ohio — Rhodes used three big innings of offense to spark a victory over John Hay, 13-4, in the Senate Athletic League Championship at Progressive Field.
Before the game, baseball and softball players from the Senate League were honored, and a moment of silence was observed for former Rhodes football and baseball coach Phillip Gary, who passed away in December of last year.
John Hay got off to a fast start  when Raymond Jackson drew a bases-loaded walk to give the Hornets the early 1-0 lead.
Alex Sebring made it 2-0 when he reached on a fielders' choice groundout, scoring Bakari Ballard.
Tommie Aston led off the second inning with a single and Kendall Wood reached on a bunt single, scoring Aston from second base to increase the Hornets' lead to 3-0.
Rhodes struck back in the bottom of the second when Carlos Vazquez led off with a double. After two walks to load the bases, Paul Farmer lined a two-run single to right, cutting the John Hay lead to 3-2.
Jean Carlos Vega then followed up with a sacrifice fly to tie the game, and Farmer raced home from second on the errant throw home, giving the Rams the lead.
Rhodes would add to their lead in the fourth, when Paul Farmer came up to the plate again. He hit a fly ball to right that was mishandled by Kendall Wood and rolled all the way to the wall, scoring two runs and increasing the Ram lead to 6-3. Jean Carlos Vega made it 7-3 in the fourth, adding his second RBI of the game, on a single to center.
Senior pitcher Raymond Jackson threw three innings, allowing five hits, walking four, and striking out three, but the second and fourth proved to be his undoing.
Junior Alex Sebring came on in relief, giving up an RBI single to Frank Panza, making the score 8-3 Rhodes. After another base hit, Sebring got out of the inning without any further damage.
John Hay added a run in the fifth when junior catcher Seth Allen laid down a sacrifice bunt, scoring Raymond Jackson from second, cutting the Hornets' deficit to 8-4. John Hay would get runners on second and third, but Rudy Rodriguez got out of the jam, inducing a popup by Thomas Aston.
Rhodes would put the game away in the bottom of the fifth inning with a two-out rally. Frank Panza hit a fly ball single to right to plate two more runs and increase the lead to 10-4. After a single by Joseph Shue, James Lindsey hit a fly ball to right field that got past a diving Kendall Wood and rolled to the wall for a three-run inside the park home run.
Carlos Vasquez came on in relief and shut down the Hornets in the final two innings, giving Rhodes its ninth Senate Championship and third in a row, tying Lincoln-West (2012-2014) as the only other school to do so.
For Rhodes, who ends the season at 9-9, today's victory was a tribute to the legacy of the late coach Phillip Gary.
Junior pitcher Rudy Rodriguez earned the victory, throwing five innings, allowing eight hits, walking three, and striking out two to finish at 3-2 on the year. He also helped out his cause by walking all three times he batted, scoring twice.
"We played hard and worked and practiced every day after school for hours. We have a lot of seniors, so it feels pretty good to win for them. I trusted my defense, threw strikes and knew my offense would come through, which it did. I'm just happy we turned it around and won the game." said Rodriguez.
Junior third baseman Grant Panza went 2-3 on the day with two singles, three runs batted in, and a run scored.
"I wasn't here last year, but I know how much it meant for them to play for Coach Gary. It feels pretty good to win it again." said Panza.
Junior center fielder Paul Farmer knocked in two runs, scored three, and reached base three times, and senior James Lindsay hit an inside-the-park home run to right field to cap off the scoring.
"It feels great, man. This whole season was for coach. We worked hard the entire season. We all hit, made great plays. It was all for coach Gary." said Farmer.
"He was a really good coach and he supported me a lot. It feels pretty good to get the win." said Lindsay.
"It felt great to win it for Coach (Phillip) Gary. That was our focus all year. We all stuck together as a team. This is all for him, so it feels very, very nice." said Rhodes head coach Brian McHolland.
John Hay finishes at 7-10, but with back-to-back Senate championship game appearances, things are looking up for the young Hornets.
"We were excited to be back for the second time. We were hungrier this time, we were put up a fight, and did what we needed to do. The biggest thing is that they continued to fight the entire game and didn't give up, like we have in the past." said John Hay head coach Ron Saddler.

NEO Sports Insiders Newsletter
Sign up to receive our NEOSI newsletter, and keep up to date with all the latest Cleveland sports news.