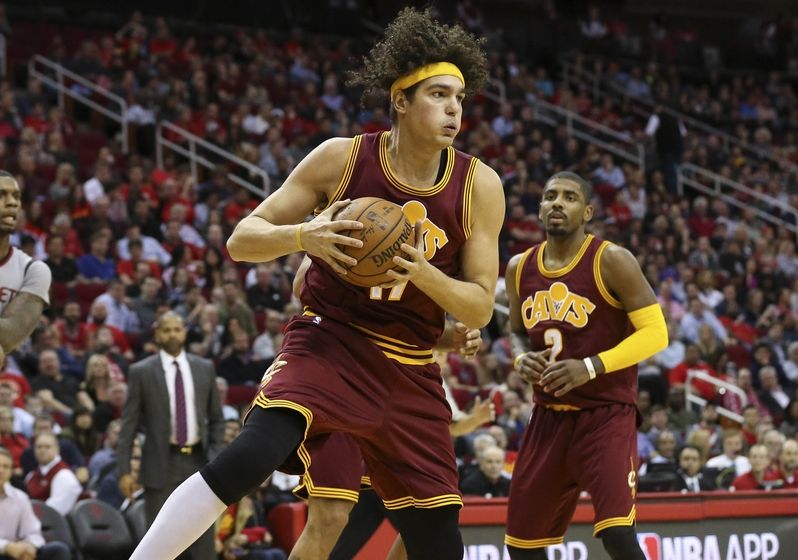 A trade that has been rumored for at least a few days has now come to fruition. Anderson Varejao will head to Portland. Jared Cunningham goes to the Magic for Channing Frye.
The Cavs will send a conditional first-round draft pick from 2018 to Portland and Cleveland sends a 2016 second-round pick they hold from Portland to Orlando.
One of the biggest factors of this deal may have been that by trading Varejao, the Cavs created a $9.6 million trade exception. Sam Amick of USA Today reports that the Cavs can use the $10.5 million trade exception from the Brendan Haywood trade of July 2015 to absorb Frye's $8.2 million contract.
Channing Frye will be sent to the Cavs from Orlando, I'm told. Anderson Varejao will wind up in Portland. More to come.

— Sam Amick (@sam_amick) February 18, 2016
Jared Cunningham will also go to Orlando from Cleveland in that deal, I'm told, but he's expected to be waived. Magic also get a 2nd rounder

— Sam Amick (@sam_amick) February 18, 2016
Further details on Frye/Varejao deal per source: Cunningham from CLE to ORL; Cavs send conditional 1st to POR & 2nd Rd pick from POR to ORL

— Dave McMenamin (@mcten) February 18, 2016
2018 1st round pick Cavs are trading to Portland is top 10 protected for 2 years. Cavs also created new trade exception of $9.6M

— Brian Windhorst (@WindhorstESPN) February 18, 2016
The Varejao/Cunningham-Frye deal will save the Cavs more than $10 million in salary and taxes this season, source tells ESPN

— Dave McMenamin (@mcten) February 18, 2016
Varejao spent his whole NBA career in Cleveland, playing 12 seasons with the Cavaliers, but injuries hampered him in recent years.
Varejao was only playing 10 minutes per game, appearing in 31 games this season, averaging 2.6 points and 2.9 rebounds per game.
Cunningham was the fourth point guard on the depth chart and did not receive much playing time when the other three point guards were healthy.
By moving C. Frye to CLE, the Magic can make procedural moves (renouncing cap holds) to have $45 million in cap space for July.

— Josh Robbins (@JoshuaBRobbins) February 18, 2016
Frye has a history with Cavs' General Manager David Griffin from their time together in Phoenix and is a stretch-four, who can back up Kevin Love and hit threes.
He is averaging 5 points and 3 rebounds per game this season, shooting 39 percent from beyond-the-arc.
There's still a chance the Cavs move Iman Shumpert and/or Timofey Mozgov, but it looks like the rumors of Love being moved are not going to happen, according to several reporters, including Brian Windhorst and Jason Lloyd.
The Varejao, Cunningham swap for Frye makes some sense from the standpoint of rotations because Varejao and Cunningham were getting little playing time and Frye can step in and play backup power forward to Love. Since Tristan Thompson has become starting center, the Cavs have not had a consistent backup to Love.
The trade obviously has some financial significance for the Cavs. The move also means there will be two open roster spots for the Cavs to sign players who are bought out by their teams and become free-agents.
Players to keep an eye on include Kevin Martin of Minnesota and Joe Johnson with the Brooklyn Nets.
The latest report is that the Portland Trail Blazers will waive Varejao and acquire Brian Roberts from the Miami Heat. If the Cavs wanted to re-sign Varejao, it would have to be one full calendar-year from now.
Portland today:Olshey waives Tim Frazier and Anderson Varejao, acquires 1st and 2nd round pick and Brian Roberts. And gives up: 0. Not bad.

— Jason Quick (@jwquick) February 18, 2016
If Varejao is waived the Cavaliers will be ineligible to sign him this season.

— Bobby Marks (@BobbyMarks42) February 18, 2016
Portland will waive Anderson Varejao, I'm told; if so, he will certainly have a few suitors from among contending teams.

— David Aldridge (@daldridgetnt) February 18, 2016
Portland essentially gives up nothing to get a first round pick by facilitating this Frye/Varejao deal. Makes $5.9 million to boot.

— Ramona Shelburne (@ramonashelburne) February 18, 2016