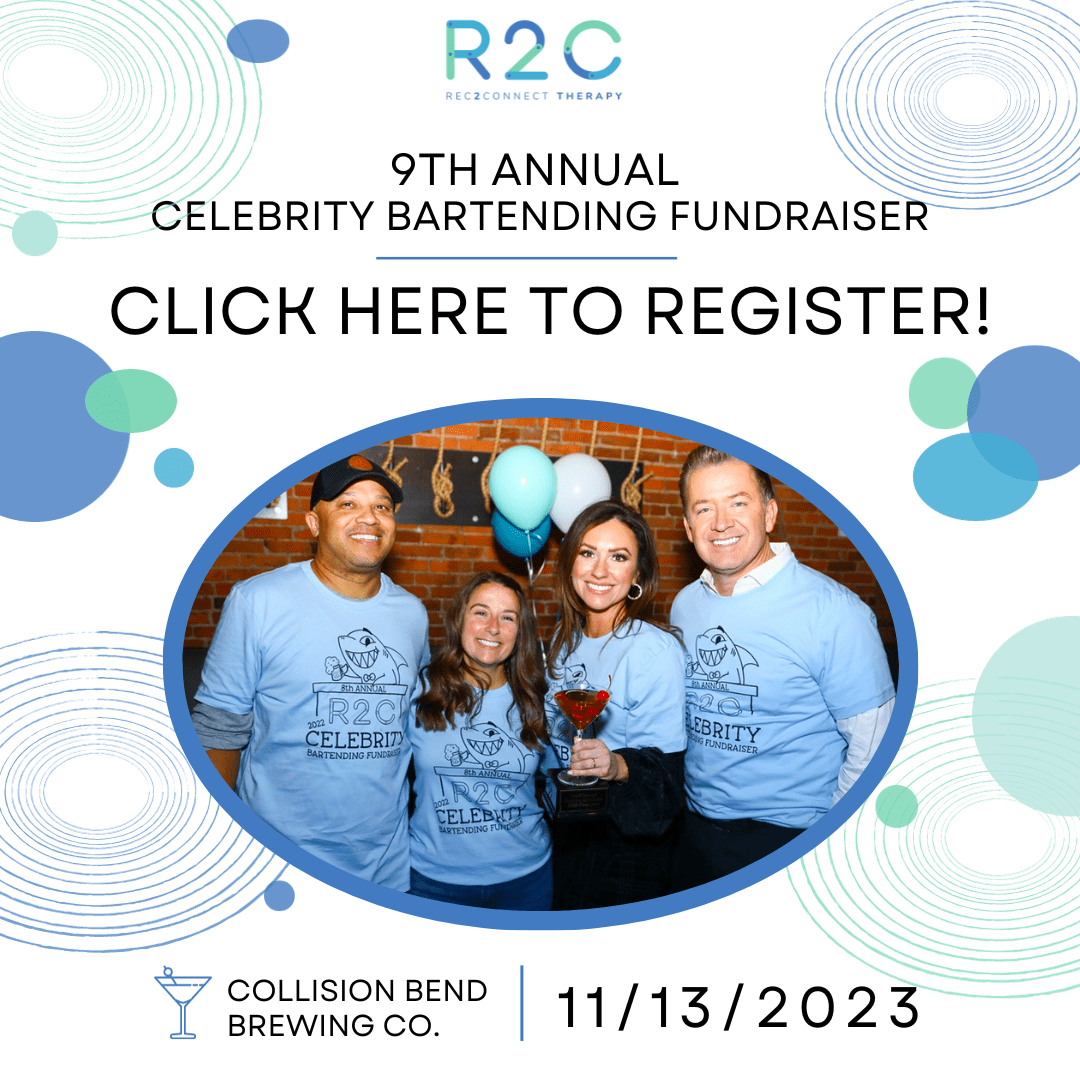 On Monday evening at Collision Bend Brewing Company in the Flats there's a fun-filled evening planned. Rec2Connect will be holding their 9th annual celebrity bartending fundraiser. You can vote for your favorite bartender online or at the event. This year's mixologists are Natalie Herbick, Andre Knott, Mike Snyder, Emmett Golden, Matt Underwood, Jerod Cherry, Cleveland Guardians Mustard, Jen Knott (In memory of Eileen Hewitt), Mark Nolan, Gabe Spiegel, Austin Love, Billy Norris and NEOSI's own – Mark "Munch" Bishop.
How to attend
There are tickets available on their website, online here or at the door. Dinner is included with your ticket and the night will be full of games and lots of ways to support and maybe even walk away a winner with a silent auction, 50/50, and other games. In this casual atmosphere people will gather to support a huge part of Rec2Connect's "Fund the Need" which is for all the family events, which are typically free for families in the program. The funds raised will continue to keep these programs available to families at no cost next year.
I had a chance to speak with Jen Knott, the founder of Rec2Connect, ahead of Monday's event. She began this endeavor in 2009 and is still committed to growing the program into the future. In fact, there has been such a positive response from individuals and families that there's a waiting list for some of the programs offered.
Knott spoke of the future and advised there will be an announcement at Monday night's fundraiser…so if you can't attend stay tuned to our follow up article to learn more.
What is Rec2Connect?
The concept behind Rec2Connect is truly special. As a recreation therapist, Knott has an extensive background of helping people with disabilities throughout her career. Her experience includes: Classroom Behavior Therapist at Cleveland Clinic Center for Autism, Job coach at Goodwill Industries, Volunteer in Aquatic Therapy at Hattie Larlham in the Physical Therapy Department and Recreation Therapist at the Cleveland Clinic. With the foundation she was able to bring a vision of connecting with people on a personal level and foster that with the entire team to give individuals a place to do recreational activities.
Rec2Conncet offers aquatic therapy, an adaptive US swim team, rock climbing, fitness classes, cardiac drumming, and hiking. Yes, that's a lot (and I even missed listing a few!) To make things even better they work with all ages from 1-99 as Jen put it "anyone who finds us we will find a  way to make it work for them."
That's important as those affected by a disability often find it difficult to participate in recreational activities. This can often be isolating to not only the individuals but their families as well. Rec2Connect really understands this and offers family events and adult social events monthly. That means so much to siblings whose brother or sister may suffer with a disability. It can help them process what their family member is going through. The staff are there to help and introduce new members. It's not just the physical aspect but also the mental piece that the team prioritizes.
Truly unique
If an individual wants to join a fitness center or a swim class but can't find one to accommodate their needs Rec2Connect can help find a class or put them in one of theirs. Knott said, "it's not come play just to play but the focus is on things such as building muscle tone…or play to work on motor planning skills through a healthy approach."
Finding the most qualified people is something Knott stresses is so important saying "staff who are passionate about what we do is the top priority. When we are hiring that takes time to find those people and not just saying yes to everybody just cause we need someone…it has to be the right someone who walks through our door and that is what helps our programs have the reputation that we do." She went on to say that the two people that started with her in 2009 are still with the foundation. This says a lot about the commitment of those working to enhance the participants' lives.
A motto to live by
It's well known that youth sports are extremely competitive. The biggest sport that individuals find Rec2Connect for is swimming. They feel welcomed and accepted. This isn't a surprise as Jen told me their motto is "Included, always." Two words- yet very profound. In a world that isn't always the most welcoming it's refreshing to hear a motto such as that.
I talked a little bit about the plans for the future. Knott spoke highly of the partnerships that Rec2Connect already has within the community and those they hope to obtain. I asked if volunteers are needed, and the answer is – absolutely! From companies, individuals, and interns Rec2Connect welcomes the help. They have many great volunteers currently but could always use more. Volunteers help with the group programs such as swim team, fitness classes, cardio drumming classes and family events.
Giving everyone a chance
One thing that Jen wanted to convey is that "we want to make sure that everybody has what everybody else has. You and I can go workout wherever we want or go swim wherever we want. If I want to go for a hike today, I can go to any park anywhere. The biggest thing with Rec2Connect is that everyone has those same affordances available to those with disabilities. Whether it be that they want to go rock climbing they can know where to go because we have programs available…or if they need help finding a gym that has accessibility, we can do that…it doesn't have to be one of our programs but they know we can help them easily without the barriers to get there."
Please consider supporting this wonderful cause. Remember you can attend the fundraiser in person on Monday or virtually. If you're unable to do that I encourage you to visit their website and learn more about their vision and programs available. If you or someone in your family has a disability don't hesitate to reach out and see if there's a program that could be a benefit. One thing to take away is the motto of Rec2Connect – Included, always. Don't feel as if you don't belong when there's people like Jen Knott and her staff to assist you in finding a place where you do.

NEO Sports Insiders Newsletter
Sign up to receive our NEOSI newsletter, and keep up to date with all the latest Cleveland sports news.