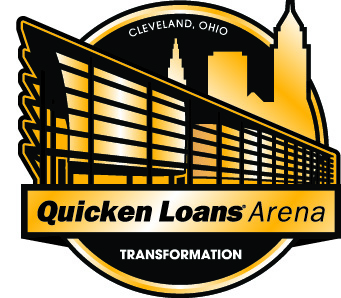 CLEVELAND– The Quicken Loans Arena renovation project is set to begin construction on Feb. 5, when barriers to define the construction zone will be erected.
According to a release, work will begin on the north side of the arena along Huron Road, and the south side of the arena facing Progressive Field. The initial construction will be on the building's exterior. Both sidewalk access and traffic will be affected.
Signage will be posted directing people to proper entrances around the arena, while crosswalks on Huron Road will be redefined for pedestrian traffic. The Gateway East garage and connecting bridge will remain open. The North Bridge from The JACK Casino Garage connecting to The Q will be open for the remainder of the Cavaliers season before it is eliminated this summer.
Changes to the north side of the arena will add a 42,530-square-foot atrium that will feature a glass facade. On the south side of the building, and extra 6,350-square feet will be added to the arena's main concourse.
Traffic will also be affected before and after events, per the release:
Prior to every event, beginning at the Ontario Street / Huron Road intersection, the two lanes will be ingress only onto Huron Rd. traveling east-bound toward the Gateway East Garage/Prospect and East 9th Street
At the conclusion of every event, the two lanes will be dedicated to west-bound traffic only. All vehicles exiting the Gateway East Garage onto Huron Road will be directed to turn left to travel west on Huron Road only. Vehicles departing the Gateway East Garage at the Huron Road exit will be only permitted to exit left onto Huron Rd. going west-bound.
On non-event days, traffic on Huron Road will be one lane in each direction. During the summers of 2018 and 2019, The Q will be closed to all events.
Check out a map of the construction below, and click on the image to enlarge.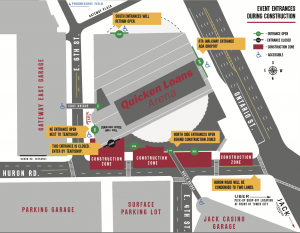 NEO Sports Insiders Newsletter
Sign up to receive our NEOSI newsletter, and keep up to date with all the latest Cleveland sports news.