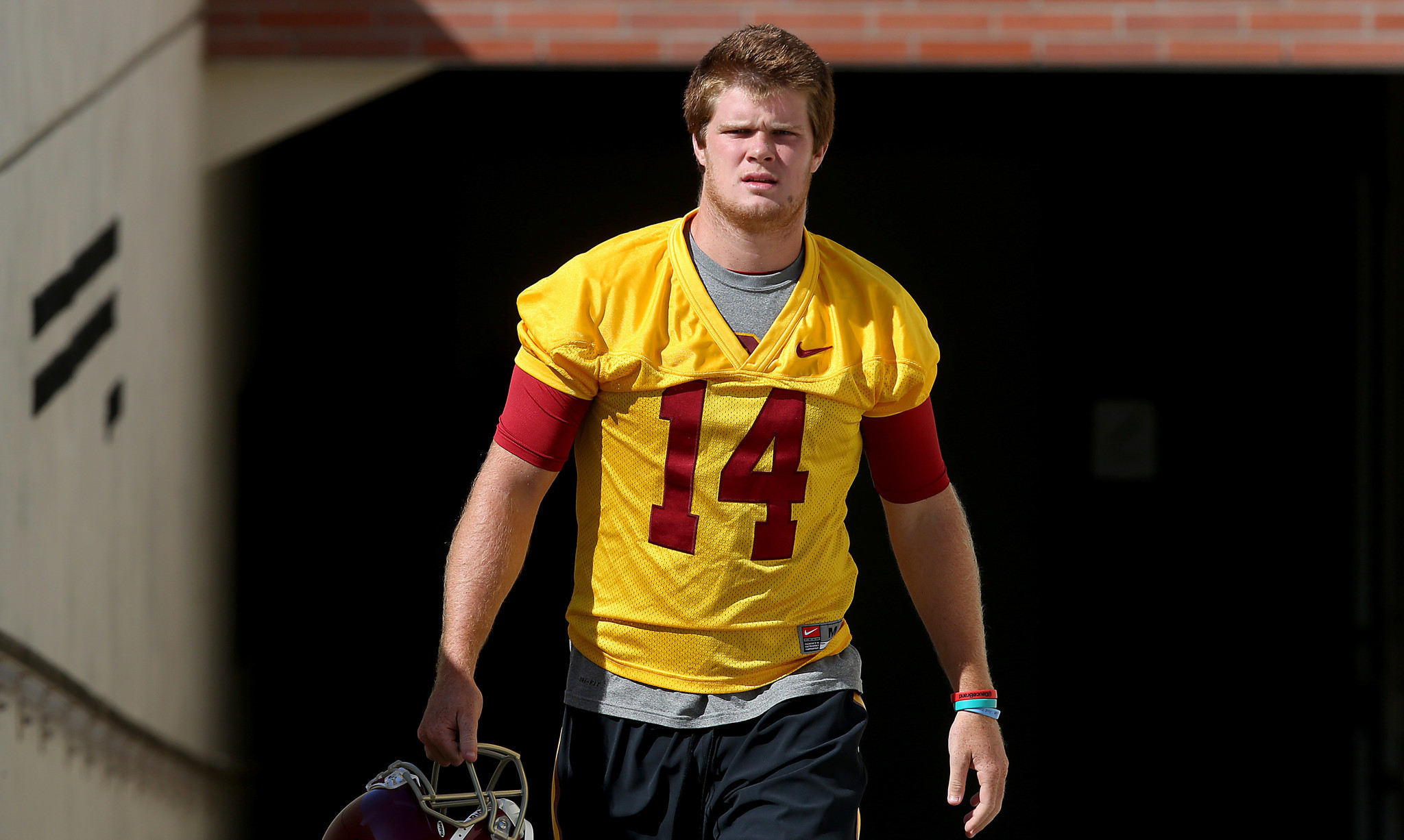 by Nick Broulis
CANTON, Ohio– March is almost here, meaning it's time to check out this year's class of quarterbacks.
With the first pick in the 2018 NFL draft, the Cleveland Browns select Sam Darnold, Josh Rosen, Josh Allen, Lamar Jackson and Baker Mayfield.
Wait just a minute Broulis! You just selected five quarterbacks!
Oh, well in that case, I guess I'll have to figure out who has the best chance of making it in the NFL. Let me start out who I'd prefer the least, to the guy I think Cleveland should take.
Now, again, I want to remind everyone, if I had it my way, Cleveland wouldn't even be taking a QB in the first round. But, knowing Cleveland, it's going to be a QB at No. 1. I'm a firm believer that the Browns need to take a player and players in the first two or three rounds that will make an immediate impact, starting on day one. OK, now that I've had my chance to vent a bit, here is my QB rankings.
Baker Mayfield (Oklahoma): Yes, being 6-foot compared to 6-foot-3 makes a difference in the NFL. Mayfield has everything else you want in a quarterback at the NFL, but it's rare to find a guy that is that tall that can make it in the NFL. Could Baker be the next Drew Brees? Sure, but I don't trust quarterbacks that are short and played in the Big 12 conference. Baker did complete 71 percent of his passes last season, which is really good.
Lamar Jackson (Louisville): I cannot believe I'm even typing this, but yes, why not include Lamar Jackson. Lamar needs to improve on his pocket passing just a bit, but really needs to add weight. Jackson only weights in at 205. If he can get to 215 or 220, that would benefit him a lot. Jackson is a great athlete and can make all the throws needed at the NFL level. Unfortunately, I still would not use the first overall pick on him.
Josh Allen (Wyoming): Allen has all the physical tools you would want in a QB, but his accuracy isn't ideal. Allen has a completion percentage of 56. Other than his low completion percentage, Allen could very well become a great quarterback in the NFL. In my opinion, Allen needs time to work on his accuracy and show he can read defenses at this level. If the Browns do indeed take Josh Allen at No. 1, they better have two quarterbacks, maybe even three, ahead of Allen.
Josh Rosen (UCLA): 6-foot-4 and 210, Josh Rosen also completed 63 percent of his passes last season. Rosen has a nice arm and can make all the throws. There's only one thing that has been said to be a big turn-off when it comes to Rosen. How much does the guy love football? Where is football on his priority list? While some people may not think it's a big deal, I do. Cleveland is a mess on offense, with only a few weapons. Also, the Browns need to make sure the offensive line will be better. Rosen isn't the most athletic of this group. And how will Rosen feel about sitting on the bench for a season? What if he fails miserably to start out his career? Does he just walk away from the game and fly back to California? Is Rosen really up to the task that is getting the Browns back on track offensively? To me, he's not the right guy at No. 1.
Sam Darnold (USC): A completion percentage of 63 and all the tools you want in a QB. His downside came last season with his turnover problems, whether it be interceptions or fumbles.  Now, after watching his performance against Ohio State, many people were quick to say that Darnold was awful. I, however, think that his offensive line might have just not even played. Darnold had next to no protection most of the game and people were quick to forget that Ohio State had a great defensive line last season. I realize that the Browns may not have the best O-line in the NFL, but I know they're sure better than that. Plus, Darnold can make plays outside of the pocket. Darnold is on record of saying he'd be honored to play for whoever and isn't afraid of playing in Cleveland. If I'm John Dorsey and I'm taking a QB at No. 1, this is my guy.
I'm still waiting for Cleveland to sign a veteran quarterback and I'm pretty confident that AJ McCarron will be in Cleveland next season soon, after becoming an unrestricted free agent. I don't consider him a quality veteran QB. The good thing is, Cleveland won't have to back up the Brinks truck to sign him.