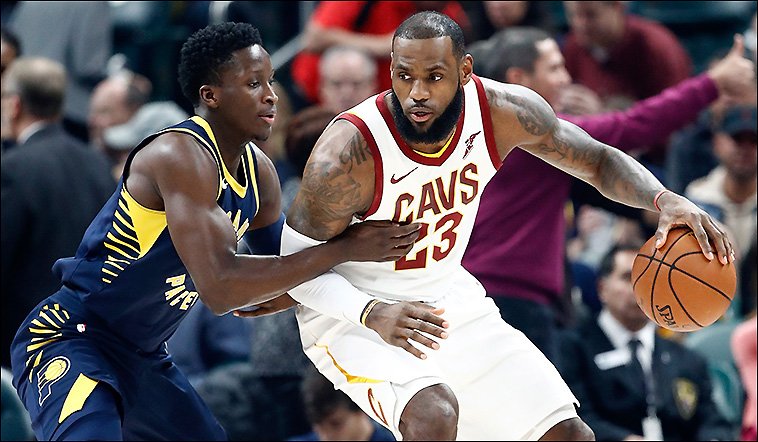 CLEVELAND– The Cleveland Cavaliers (50-32) open the 2018 NBA Playoffs against the Indiana Pacers (48-34) on Sunday afternoon.
When: 3:30 p.m.
TV: ABC
Online: Watch ESPN
Radio: WTAM 1100, 100.7 WMMS, 87.7 La Mega
Cavs injuries: None to report
Pacers injuries: None to report
1. Same spot, new team
The Cavs have not lost a first round game since LeBron James came back to Cleveland three seasons ago. James himself has never lost a first round series. The biggest question in this series is whether or not the Cavs can continue that first round dominance.
As Cleveland begins the 2018 playoffs, it's important to remember that only four players remain from their 2016 title run: LeBron James, Kevin Love, Tristan Thompson and J.R. Smith. Some of their new pieces, like Jordan Clarkson, Cedi Osman and Larry Nance Jr. have no playoff experience. Rodney Hood has limited playoff experience.
This playoff run will have to be a baptism by fire, and it's impossible to know how they will react until they experience it and get at least one game under their belts. The effort they put forth will be huge in the electrified environment that playoffs provide.
"The most important thing I think is competing and playing hard," head coach Tyronn Lue said earlier in the week. "I think if you get deflections, get a steal, get an easy basket. The easiest way to play your first time in the playoffs is just playing hard. I think the fans appreciate that, diving on the floor, taking charges, that's what gets you motivated, that's what gets the crowd motivated. It helps you ease into the game."
2. Do roster changes mean an advantage?
Indiana took the season series against the Cavs, 3-1. But the last time they played each other was pre-trade deadline when this Cavs squad looked very different.
So is it an advantage for the Cavs? Lue said on Thursday that he doesn't necessarily think that's the case.
"Playoffs is so different you never know," he said. "Throughout the playoffs it's always one guy you don't expect and they end up being great that night or great in that series. We're different but I don't think we have an advantage because we have a new team and they haven't seen us yet. We've gotta be ready to play, they're a good team and we understand that."
Lue does have a point. By the time playoffs roll around, each team scouts their opponents so much that it's hard to even get open looks at times. Even though these two haven't played, the Pacers will surely have done their homework.
3. Oladipo is great, but what about some other threats?
Victor Oladipo has had a year that few expected, and is the frontrunner for Most Improved Player after averaging 23.1 points, 5.2 rebounds and 4.3 assists during the regular season. Lue said that Jeff Green would get some time on him, but don't be surprised if LeBron James takes over that assignment late into the game during crunch time.
But other than Oladipo, Lue said Darren Collison is someone the Cavs will have to watch out for.
"I think he's averaging 18 points per game against us this season," Lue said. "He's leading the NBA in 3-point field goal percentage, 47 percent from 3. He's been a tough guy for us to cover throughout the course of our four games this season."
Collison is indeed averaging 18 points against Cleveland, on 68.3 percent shooting from the field. While keeping Oladipo at bay will be important, the Cavs will need to make sure to contest Collison's shots and not give him too many easy looks.

NEO Sports Insiders Newsletter
Sign up to receive our NEOSI newsletter, and keep up to date with all the latest Cleveland sports news.