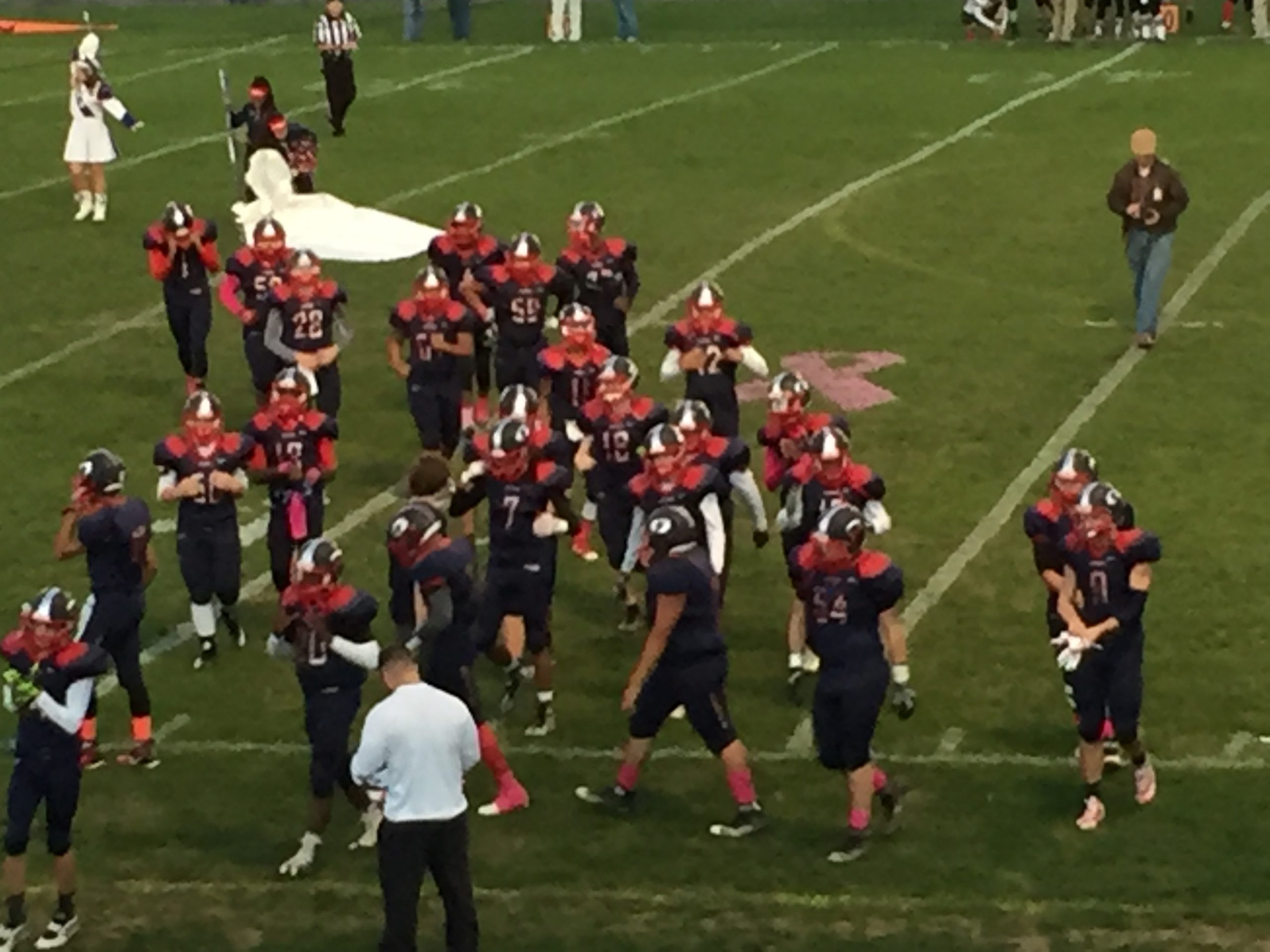 This game recap is brought to you by B.A. Sweetie Candy Company, located at 6770 Brookpark Road, Cleveland, Ohio.
OBERLIN, OHIO – This game went down to the last couple of minutes, but the Oberlin Phoenix was able to use multiple offensive assets and a stout defense to defeat Lutheran West, 30-29, Friday night at Oberlin High School.
With the game clock ticking down to just under three minutes left in regulation, Lutheran West was driving to add to its 29-24 lead, but the Oberlin defense pounded Longhorns backup quarterback Brian Furry, making him fumble the ball, and defensive end Jeremy Austin pounced on it, giving the Phoenix a chance to take the lead.
That's what Oberlin did, as the Phoenix mounted a long drive, culminating with a Journey Toole touchdown reception from quarterback David Payne with only 2:13 left on the clock, and a 30-29 lead.
"We knew from day one that our defensive line could be very good," Oberlin coach Garrett Mack said. "They're a bunch of athletic guys, who are pretty solid up front.
"We moved some guys around and put them into different positions," he added. "Our linebackers really controlled the run this week, also."
Oberlin was led by sophomore tail back Revon Eisom, who towed the rock 20 times for 176 yards and three touchdowns.
"I just followed my blockers and got the touchdowns," Eisom said. "I'm so happy today, and it's all because of my offensive line. We all listened to the coaches and worked so hard at practice, and that did a lot of good."
The win brought Oberlin's overall record to 3-5, with a Patriot Athletic Conference Stripes Division record of 1-2, while the Loss put Lutheran West down to 2-6 overall, and 1-2 within the division.
GAME STATS:
Oberlin 30, Lutheran West 29
Oberlin 6 6 6 12 – 30
Lutheran West 7 16 0 6 – 29
SCORING
(O) Aaron Arnold 89 pass from David Payne (2 point pass failed)
(LW) Owen Albers 19 run (Eric Bender kick)
(LW) Shawn Naim 23 pass from Rory Zakareckis (kick failed)
(O) Revon Eisom 1 run (2 point run failed)
(LW) Brett Mather 29 pass from Zakareckis (Bender kick)
(LW) Bender 21 field goal
(O) Eisom 69 run (2 point run failed)
(LW) Brian Fury 1 run (kick failed)
(O) Eisom 6 run (2 point pass failed)
(O) Journey Toole 6 pass from Payne (2 point pass failed)
Team Statistics O LW
First downs 9 13
by rushing 5 5
By passing 4 7
By penalty 0 1
Yards rushing 207 174
Yards passing 181 132
Total offense 388 306
Passes att./comp. 8/17 10/23
-Intercepted by 0 1
Fumbles/lost 0/0 1/1
Penalties/yards 6/60 2/20
Individual statistics
RUSHING – (O) Revon Eisom 20-176, Devan Yarber 4-14, David Payne 3-17; (LW) Owen Albers 26-114, Brian Furry 4-50, Brett Mather 4-5, Rory Zakareckis 4-0, Logan Evans 1-3, Parker Watson 1-2, Jeremy Geye 1-0.
PASSING- (O) Payne 8-17-181-2-0; (LW) Zakareckis 10-18-132-2-1, Mather 0-2-0-0, Evans 0-2-0-0, Albers 0-1-0-0.
RECEIVING- (O) Journey Toole 2-31, Yarber 2-11, Aaron Arnold 1-89, Matt Stanfield 1-34, D'onte Bowen 1-10; (LW) Mather 3-50, Gerald McHenry 3-36, Shawn Naim 3-36, Jeremy Geye 1-10.

NEO Sports Insiders Newsletter
Sign up to receive our NEOSI newsletter, and keep up to date with all the latest Cleveland sports news.