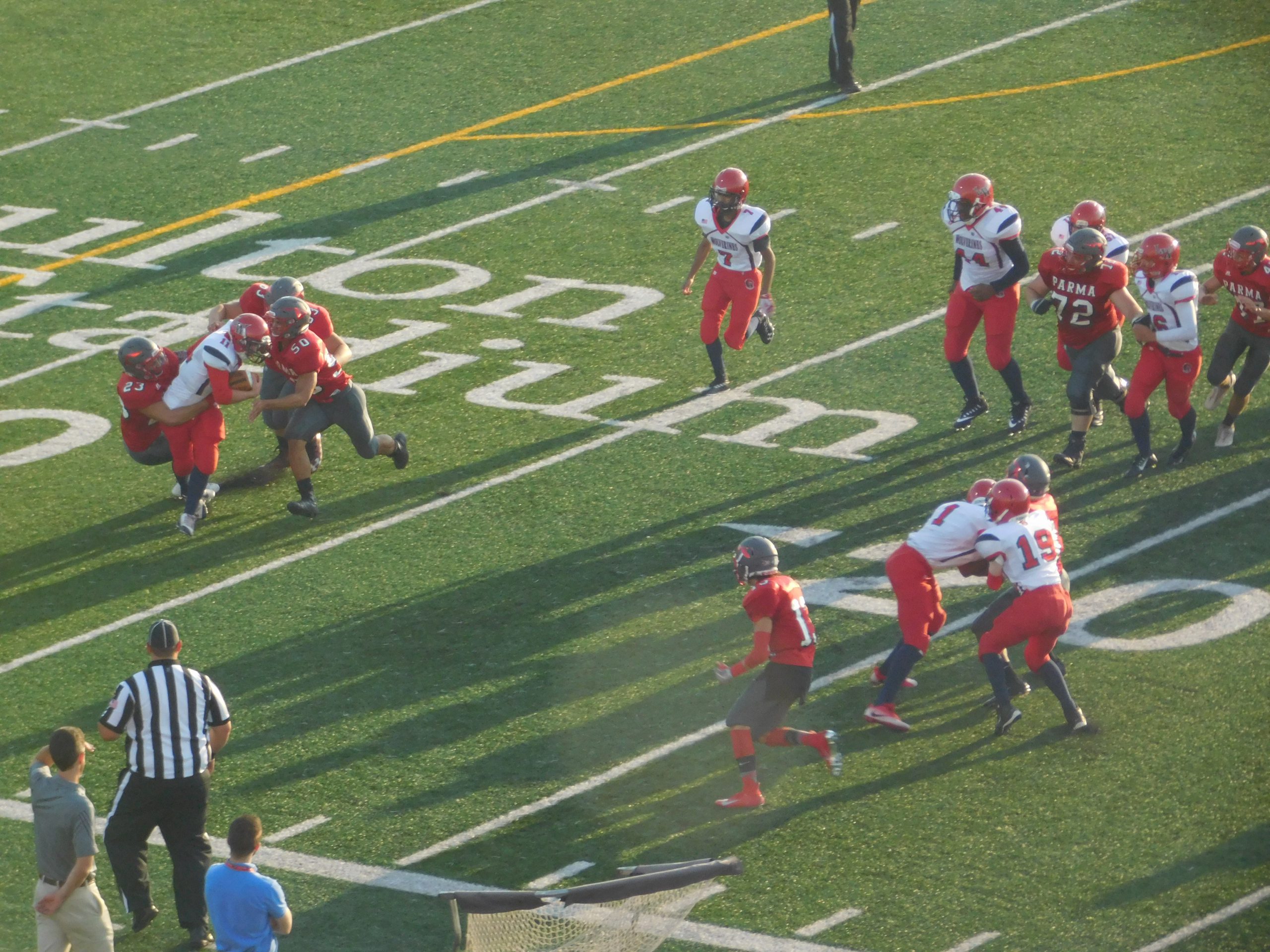 PARMA, OHIO – After a 4-6 season in 2017, the Parma Redmen were determined to turn the corner and again be a force in the Great Lakes Conference in 2018.
They didn't have much in the way of competition on Thursday night in their opener at Byers Field, but as expected did more than enough to overpower the Lincoln-West Wolverines 41-6.
"Our whole goal this week was to take care of ourselves, improve what we could improve on," Parma coach Dean Lasley said.
"We didn't play very well in our scrimmages, we knew we had a lot of room for improvement, we wanted to tighten things up tonight, but do it in a way that would not embarrass anybody."
Lasley is back on the sidelines for Bruce Saban who stepped away after last season. He watched as his freshman quarterback, Wy'Ness Jones ran the offense with ease as Parma built a 35-0 lead after the first quarter.
There will be plenty of tougher opponents for Jones, who showed ability running the ball and not forcing things as Parma scored in six of their first seven possessions in the first half.
"He's very athletic, he's very raw, we work very hard with him," Lasley said of his freshman quarterback. "He can run, he's got good skill, he's just going to keep getting better as he grows."
Lincoln-West, who last season went 0-10 allowing an average of 41.8 points per game while scoring just 7.6 points per outing, showed some signs of life in the second half when sophomore QB Devon Layne sprinted 58 yards for the only Wolverine points of the night.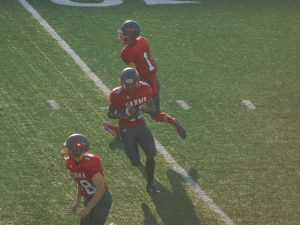 Parma got out quickly, scoring on the games' first play from scrimmage as senior Joe Adams raced 65 yards with an end around to make it 8-0 after the two-point conversion.
The Redmen went up 14-0 on their next possession after Ben Price went in from 25 yards out with still 10:18 to play in the quarter.
Senior captain Jonah Bagby went in from 10 yards out two minutes later making it 21-0, and then on the next possession it was fellow senior captain Gavin Ziol who scored from 12 yards out to put the score at 28-0 with 4:26 left in the first quarter.
Lasley was happy that his senior captains stepped up and showed the way in the first game of the season.
"We lost a lot of guys, key guys, and we knew right away those guys were going to be our leaders, and we needed them to step up and set an example," Lasley said. "They have been really stellar captains so far to this point."
Parma senior wide out Manny Allen scored on an end around from 28 yards out with 1:07 to play in the first quarter to make it a 35-0 lead.
The final Parma score of the night came on the legs of junior running back William Gabor, who broke three tackles at the goal line to push the lead to 41-0, which was the score at the half.
Lasley got a chance to play a lot of his younger players in the second half, giving the young Redmen a chance to get some valuable experience.
"We rolled out our young guys, got them game experience, we have a very young team, lot of freshmen and sophomores, so for them to get out in front of the lights on Friday night under the lights was good for them," Lasley said.
The Redmen will play at North Royalton next week. Last season the Bears shutout the Redmen 40-0 at Byers Field in week two of the season.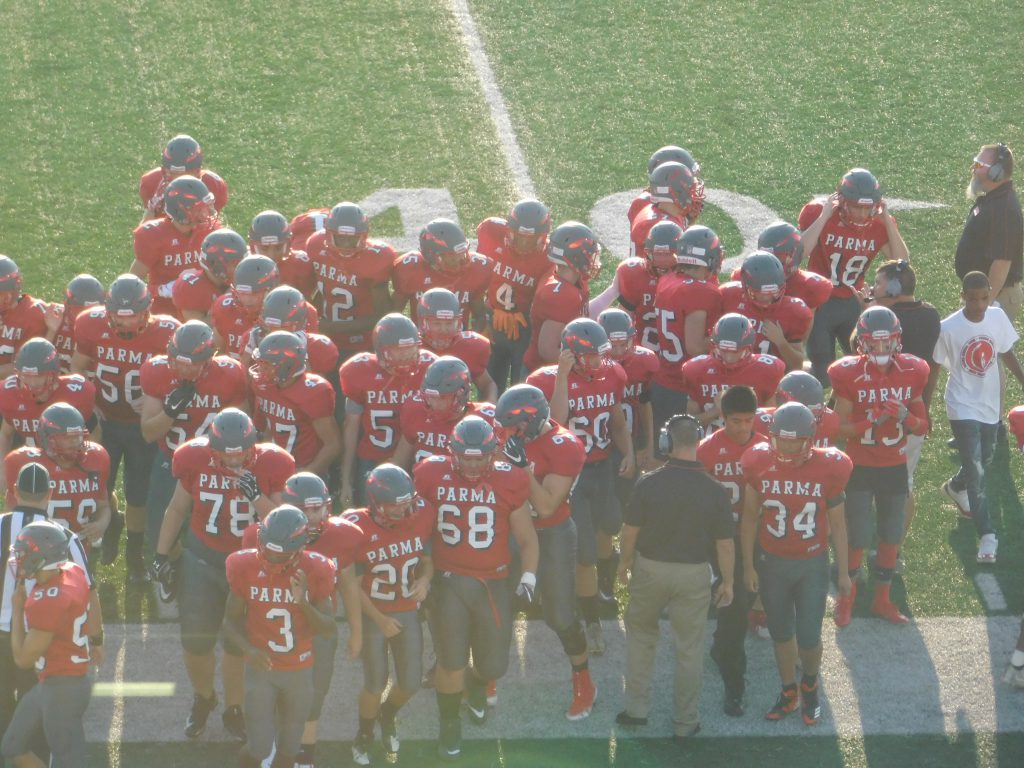 Player of the Game:
Parma Freshmen QB Wy'Ness Jones
It's always nerve-wracking to get the call to start your first game under the lights, but to do it as a freshmen is even tougher, and Thursday night Wy'Ness Jones handled it well for the Redmen in their blowout win over Lincoln-West.
He never crossed the goal line, but that didn't matter as he kept the Redmen offense moving, and showed off skills with his feet and (a few times) his arm as he helped the Redmen score on six of their first seven possessions of the first half.
Jones and the Redmen will have a tough test on the road next week as they travel to play the Bears of North Royalton on Friday night.
A good night for the Redmen – as @ParmaHighSports takes home the opener 41-6 over Lincoln-West at Byers Field pic.twitter.com/ySfGy3ls9D

— Matt Loede (@MattLoede) August 24, 2018
William Gabor with some solid second effort goes for a 2-Yard TD as @ParmaHighSports goes up 41-0 over Lincoln-West w/ 1:38 left 2nd Q @FOX8FNTD pic.twitter.com/1L3r2y4LMj

— Matt Loede (@MattLoede) August 23, 2018
Gavin Ziol goes 12 yards for another @ParmaHighSports TD – they lead Lincoln-West 28-0 w/ 4:26 left 1st Q @FOX8FNTD pic.twitter.com/ZIEZwWjtSj

— Matt Loede (@MattLoede) August 23, 2018
Here's a photo gallery from Byers Field as the Redmen and Wolverines went at it in exciting week one action.

NEO Sports Insiders Newsletter
Sign up to receive our NEOSI newsletter, and keep up to date with all the latest Cleveland sports news.