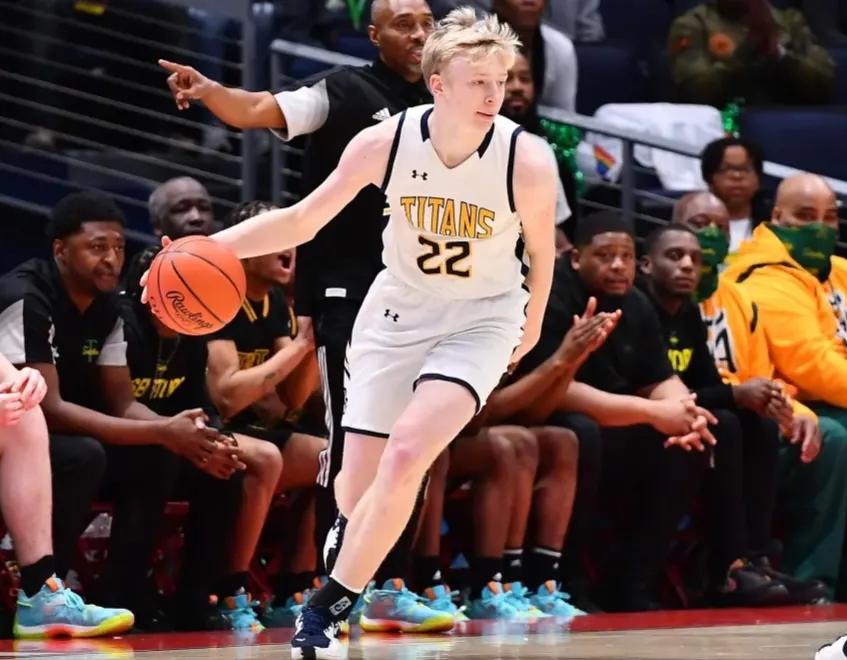 Ottawa-Glandorf and Columbus Africentric faced off last year in the Ohio State semis and Glandorf, behind Colin White's 31 points, defeated Columbus, 53-48, despite Dailyn Swain's 32 point/13 rebounds/7 steal game. In 2023, the two young men AND their schools renewed their rivalry in the state semifinals AGAIN for the Division 3 semi final at the UD Arena.
But it would be Ottawa again vying for the title as they won a dramatic and exciting double overtime win, 48-47.
Ottawa-Glandorf advances to the OHSAA State Championship! @ColinWhite21 @deejaypelles pic.twitter.com/MU2JddVI4H

— Sky High Sportz (@Skyhigh_Sportz) March 18, 2023
First Half
Ottawa needed to find Colin some help and with Theo Maag, they have. Theo was 3-7 from the floor for 6 first half points. Caden Erford found the score sheet with four points. But Africentric held the to 1-7 shooting from behind the arc.
Swain's first half is an entire season for thousands of high school players. Fourteen points from 5-8 shooting (2 of 3 from three) and six rebounds was a monster half. Laron Fuller chipped in four and the rest of the starters each had a bucket for the 
But most of the Africentric scoring was coming from fastbreak opportunities.
Midway through the third, Africentric built a 33-19 lead ending with a layup from Dyson Bibins. But Ottawa didn't give up. Four straight points later they were 10 down.
With time dwindling down in the third, a quick basket and a triple at the end of the third cut the Nubians advantage to 34-28.
Diary of a comeback!
Ottawa turned up the pressure to start this comeback.
From the last three minutes of the third and first 3 and a half of the fourth, they held Columbus to just one made free throw! The total time from the last Columbus basket to the next was 9 minutes and 28 seconds! The 14 point lead disappeared.
The third quarter scoring recap is not indicative of what happened. The stats say it was 10-8 in favor of Columbus, but the last 2:54 was 7-2 Glandorf!
Glandorf was 10-23 in the second half and surprisingly only 1 of 6 from beyond the arc! It was short jumpers and layups that paved the way to the tie. Eighteen points in the paint versus Africentric's six helped the run.
Ottawa Grabs the Lead!
The Titan duo of Colin and Theo led the charge. Maag hit a turnaround jumper off a missed three pointer by teammate Hunter Stechschulte. Preston Steele missed a shot which was rebounded by Maag. His pass to White led to a layup and foul! After the free throw, it was 34-33 and the race to the end was ON!
Laron Fuller turned the ball over as Stechshulte grabbed the loose ball. After a Columbus timeout, White found the lane for another layup and Ottawa had their first lead since being down 33-19 in the third!
Crazy last 5:17!
The game turned away from stars White and Swain to the other players. Caden Erford put Glendorf up with a shot basket. Africentnric's Cooper-Patton made their first three since early in the third and Columbus jumped back into the lead, 38-37. Maag and teammate Unterbrink hit short shots to get Ottawa up 41-38. But Cortez Freeman drained a huge three with 56 seconds on the clock, and each team failed with a chance to win in the final minute.
🏀#OHSAA BOYS BASKETBALL: Africentric and Ottawa-Glandorf are all tied up 41-41 at the end of regulation.

📺Watch Overtime: https://t.co/qUTZkPHoej pic.twitter.com/sGZHfS1HNY

— OHSAA Sports (@OHSAASports) March 18, 2023
Overtime!
Both teams dropped 6 points in the extra frame. Stechshulte's layup and White's two free throws opened the scoring.  Swain hit a three followed by two White charity tosses. But the last four points of the OT period went to Columbus as Swain missed the second toss but in the ensuing scrum, Swain's teammates kept getting the loose ball rebound. Finally, Steele put in a layup off a great timeout play to tie it up.
Both teams had a chance to win AGAIN but turned it over in the final 56 seconds AGAIN.
OT #2!
The two teams were delaying as much as they could but were tight as Africentric committed two turnovers while Ottawa missed three shots. With four seconds left, though, Colin White went up for a shot and was fouled by Steele. White missed the first but made the second. Ottawa-Glandorf went up by 1, 48-47.
Africentric had a great play designed for their star. Here's the video of the last seconds, thanks to TJ Peatross and his @NEO_Spotlight social media site:
Final:
Ottawa Glandorf – 48
Africentric – 47

Africentric wasn't able to get off the shot in time pic.twitter.com/Xnnh4EzlBc

— T.J. Peatross (@NEO_Spotlight) March 18, 2023
The ball went in, but it was just a bit late!
And Ottawa-Glandorf goes for their state title they lost in last year's final!
🏀FINAL🏀
2OT@AthleticsOg 48
Africentric 47@AthleticsOg are moving on to the DIV. III State Championship Sunday at 5:15PM! pic.twitter.com/PZuLJPWjvY

— David Cesefske (@CesefskeSports) March 18, 2023
Final Stats
Africentric 23-6
Dailyn Swain 21 points/12 boards/5 assists
Cortez Freeman 7 points with the key three to send it to overtime!
Ottawa-Glandorf 26-3
Colin White 24 points/3 boards
Theo Maag 14 points/11 boards
Hunter Stechschulte 2 points/6 assists/5 rebounds
Photo courtesy of Ben Jackson

NEO Sports Insiders Newsletter
Sign up to receive our NEOSI newsletter, and keep up to date with all the latest Cleveland sports news.