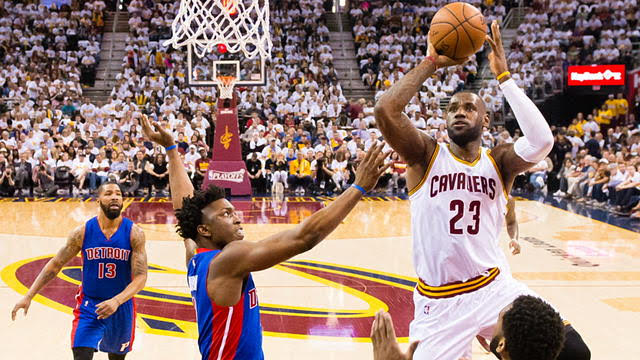 CLEVELAND – You have to wonder what is more surprising…that Pistons rookie Stanley Johnson ran his mouth about Lebron James after the Cavaliers' 107-90 win Wednesday or that people actually stood there, listening with a straight face.
When asked about his effort against James in the series, that Cleveland leads 2-0 heading into Friday's game at the Palace of Auburn Hills, Johnson didn't mince words or pull punches.
He did, however, present an alternate reality.
"I'm definitely in his head, that's for sure," the 6-7 245-pound rookie forward out of Arizona said. "That's for sure."
James had just torched Johnson's Pistons for 27 points, six rebounds, three assists and three steals. When the rookie was the primary defender on Lebron he hit 7 of 9 shots after going 6 for 6 against Johnson in Cleveland's 106-101 win Sunday (statistics according to ESPN Stats and Information).
Lebron, at 6-8, 250, overpowered Johnson. Though the Pistons' forward is just one inch shorter and five pounds lighter he had no chance to stop James in the post.
Johnson, not surprisingly, saw it different.
"He hit two 3's which is not, like, his norm," Johnson explained. "He hit a tough-ass turnaround on me and he played really physical. I battled physical. He didn't get any paint touches.
"He made a bunch of tough shots so he's going to have to go 40 minutes and make those same tough shots every game for them to do what they did tonight."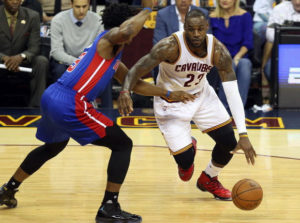 Johnson obviously didn't watch much NBA basketball when he was growing up. If he had he would have realized James has been making those same shots ever since he came into the league when Johnson was seven years old.
In the first round series James is putting up outstanding numbers while Johnson has struggled.
Lebron is averaging 24.5 points, 6 rebounds, 7 assists and 2.5 steals while shooting a gaudy 60 percent from the floor (21 of 35). The Cavaliers are plus-28 in the two games while James is on the floor.
Johnson is averaging 9 points and 5 rebounds in the series. He is yet to record an assist or steal. Johnson is 7 of 11 from the floor, which is solid, but the Pistons are a whopping minus-19 when he is in the game.
Despite James' clear statistical advantage, Johnson still decided to rail about being in Lebron's head.
"I could care less if I'm in his head or mind or anything like that," he said. "I'm just trying to play basketball. It's up to him how he wants to react to anything he does.
"I think I'm in a good place. (Lebron) had a great night. He's had a couple of great nights. He made a couple of tough-ass shots."
Johnson didn't appreciate being bumped by James during a Game One timeout.
"I don't take anything from it but it was a cheap-ass shot," he said. "A cheap-ass bump."
James is not the only Cavalier Johnson had words for. He didn't like how he was treated by the Cleveland bench.
"Every time you walk into the right corner they're always saying something like they're playing basketball…like they're actually in the game," he said. "There's only seven or eight players who play. I don't see why the other players are talking. They might as well just be in the stands."
All 13 Cavaliers got into the game Wednesday.
James is looking at the series from a different perspective. Even after taking a Marcus Morris elbow late in Game Two, Lebron said he wasn't caught up in the shenanigans.
"The game is played in between the four lines, everything else means absolutely nothing," he said. "There hasn't been one dirty play in the series. I took a shot but I'm ok. I'm still standing tall."

NEO Sports Insiders Newsletter
Sign up to receive our NEOSI newsletter, and keep up to date with all the latest Cleveland sports news.